Apple Watch: Sales of much-vaunted gadget fall by 90 per cent in the US, study finds
Analysis by the research company Slice Intelligence suggested sales have plummeted - but Apple won't release figures themselves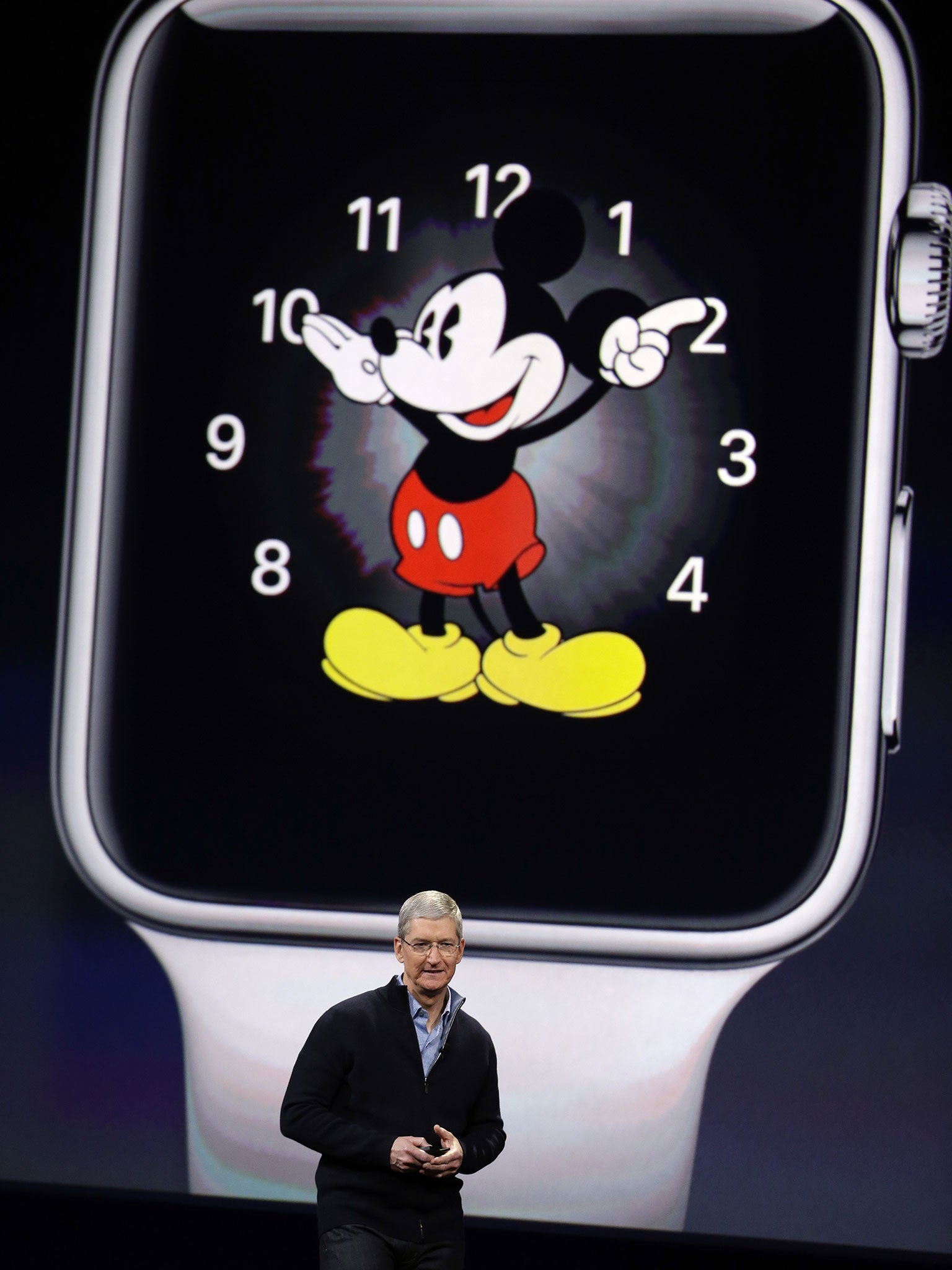 It is the technology giant that gave us the iPhone and iPod, but some dared claim the world might not be ready for its latest supposedly "must-have" gadget: the Apple Watch.
Analysis by the research company Slice Intelligence suggested US sales of the Apple Watch had dropped by 90 per cent since its April launch, and a tech industry analyst told The Independent the device was "not doing amazingly well" in the UK either.
If the figures are to be believed, they suggest a less than dazzling start for Apple's first completely new product since the death of its visionary founder, Steve Jobs, in 2011.
Offering heart rate sensors and iPhone updates on your wrist, (and telling the time), priced at £299 up to the £9,500 model with 18-carat rose gold case, the Watch made a significant initial impact.
Slice said about 35,000 devices a day were being sold in the US in April. But, it claimed, by 1 July daily sales had slumped to 2,500 – a drop of about 90 per cent.
Some have questioned Slice's methodology, which is based on analysing the electronic receipts of online shoppers who have signed up for the research company's package-tracking service. The apparent drop observed by Slice might also be at least partly related to the normal cycle of initial launch excitement being followed by less frenzied buying.
Apple itself has yet to release precise numbers about the Watch, despite having previously offered updates for sales figures for other new products soon after their launch. A company spokesman said he could not comment "beyond reiterating what Tim Cook said on our last earnings call that 'right now the demand is greater than the supply'". Those comments were made on 27 April, shortly after the Apple Watch launch.
Offering his own assessment of Apple Watch's UK performance, Ronan de Renesse, lead analyst for consumer tech at Ovum, said: "I am not saying it is doing badly, but it's not doing amazingly well either." He expected global Apple Watch sales to reach 10 to 15 million by the end of the year. This was about average for a first generation Apple device, but he did not see the Apple Watch becoming a big hit.
Apple watch: will we wear it?
Show all 6
"Do you see everyone wearing a smartwatch in a couple of years' time? I don't," Mr de Renesse said. "There isn't the ecosystem of killer apps for it that would drive it forward."
But Mr de Renesse did sound one note of optimism: just because the Apple Watch might be a niche product now, didn't mean it would remain that way: "First generation iPhones and iPods weren't that successful either. History has told us that Apple products can be extremely successful even if they didn't sell that many to begin with."
Rotten apples? Computer glitches
The Apple III computer – 1980
Apple decided against a cooling fan because it would have been inelegant. Sadly the main circuit board tended to get so hot it warped, causing malfunctions.
The Power Mac G4 Cube – 2000-2001
Highly priced, didn't look like a computer, required a separate monitor.
Apple Pippin – 1995-1996
A games console. Launched after PlayStation, Nintendo and Sega had already cornered the global market. Initially retailing at three times the price of a Nintendo 64, precise sales figures are hard to come by. Whatever they were, they weren't great.
Join our commenting forum
Join thought-provoking conversations, follow other Independent readers and see their replies