At London's Virtual Reality Festival, the boundaries are blurring more than ever
Chased by ghosts, plunged into the deep blue ocean, Chloe Hamilton was virtually blown away by her immersive experience of the first Virtual Reality Festival in the UK, which brought the biggest names – and the best tech – in the business to London
Chloe Hamilton
Thursday 25 February 2016 00:35 Comments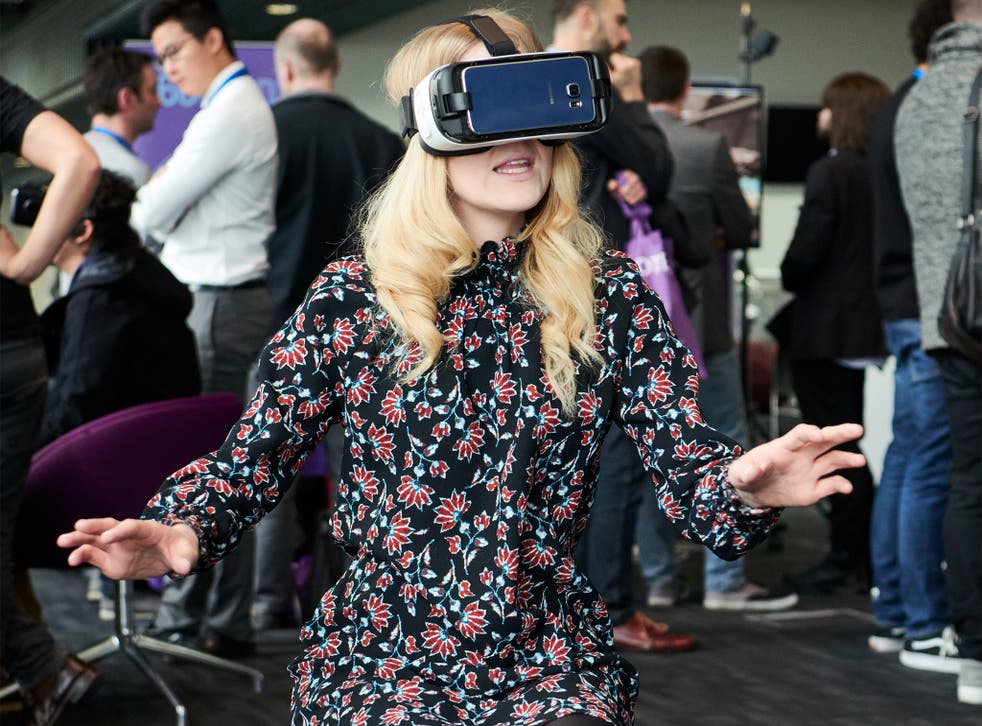 I'm locked in a maze being chased by human-sized Pac-Man ghosts. My heart is racing but my legs aren't working. I run but don't go anywhere, as if trapped in a nightmare. Up ahead, a pink ghost approaches. I can feel the panic rising as I work my legs, desperate to escape. Suddenly, everything goes black and I remove my headset, blinking in the artificial light of the conference hall. Back to reality.
The UK's first-ever Virtual Reality Festival, organised by London-based university sector college Ravensbourne, was held earlier this month at the university's campus on the Greenwich Peninsula in south London. The first festival of its kind in Britain, VRUK brought together some of the biggest companies in virtual reality to share, discover, and try out the latest technology.
Keen to get involved, I head straight to the Immersion Zone, where queues are already forming in front of exhibits. WizDish is my first stop. The company is exhibiting its ROVR locomotion platform which claims to provide a "profound" immersive experience. Users stand on a caged platform wearing special, ceramic-studded shoes. The shoes act as controllers, in the same way a mouse on a mouse mat would.
Gadget and tech news: In pictures

Show all 25
"It's like having diamonds on the soles of your shoes," says chief technology officer Charles King as he helps me steady myself on the platform. The shoes are slippery, like trying to walk on an ice rink. I slide around trying to find purchase, eventually stabilising myself using the railings. The game is like Pac-Man but life-size. "Try and avoid the ghosts," are Charles's final words to me before he clamps the headset over my face. Within seconds, I'm standing in the dark maze; my path lit by small, bright lights. My direction is determined by moving my head and I spin this way and that, trying to figure out which way to go. To move forward, I have to slide my feet back and forth on the slippery platform, like running on the spot but without lifting my feet. I last about 10 seconds before a ghost appears to gobble me up.
It's not all fun and games, though. Charles tells me, once I've removed my headset, that the technology is also being used by architects to show investors virtual versions of their designs. This works particularly well with superyachts, he says. Billionaire buyers can walk around potential vessels making changes and additions before the boats are actually built.
The technology is also proving useful for language learning, where immersion is key. A learner could experience an entire city via a headset and a platform. "There's a company in California that's doing language training," says Charles. "You might be popped in the middle of a French market and told to buy the ingredients for a meal." Next, I move onto the HTC exhibit, where product specialist Shen Ye, 23, is talking visitors through the company's latest VR headset, the Vive, pre-orders of which will open on 29 February. When I ask if I can have a go, Shen points at the two hour-long waiting list. Ten minutes (and a shameful flash of my press pass) later, I'm strapped into another headset.
The Vive uses two laser-emitting Base Stations carefully positioned in the room to create a 15ft by 15ft virtual reality, meaning – unlike the ROVR, where I was restricted to the platform – I can roam around the cordoned-off area, exploring a virtual environment. I'm also given two hand-held motion controllers, which I can use to influence the virtual reality.
The first game is called The Blu. Lowering my virtual specs, I'm plunged underwater. I'm standing on a shipwreck, schools of fish swimming past my ears. Tottering to the edge of the boat, I peer over at the deep blue below. Suddenly, I catch sight of a creature swimming towards me. I cower in the corner as an enormous whale cruises past, shooting off into the depths with a majestic flip of its massive tail. I let out a little shriek of fear; it's all frighteningly real. Then, out of nowhere, a fluorescent green cage pops up in front of me. Curious, I walk through it, crashing immediately into a very real table leg. The cage, it turns out, signposts the edge of my virtual reality. A small voice in my headset warns me not to go beyond it.
The second Vive game is more interactive. Created by Google, its premise is simple: painting. One controller acts as my "palette" while the other becomes my "brush". I can choose different colours and textures, drawing on the thin air in front of me. My painting is 3D, meaning I can walk through it, observing it from different angles. It's incredibly satisfying. The only downside is that – because it exists only in the virtual world – no one else can appreciate my masterpiece.
Outside the headsets, the festival is buzzing with people from all walks of life. Students, gamers, and recruiters are all here to suss out what's going on in the virtual world. One man, who refuses to tell me what company he is from, says he's on site to check out the competition.
Claire Selby, who works for Ravensbourne and helped organise the festival, says the future is bright for virtual reality. "I think the really exciting thing is that it's unwritten," she says. "There's no script, there's no 'you've got to do this', there's no visual language, there are no barriers really. It's like film-making was in the early days."
She tells me the clunky headsets designed by companies such as Oculus Rift and HTC will become slicker. "The headsets now have the potential to become an accessory," she says. "Even Dior has some mocked up." While we talk, she points out a gaggle of students from Ravensbourne who are crammed into a workshop with app company Blippar. She says they're all competing for an internship. "Getting the students involved is perfect," she says.
VRUK is supported by Creative Skillset's Film Skills Fund, which is funded by the BFI with National Lottery funds, through the Skills Investment Fund. There are plans to run the festival next year too, although that all depends on funding. The festival also hosts a range of talks and discussions led by various industry bigwigs such as Ravensbourne alumni Mike Alger, who now works as a VR designer at Google. Most people, however, flock to the Immersion Zone. It's one thing to talk about virtual reality; it's quite another to experience it.
The Teslasuit is my final stop. The world's first full-body smart feedback suit lets you "feel" virtual reality. The team behind it – who have travelled all the way from Belarus – only have a jacket on display. The wetsuit-style coat needs to be in contact with a damp T-shirt for it to work. I'm wearing a dress, which means – unless I'm willing to strip down to my tights – I can't have a go. Instead, I satisfy myself with "tickling" the company's co-founder Demetri Marroza while he wears the Teslasuit. Sliding my finger up and down the iPad provided, I can hit different spots on Demetri's torso, sending mild electric pulses through his body. This technology means gamers will be able to feel when they have been hit or shot, although Demetri reassures me it's not painful. The suit can also simulate a hug between long-distance lovers, which is a sweet thought, although – with VR pornography increasing in popularity – I can't help but wonder what's next.
I leave VRUK with a new perspective on the world around me. After just a few hours immersed in VR, the line between what is real and what is not has been blurred. Will we one day be able to have intimate relationships across continents with the help of a damp T-shirt and an iPad? Perhaps. And what does it mean for the travel industry if an entire city can be experienced through a VR headset and a locomotion platform? I don't know. The future is a work of imagination.
Register for free to continue reading
Registration is a free and easy way to support our truly independent journalism
By registering, you will also enjoy limited access to Premium articles, exclusive newsletters, commenting, and virtual events with our leading journalists
Already have an account? sign in
Join our new commenting forum
Join thought-provoking conversations, follow other Independent readers and see their replies