YouTuber invents robotic basketball hoop with facial recognition to ensure people never miss
Shane Wighton used a Microsoft Kinect and a series of powerful motors to detect the ball and quickly move the backboard in a fraction of a second
Adam Smith
Wednesday 13 May 2020 12:10 Comments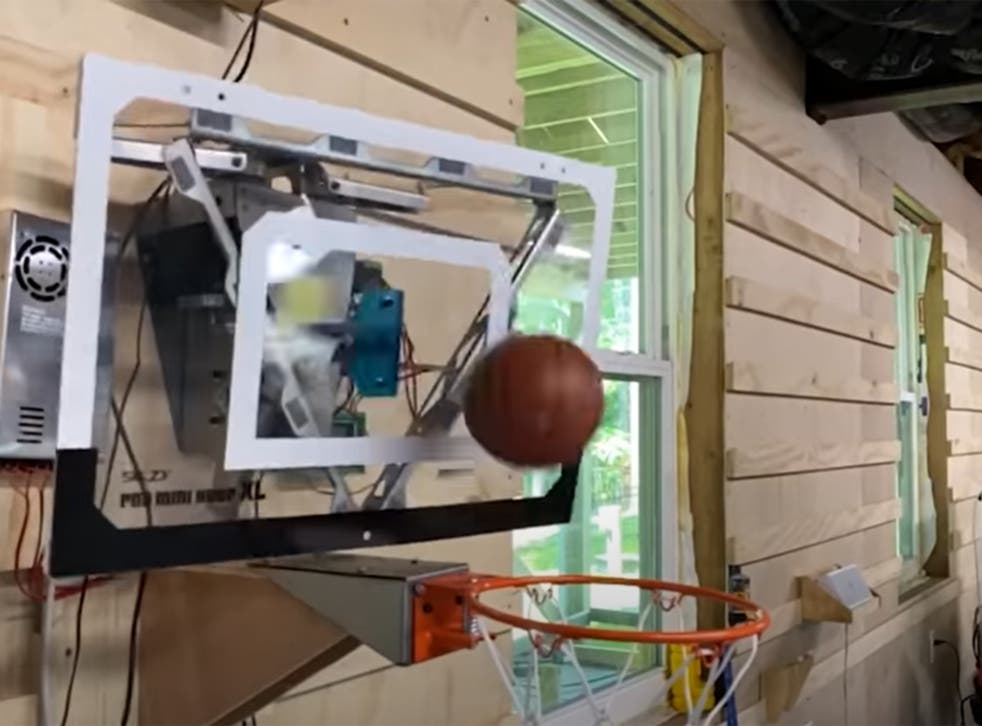 Engineer and YouTuber Shane Wighton has made a basketball hoop that uses a Microsoft Kinect and facial recognition in order to build a basketball hoop that means the shooter never misses.
On the YouTube channel Stuff Made Here, Wighton explains that the backboard is tracking the information in the room, including the ball and its trajectory.
With that information, the backboard can calculate where it needs to move in order to ensure the ball gets into the hoop.
Since there are only 600 milliseconds (a thousandth of a second) between when the ball is thrown and when it hits the backboard, the calculations need to be made in an incredibly short amount of time.
Therefore, Wighton said, when designing the board he had to prioritise fast movement. There are three motors, giving the machine three degrees of motion, and a universal joint connecting them to the board.
The board also needs to be light, because of the force required for such speedy movements. Wighton said he has put in one-fifth of a horsepower into the backboard. For context, a Mini Cooper engine has 134 horsepower.
Difficulties were also found when the Kinect – which was introduced as a motion-sensing controller for the Xbox console in 2010 but was discontinued in 2018 – found it difficult to distinguish between a ball and Wighton's head. But the console peripheral's facial recognition capabilities meant that the engineer could program it so that he would get a perfect shot every time but his wife's shots constantly miss.
This is not the first instance where Wighton has built a backboard to help people get better shots. In a previous video, he also made a non-mechanical curved backboard that ensure the ball always goes into the hoop.
Wighton also says he is not the only one to build a system like this. He references Mark Rover, a YouTuber who made a moving dartboard to ensure constant, automatic bullseyes in 2017.
Register for free to continue reading
Registration is a free and easy way to support our truly independent journalism
By registering, you will also enjoy limited access to Premium articles, exclusive newsletters, commenting, and virtual events with our leading journalists
Already have an account? sign in
Join our new commenting forum
Join thought-provoking conversations, follow other Independent readers and see their replies