Bitcoin's market value tops $1 trillion for first time in its history
The cryptocurrency's price rally has seen its value rise 10-fold in less than a year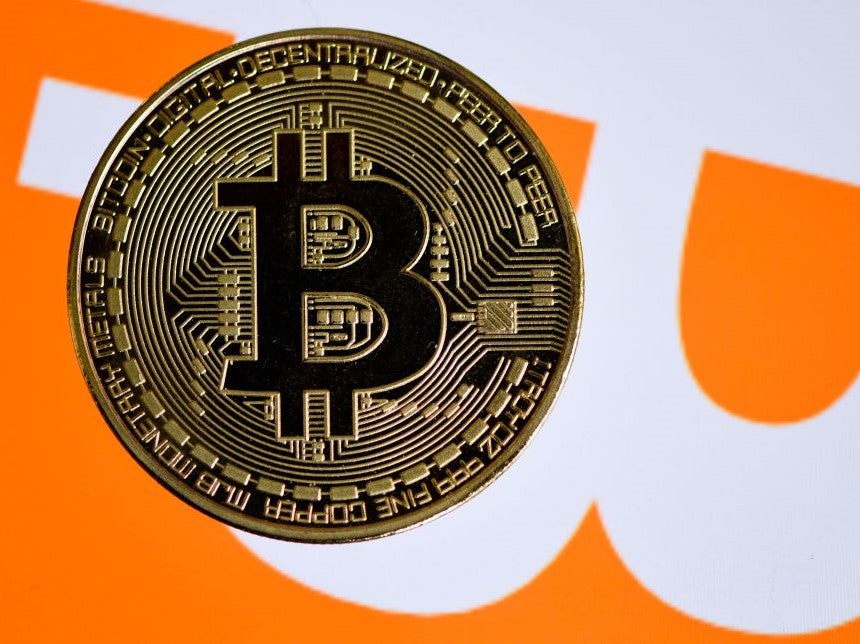 Leer en Español
The market capitalisation of bitcoin has passed $1 trillion for the first time in its history.
Bitcoin's price hit a new all-time high on Friday, taking it above $53,500 (£38,000) and pushing its total value past the 10-digit milestone.
The cryptocurrency's market cap is now greater than the value of payments giants Mastercard and Visa – combined.
It now ranks as the eighth most valuable asset in the world, behind Gold, Apple, Saudi Aramco, Microsoft, Amazon, Silver and Alphabet (Google).
"Bitcoin reaching a $1 trillion market cap is momentous for the industry. Despite being criticised only this week as a bubble waiting to burst and an 'economic sideshow', it has yet again proved its detractors wrong and broken another record," Simon Peters, a cryptocurrency analyst at the online trading platform eToro, told The Independent.
"Of course, it can be volatile, but achieving such a large market cap is not to be sniffed at. Today's milestone demonstrates bitcoin's growing power as it looks to disrupt the traditional financial landscape."
Bitcoin's price rally has seen its value rise 10-fold in less than a year, having traded below $5,000 as recently as March.
The gains have been fuelled by increased institutional and retail investment, with bitcoin increasingly seen as a viable store of value amid global economic uncertainty brought about by the Covid-19 pandemic.
Market analysts often refer to bitcoin as a form of "digital gold", due to its finite supply being limited to 21 million units. Wild price swings in recent years have led others to warn that it is a far more risky investment than traditional assets.
"It's very significant that businesses are actively searching for alternative ways to store their wealth that will not depreciate in value. We've reached an inflection point where people are questioning traditional monetary systems and recognising that there are better, fairer options," Jai Bifulco, Chief Commercial Officer of exchange platform Kinesis, told The Independent.
"That said, it's strange that Bitcoin continues to take centre stage over gold. I really can't emphasize this enough; gold is the safest place to protect your wealth in increasingly uncertain times."
Join our commenting forum
Join thought-provoking conversations, follow other Independent readers and see their replies