BlackBerry phones still exist – and the newest one claims to be 'iconic'
BlackBerry may now use Android software, but it refuses to ditch the keyboard
Anthony Cuthbertson
Friday 31 August 2018 15:32 Comments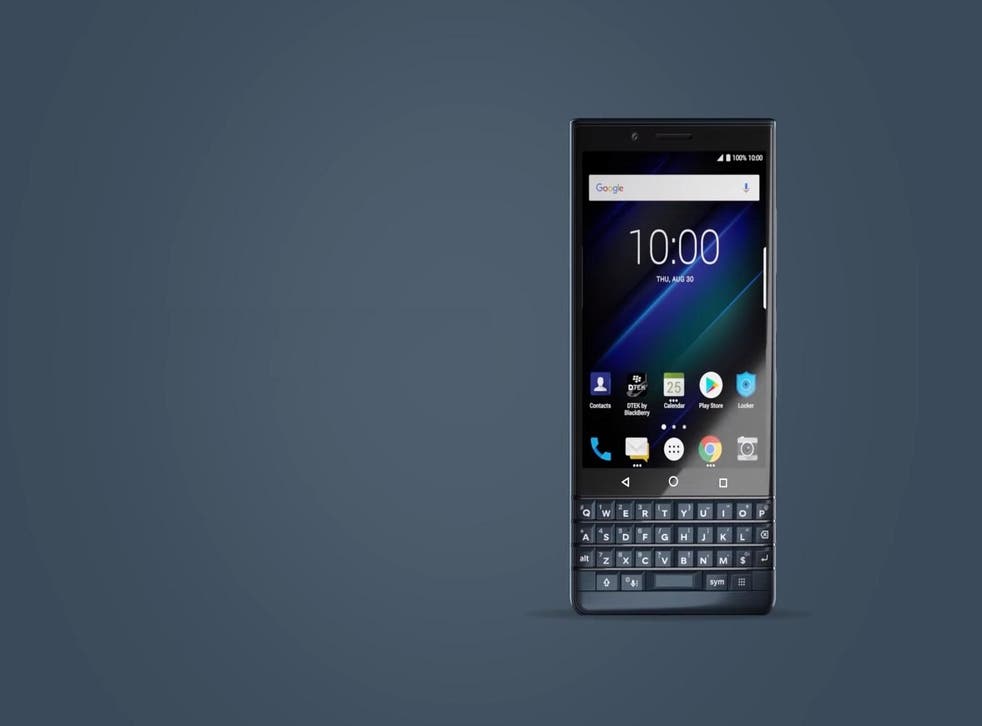 Between 2009 and 2010, every fifth smartphone sold was a Blackberry. By 2017, Blackberry was making headlines for failing to claim even 0.0 per cent of the global smartphone market (it managed just 0.04 per cent that year), but such a dramatic decline was not enough to deter it completely.
Without the same level of fanfare that comes with the unveiling of a new iPhone – or even a Samsung smartphone – most people may have missed the launch of the latest BlackBerry device, though according to its makers, it's "an icon reborn".
The BlackBerry Key2 LE is actually a cheaper version of the BlackBerry Key2, a high-spec smartphone released earlier this summer. What makes both phones "iconic" is the inclusion of a physical keyboard.
Despite all major phone makers ditching physical buttons in favour of the versatility offered by a touchscreen keyboard, the firm believes its fans still prefer something more tangible.
According to its marketing materials, the BlackBerry Key2 LE is a "vibrant, modern smartphone built around an iconic BlackBerry keyboard that enables you to type with accuracy and precision."
Gadget and tech news: In pictures

Show all 25
And while the BlackBerry Key2 LE shares many of the same physical attributes of its predecessors, including the logo and the keyboard, it is actually not made by BlackBerry.
BlackBerry's capitulation to the likes of Apple and Samsung was completed when it announced it would no longer make its own phones, instead allowing third party manufacturers to release devices under the BlackBerry brand.
This means the Key2 LE is built by Chinese electronics firm TCL Communication under the trading name BlackBerry Mobile. The challenge for TCL, beyond simply building a smarthphone, is rebuilding on a brand that was once so popular it became known as 'CrackBerry' – referencing the addictiveness of the devices it built.
The way to do this, TCL figures, is to appeal to enterprise customer by focussing on two key areas: privacy and productivity.
"Today's smartphones try to offer a one size fits all solution, but that is no longer realistic when we have a global marketplace as diverse as we have today," said Alain Lejeune, a senior vice president at TCL Communcation.
"But this is why we focues on making modern BlackBerry smartphones like Key2 LE, to stand out and deliver a great experience for everyday communication, with access to all the features, connectivity and applications our customers expect."
Despite being a scaled version of the Key2, the Key2 LE features impressive specs for a phone that retails at just $399. A Qualcomm Snapdragon 636 processor, together with 4GB of RAM, makes it theoretically as powerful as a midrange laptop. A 3,000mAh battery also means it has a battery life of 22 hours, though no reviews have yet emerged to confirm this.
Most important for its demographic, perhaps, is the inclusion of its own custom apps and software, such as the DTEK security dashboard app and Locker, which helps users hide apps behind a security wall.
Earlier this year, BlackBerry Mobile said it was aiming for a 3 to 5 per cent market share over the next few years, with the company saying it was "heading in the right direction." But while promising for business users, it will take a massive market reversal for the Key range of BlackBerry-branded smartphones to achieve this.
Register for free to continue reading
Registration is a free and easy way to support our truly independent journalism
By registering, you will also enjoy limited access to Premium articles, exclusive newsletters, commenting, and virtual events with our leading journalists
Already have an account? sign in
Register for free to continue reading
Registration is a free and easy way to support our truly independent journalism
By registering, you will also enjoy limited access to Premium articles, exclusive newsletters, commenting, and virtual events with our leading journalists
Already have an account? sign in
Join our new commenting forum
Join thought-provoking conversations, follow other Independent readers and see their replies