Boyd Tonkin: The Sonnets app is a digital delight. Next? I'd opt for Blake
The week in books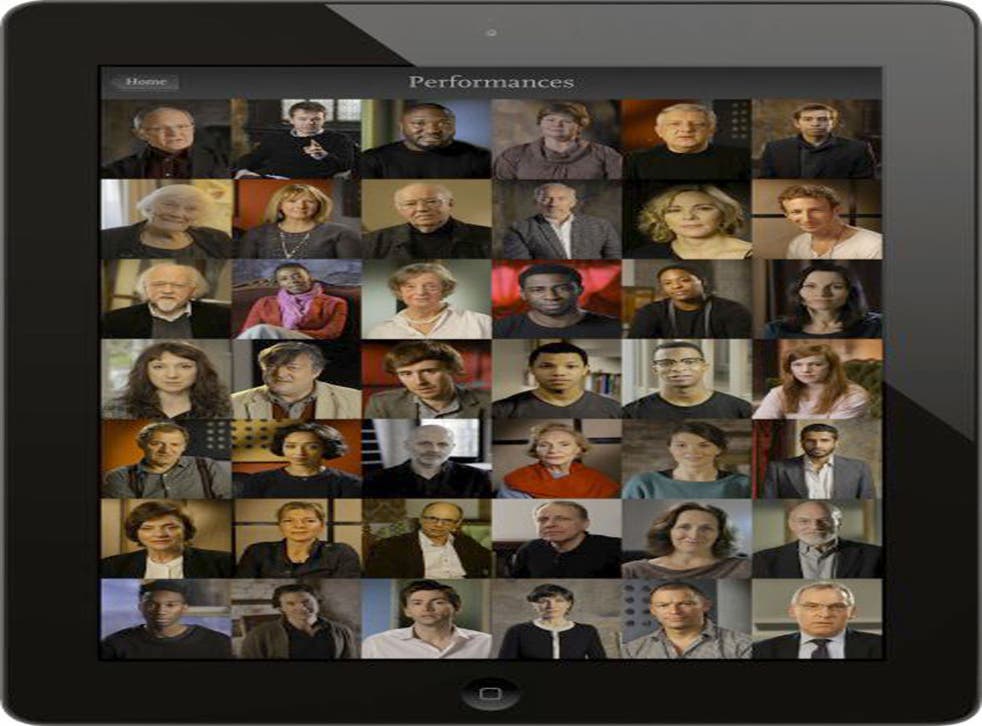 "Not marble, nor the gilded monuments/ Of princes, shall outlive this powerful rhyme;/ But you shall shine more bright in these contents/ Than unswept stone besmear'd with sluttish time." In his 154 sonnets, William Shakespeare often marries the lover's self-abasement with the poet's self-glorification. But, if his maker's pride seldom tops the claims of immortality voiced in Sonnet 55, then even the mighty rhymster might have gasped in awe at the latest medium to carry his verse. For the best results, it needs another sort of tablet to the stone kind that Will imagined in the graveyard, cracked and stained.
On 28 June, Faber & Faber releases an app of the Sonnets. It follows their multi-media version of TS Eliot's "The Waste Land". That not only raised the bar for literary apps but earned back the six-figure outlay its development required. Faber has again collaborated with digital publisher Touch Press, with film elements produced by TV company Illuminations and the Arden Shakespeare edition providing text, notes and commentary. Other publishers have begun to explore the potential of high-level apps of classic works. Profile recently released an interactive take on Mary Shelley's Frankenstein, with multiple narrative pathways for users keen to find their own way through the tale.
Compared to this sort of inbuilt interactivity, Faber's Sonnets offers more of a traditional immersion. You don't have the option to adopt the POV of the Dark Lady or the fair youth. Instead, 40 different readers – introduced by the august tones of Patrick Stewart – invite us to boldly go through the sequence of poems. You can watch them read the verse, with or without the Arden text and its famously exhaustive notes.
The cast-list is stupendously strong. David Tennant's four sonnets include 18 ("Shall I compare thee to a summer's day?/ Thou art more lovely and more temperate") - surely a favourite for the "share" function added after requests from users of the "Waste Land" app. Fiona Shaw reads five, and Dominic West four. Kim Cattrall opens the show with number 1 ("From fairest creatures we desire increase"), while Stephen Fry bags the satirical outlier of 130 ("My mistress' eyes are nothing like the sun"). Not only star actors perform the poems. Shakespearean specialist Ben Crystal gives his approximation of Shakespeare's own pronunciation, rugged and lilting at once. Cicely Berry, voice director of the RSC, chips in with the post-coital self-disgust of number 129: "The expense of spirit in a waste of shame/ Is lust in action". Poet Don Paterson not only reads but adds his own more personal commentary (drawn from his book Reading Shakespeare's Sonnets) to complement the Arden scholarly apparatus.
For Faber's digital project manager Eoin Noble, the notes matter as much as the stellar reciters: "We've given them a lot of love and attention. They really do behave in a joined-up way." Overall, the "high production values" signal Faber's intention to reach an audience which hankers for more than a throwaway app costing 99p. The Sonnets, which cost around £100,000 to develop, will sell at £9.99: "higher priced but reasonably priced," Noble suggests.
Thanks to the steep expense of such top-drawer digital partnerships, it's unlikely that scores of such apps will land on our devices soon. Canonical works with a global reach, and preferably out-of-copyright texts, will yield the richest pickings. "It's important that these apps are world-wide releases," Noble notes. A wish-list of app-friendly classic verse springs pretty easily to mind.
Given the centrality of the poet's own artwork, I would be inclined to start with Blake's Songs of Innocence and Experience. But for now, a mere tenner will unlock new doors into the Sonnets. In its 40-part polyphony of voices, the app affirms that (as 81 uncannily predicts), "Your monument shall be my gentle verse,/ Which eyes not yet created shall o'er-read,/ And tongues to be your being shall rehearse/ When all the breathers of this world are dead."
Plain 'Jane': sexier than an erotic mash-up
Just when we thought that the post-Fifty Shades of Grey spurt of erotica could not get much sillier comes news of Jane Eyre Laid Bare, a debut novel by Eve Sinclair which its author calls "an erotic version of my favourite classic". As if the original by Charlotte Brontë (pictured) were not one of the most sulphurously sexy works of fiction ever. As if a dose of pulp could compete with everything that readers have done with Jane and Rochester in their imaginations since 1847. Perhaps we need a counter-trend: chaste versions of erotic classics. How about Lady Chatterley's Neighbour, in which a polite gamekeeper discusses the dire effects of industrialisation with his employer over an innocent pot of Earl Grey?
Diplomats who slam the doors
Last month, at the Jerusalem International Writers Festival, I was eager to hear again from Boualem Sansal, whom I had interviewed in London during Jewish Book Week in 2011. The Algerian novelist is best known here for his bold family saga An Unfinished Business, which ties the history of the Holocaust to extremist ideologies at work in the Arab world today. He spoke movingly, even if I worried that questioners paid too much attention to his presence in Jerusalem (in defiance of a kind of anathema issued against him by Hamas) rather than the substantial themes of his work.
Sadly, however, the curses continue. Sansal recently won the "Arab Novel Prize" in France for his latest book, Rue Darwin. On 6 June, he was due to receive the award at a ceremony convened in Paris by the Council of Arab Ambassadors in France, first patrons of the prize. They cancelled it. Why? Because the winner had gone to Israel. To their huge credit, the jury – among them, French literary giants of Arab heritage such as Tahar Ben Jelloun – have broken with the envoys and are seeking a new sponsor.
Register for free to continue reading
Registration is a free and easy way to support our truly independent journalism
By registering, you will also enjoy limited access to Premium articles, exclusive newsletters, commenting, and virtual events with our leading journalists
Already have an account? sign in
Register for free to continue reading
Registration is a free and easy way to support our truly independent journalism
By registering, you will also enjoy limited access to Premium articles, exclusive newsletters, commenting, and virtual events with our leading journalists
Already have an account? sign in
Join our new commenting forum
Join thought-provoking conversations, follow other Independent readers and see their replies