Scientists create 'brightest known materials in existence'
Applications include realistic 3D displays and harvesting invisible light for solar power
Anthony Cuthbertson
Thursday 06 August 2020 19:43 Comments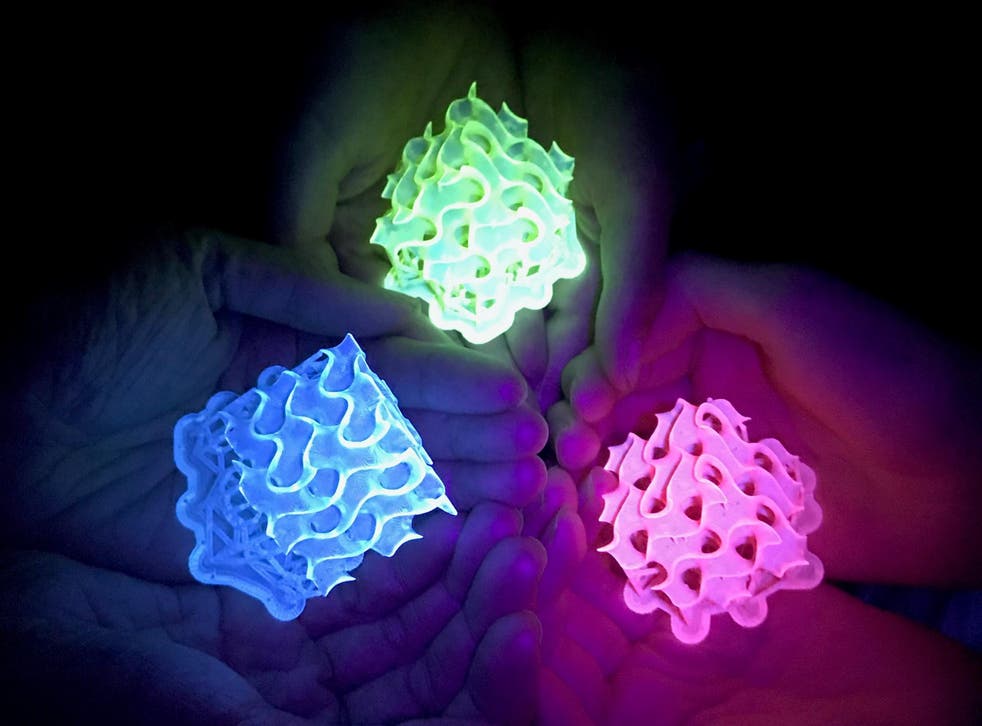 A major breakthrough with fluorescents has allowed scientists to create the "brightest known materials in existence".
The advance paves the way for a new class of materials that transform fluorescent dyes into solid objects, according to researchers from Indiana University in the US and the University of Copenhagen.
There are more than 100,000 fluorescent dyes in existence but until now it was not possible to mix them in a predictable way in order to produce solid optical materials.
The researchers formulated the new class of materials, called small-molecule ionic isolation lattices (SMILES), using positively charged fluorescent dyes to create a solid material.
Applications for the material range from solar energy harvesting to next-generation OLED displays.
"These materials have potential applications in any technology that needs bright fluorescence or calls for designing optical properties, including solar energy harvesting, bioimaging, and lasers," said Amar Flood, a chemist at Indiana University and co-author of the study.
"Beyond these, there are interesting applications that include upconverting light to capture more of the solar spectrum in solar cells, light-switchable materials used for information storage and photochromic glass, and circularly polarised luminescence that may be used in 3D display technology."
Fluorescents have the unique property of absorbing light of a certain colour and emitting a light of a different colour and wavelength.
For example, fluorescent materials are able to absorb ultraviolet (UV) light – which is invisible to humans – and emit light on the visible spectrum, making it appear as though the material is glowing.
Gadget and tech news: In pictures

Show all 25
Previous attempts to transform fluorescent dyes into solids resulted in a form of "quenching" that decreased the intensity of the fluorescent's glow.
"The problem of quenching and inter-dye coupling emerges when the dyes stand shoulder-to-shoulder inside solids," said Professor Flood.
"They cannot help but 'touch' each other. Like young children sitting at story time, they interfere with each other and stop behaving as individuals".
To overcome this, Professor Flood and his team mixed the dye with a colourless solution to prevent the fluorescent molecules from interacting. The researchers were then able to grow crystals from the SMILES that formed as the material solidified.
A research paper detailing the discovery was published in the scientific journal Chem on Thursday.
Register for free to continue reading
Registration is a free and easy way to support our truly independent journalism
By registering, you will also enjoy limited access to Premium articles, exclusive newsletters, commenting, and virtual events with our leading journalists
Already have an account? sign in
Register for free to continue reading
Registration is a free and easy way to support our truly independent journalism
By registering, you will also enjoy limited access to Premium articles, exclusive newsletters, commenting, and virtual events with our leading journalists
Already have an account? sign in
Join our new commenting forum
Join thought-provoking conversations, follow other Independent readers and see their replies