Cameron announces plans for 5G internet to download a movie in 'one second'
New UK-Germany collaboration will lead research into next-gen internet; Cameron announces £73 million in funding for Internet of Things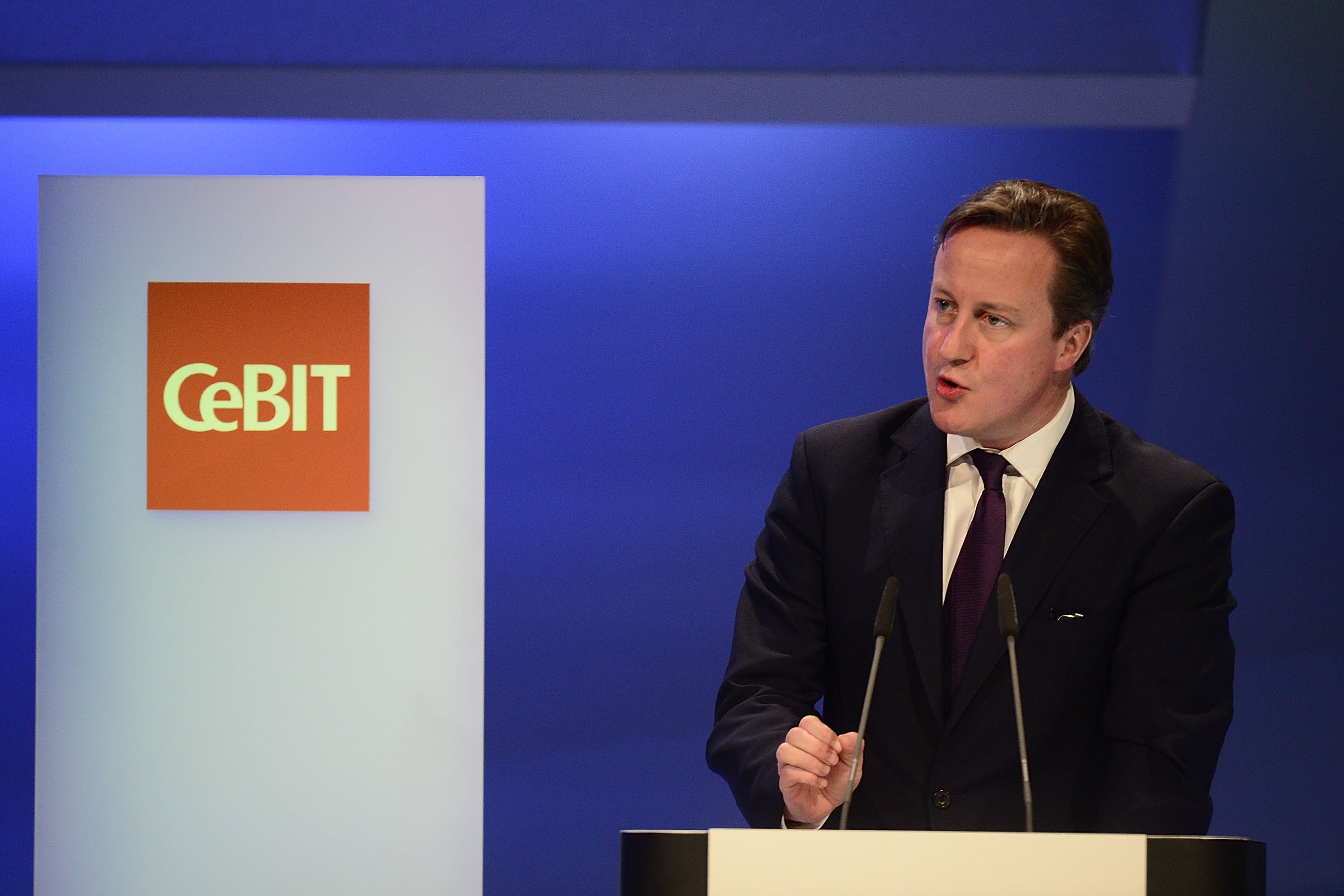 Prime Minister David Cameron has announced plans for the UK to develop the next generation of wireless, 5G internet in collaboration with Germany.
Speaking at the CeBit trade show in Hannover, Cameron said that in the current world of "permanent technological revolution" the UK could not afford to miss out on developing 5G.
"With 4G, an 800 megabyte movie takes around 40 seconds to download; with 5G that would be cut to one second," said Cameron.
"This is a prize that researchers all over the world are going for and so I am delighted to announce a new collaboration, between the University of Dresden, King's College University in London and the University of Surrey."
Despite his insistence that Europe must take the lead in developing the technology, Cameron did not clearly outline what money would be used to fund the research.
This is in contrast with the South Korean government who announced in January this year that they would be investing 1.6 trillion won ($1.5 billion) in developing 5G technology over the next six years.
Cameron did announce however plans for £73 million of public money to be directed towards boosting research in the Internet of Things – the concept of endowing ordinary objects with low-power internet connections to allow them to share data.
"Electricity meters that talk to the grid to get you the best deals. Health monitors that keep an eye on your heart rate. Water pipes that warn of a fall in pressure. And yes, even a fridge that can order you milk when it notices you are getting low," said Cameron.
"I see the Internet of Things as a huge transformative development a way of boosting productivity of keeping us healthier making transport more efficient reducing energy needs, tackling climate change."
As well as the funds set aside to "put the boosters under research" Cameron also revealed more details about the Spectrum Strategy, an initiative by Ofcom that will open up unused frequencies for wider commercial use.
This so-called "white space" will be one of the raw resources used to enable the Internet of Things, with the prime minister saying that he aims to "double the economic benefits of spectrum to UK companies and consumers from roughly £50bn today, to £100bn in 2025."
"We are on the brink of a new industrial revolution and I want us – the UK and Germany – to lead it," said Cameron. "Take British ingenuity in software, services and design, add German excellence in engineering and industrial manufacturing and together we can lead in this new revolution."
Join our commenting forum
Join thought-provoking conversations, follow other Independent readers and see their replies