Canyon cycling company reveals bike-car hybrid 'concept vehicle' as it launches new ebikes
Product aims to combine a bike and a car – and drive on roads built for both
Andrew Griffin
Tuesday 01 September 2020 10:13 Comments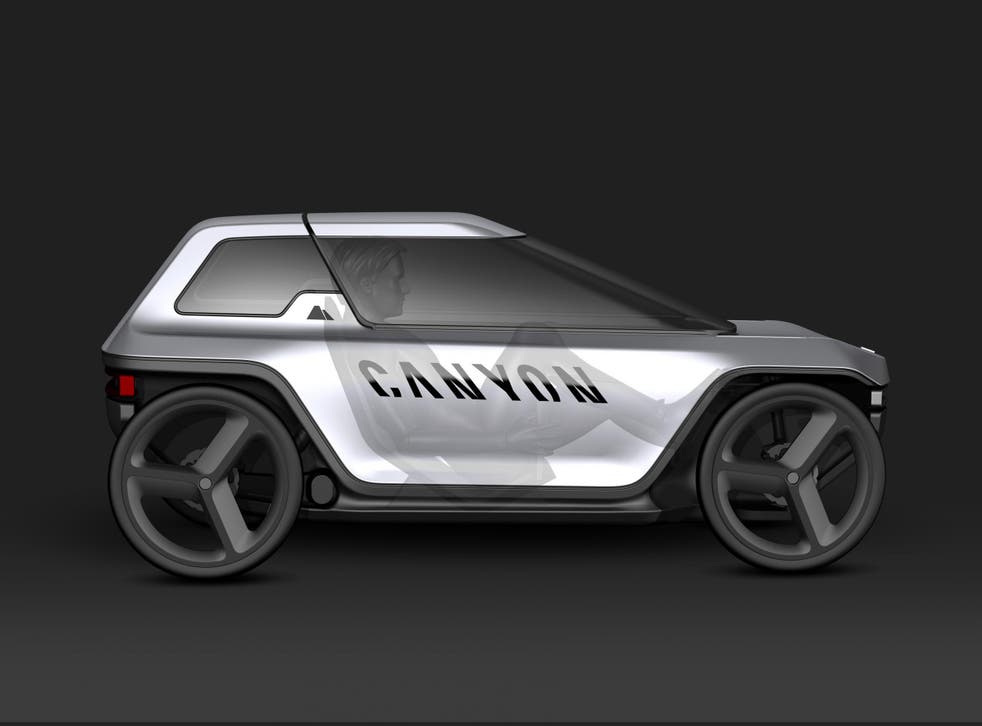 Canyon has revealed a new car-bike hybrid vehicle that it says could change how we get around cities.
The bike company, better known for producing racing bikes of the kind used at the Tour de France, says that it wants to disrupt the automotive industry by creating a vehicle that brings bike and car technology together, allowing it to drive on paths built for both. But that aim also represents its biggest barrier, with ongoing regulatory questions of how – and whether – such vehicles should be allowed.
The announcement came as it showed off new ebikes that it hopes can capture the significant rise in the number of people cycling to work after the coronavirus outbreak. Monthly sales of ebikes have already risen fivefold under lockdown, Canyon said, and the company believes that trend will stay in place as cities open back up again.
The concept vehicle attempts to build on those more traditional ebikes by solving problems that cyclists continue to have with biking around cities. It has a large shell that can keep people dry, and can switch between a driving mode that will allow it on big roads and a cycling mode that will let it take advantage of cycling infrastructure.
The vehicle could be ready within five years, cost something in the region of €5,000-€7,500, and take on companies like Tesla when it is done, Canyon claimed. For now, the main barrier to making the vehicle available is the regulatory and legal questions of how it should be allowed to drive on the streets, the company said.
It follows similar concept vehicles from companies like Volvo, which have included a concept of a car that would reinvent the seatbelt so that it would be more like a blanket.
Canyon founder and chief executive Roman Arnold told The Independent that the idea to make commuter and electric bikes began in part to address a need among its staff for dependable ways of cycling to work. The decision to start work on the hybrid concept came after that, as people struggled with the various issues that confront people who bike into work.
"For us it's clear we want to commute by bike," he said. "It was fine in August, in July – but will it be fine in October, November, in the rain?
"Even if we think a bike is great, it doesn't feel great to be very wet."
In addition, the vehicle would allow cyclists to go much faster, with top speeds of 60 kilometres per hour on roads built for cars, he said. When the vehicle arrives in more built-up areas and commuters want to take advantage of the cycling infrastructure, they can switch into an ebike mode and ride more slowly on bike paths.
While other vehicles have attempted to bridge that gap, they have largely been sold and regulated as small cars, and so kept off cycle paths. Canyon's vision for the vehicle would mean it having to comply with two standards – one for "heavy quadricyles" and another for "powered cycles" – which are currently in conflict and so would require a choice between it being allowed to drive as a vehicle or a bike.
The concept was created with a focus on aesthetics, so that there was not resistance to the idea of moving to use such a vehicle, Canyon said. Representatives pointed to the BMW C1 scooter and the Renault Twizy, both of which were produced with the hope of combining bikes and motor vehicles but received some mockery when they were launched because of unusual design decisions.
The vehicle would still allow users to pedal in the same way as on an ebike, but they would be assisted by a powerful motor that allows for the extra speed. They would steer with two joysticks near their hands, in the same way as on a tank, Canyon said.
It also aims to take from the recent trend for cargo bikes, with enough space in the back to store shopping or a child, for instance.
Mr Arnold told The Independent that the company is already in talks with car manufacturers about how to build the vehicles at scale. The concept was unveiled early so that it could be clear that it was "very deeply, from the heart, interested in being part of this whole shift", but also so that it could do it in an "economic way" that allowed any problems with the idea to be found before it was built en masse, he said.
The decision to unveil both the concept and the more traditional ebikes was not one made as a result of the coronavirus outbreak, he said, and development on the products started three years ago. But the pandemic has accelerated changes in the transport and cycling industries that could help the success of both, he said, and those are not likely to go away even if the disease does.
"I don't think it's temporary," he said, likening it to other changes such as a reduction in the eating of meat and a general move towards health. "When people start now using the bike, they just feel how great the bike is – and maybe they forgot it for a while.
"I think it will further accelerate as people go to other people and tell them how great this is. Of course some people will go back to their old behaviours – but if I look to the future there will be a great future for the cycling industry, and for any kind of cycling."
Register for free to continue reading
Registration is a free and easy way to support our truly independent journalism
By registering, you will also enjoy limited access to Premium articles, exclusive newsletters, commenting, and virtual events with our leading journalists
Already have an account? sign in
Register for free to continue reading
Registration is a free and easy way to support our truly independent journalism
By registering, you will also enjoy limited access to Premium articles, exclusive newsletters, commenting, and virtual events with our leading journalists
Already have an account? sign in
Join our new commenting forum
Join thought-provoking conversations, follow other Independent readers and see their replies