CES 2021: Robot butlers, flying cars, and foldable technology are the future, companies say
Razer announced a light-up mask, while TCL has launched prototype glasses with built-in screens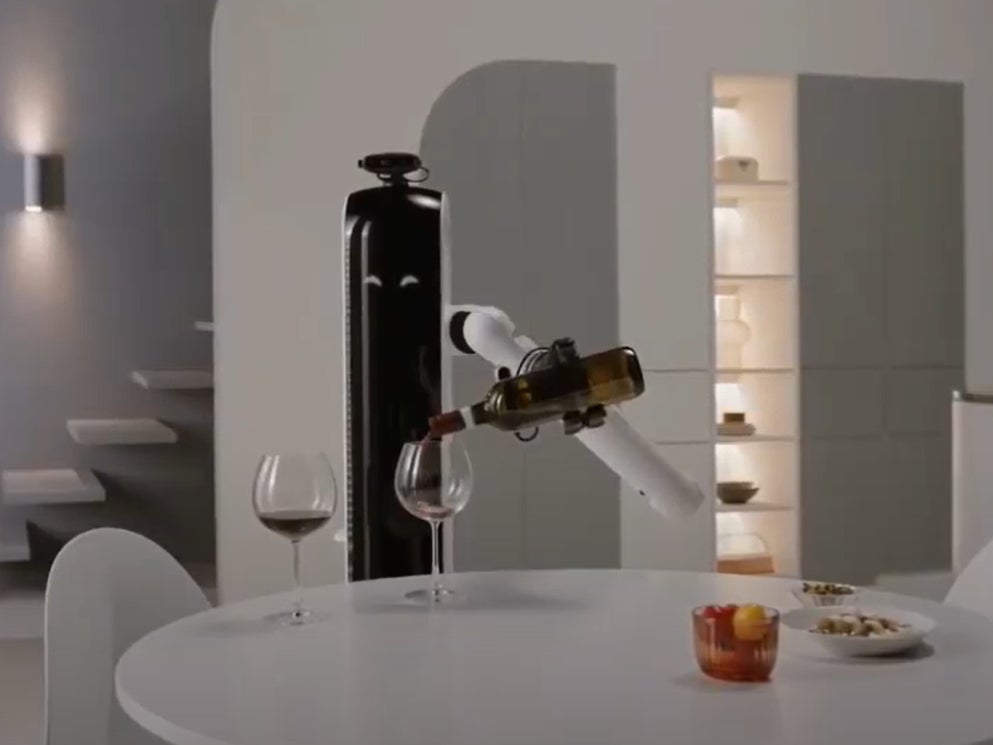 The Consumer Electronics Show (CES) is taking place digitally this year, due to the rampant spread of the coronavirus.  
Many companies including Samsung, LG, Razer, and many more are debuting their products for the next year – giving consumers a glimpse at the future, should they make it out of the testing facilities.
Samsung has announced that it is working on a robot that can pick up laundry, set the table, and pour wine.
The machine is called Bot Handy, and Samsung says that it will be able to use artificial intelligence to recognise objects around the house.
Bot Handy "will be able to tell the difference between the material composition of various objects, utilizing the appropriate amount of force to grab and move around household items and objects", Samsung says, so that it can clean up rooms and do the washing up.
LG touted its Rollable smartphone, which extends from the middle turning the device into a tablet.
"Our management wanted to show that it is a real product, as there were many rumors around the rollable phone," says an LG spokesperson in a statement to Nikkei.
"As it is released at CES 2021, I can tell that it will be launched this year."  
The company had previously launched the LG Wing, a strange dual-screen phone that rotates into a T-shape. 
TCL also demonstrated rollable technology, showing a phone stretch from its 6.7-inch screen size to a 7.8-inch tablet with "a simple tap of the finger", CNET reports, but has also stepped into the wearable space.
The company is launching wearable prototype glasses that feature two 1080p mini OLED screens on the inside, Engadget reports, and is expected to launch laterr this year in the US.
It will not be able to be taken out-and-about, however. The display draws power through a USB-C cable connected to the smartphone, laptop, or tablet, but happily can be worn over eyeglasses.
Another wearable – especially pertinent in the time of the pandemic – has been made by Razer: this time a reusable N95 Mask called Project Hazel.
It features microphones and amplifiers that project the wearer's voice through the mask, and has light up rings on the side.
Razer is working with a team of medical experts to develop the mask, they told The Verge, but has not yet received certification from the Food and Drug Administration, the Centers for Disease Control and Prevention, or Occupational Safety and Health Administration.
For gamers, Nvidia is bringing the RTX 3000 series GPUs to gaming laptops. The RTX 3060, RTX 3070, and RTX 3080 will be available in 70 laptops from January, only six months after it was introduced for desktop computers. 
And finally, General Motors also demonstrated two strange vehicles: an autonomous delivery van, and a potential flying car.  
The announcement showed a shuttle, and an electric vertical takeoff and landing (eVTOL) aircraft, CNBC reports.
Each concept reflects "the needs and wants of the passengers at a particular moment in time and GM's vision of the future of transportation", Michael Simcoe, vice president of GM global design said.
"This is a special moment for General Motors as we reimagine the future of personal transportation for the next five years and beyond," Simcoe added.
The car can hold one passenger and can travel at around 56 miles-per-hour between rooftops and in other urban destinations. While both models of have been built, according to a spokesperson, computer renderings were used during the company's presentations.  
Join our commenting forum
Join thought-provoking conversations, follow other Independent readers and see their replies