China's new experimental spacecraft returns to Earth – after experiencing mysterious malfunction
Chinese space agency hopes capsule can one day carry six astronauts into space
Andrew Griffin Comments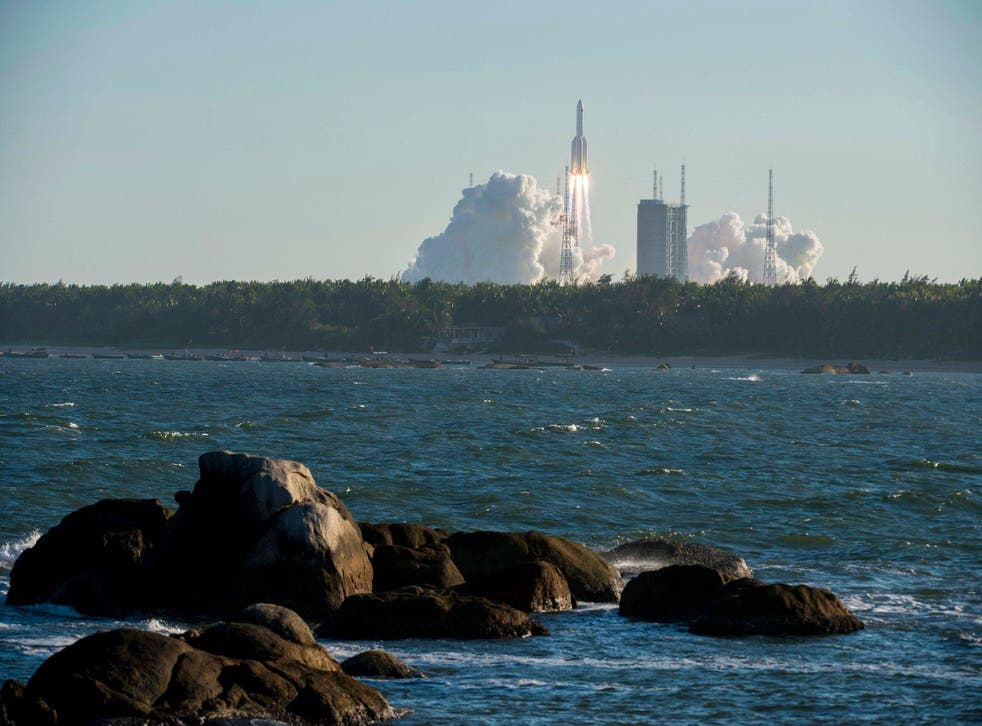 An experimental Chinese spacecraft has returned to Earth after a mysterious malfunction.
The craft is part of a mission to increase Beijing's presence in space – its own version of the International Space Station is part of the plans.
The craft was launched from a new heavy-lift carrier rocket, the Long March 5B, from Hainan island on Tuesday.
It then orbited around Earth before dropping into the atmosphere and landing back in China as planned, according to state media.
But its mission had been hit by a mysterious malfunction with a "flexible and inflatable cargo return capsule" that was being tested as part of the launch, and which China gave no further information on. The China Manned Space Agency has said only that it operated abnormally during reentry on Wednesday and data is being analysed.
The spacecraft's mission did not include any crew, but reportedly was a test of a capsule that could one day carry Chinese astronauts into space. It is said to be an improvement on the Shenzhou capsule based on the former Soviet Union's Soyuz model and can carry six astronauts instead of three.
The spacecraft was flying stably in a "highly elliptical orbit, with the power supply, measurements and control links normal", the official China Aerospace Science and Technology Corporation had said earlier, following reports of the issues, according to the official Xinhua News Agency.
China is working on a permanent orbiting station after being excluded from the International Space Station, largely because of US objections.
Beijing previously launched an experimental space station and plans four crewed and four cargo missions to finish a permanent space station within about two years.
Nasa's groundbreaking decade of space exploration: In pictures

Show all 10
China's burgeoning space programme achieved a milestone by landing a spacecraft on the largely unexplored far side of the moon last year and plans to send a lander and rover to Mars.
The programme has developed rapidly, especially since its first crewed mission in 2003, and has sought cooperation with space agencies in Europe and elsewhere.
Additional reporting by Associated Press
Register for free to continue reading
Registration is a free and easy way to support our truly independent journalism
By registering, you will also enjoy limited access to Premium articles, exclusive newsletters, commenting, and virtual events with our leading journalists
Already have an account? sign in
Register for free to continue reading
Registration is a free and easy way to support our truly independent journalism
By registering, you will also enjoy limited access to Premium articles, exclusive newsletters, commenting, and virtual events with our leading journalists
Already have an account? sign in
Join our new commenting forum
Join thought-provoking conversations, follow other Independent readers and see their replies