Company breaks open Apple Watch to discover what it says is 'planned obsolescence'
Tech website iFixit found that Apple had ensured that the technology would eventually fall out of use, forcing customers to buy new products
Jamie Campbell
Saturday 25 April 2015 16:43 Comments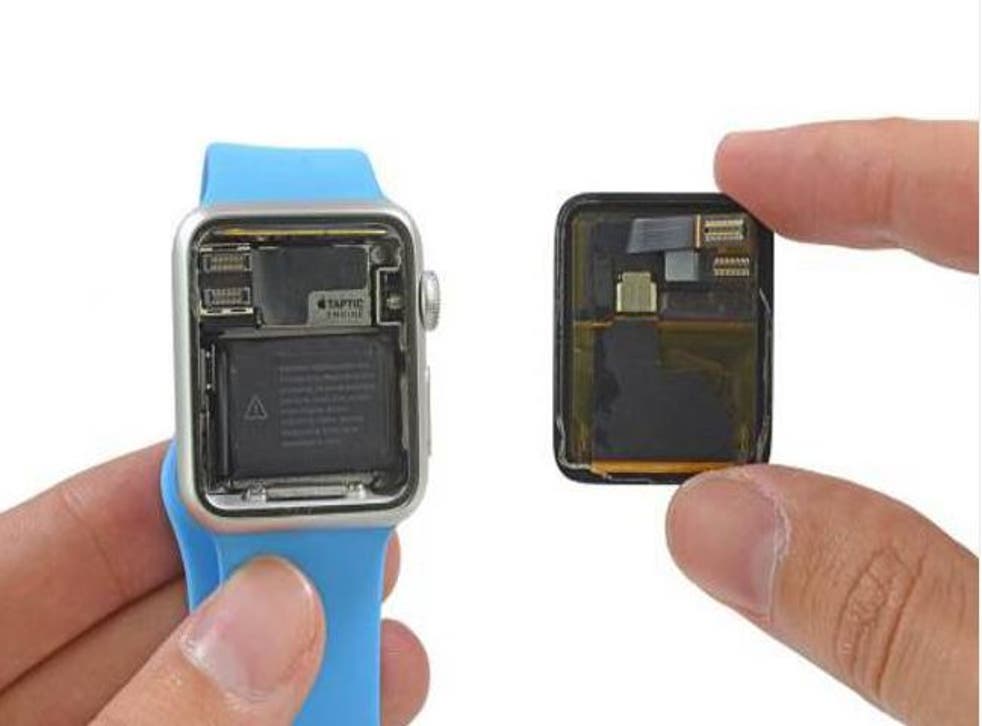 Tech repair and upgrade website iFixit has claimed that the Apple Watch won't be a long term option for those hoping to continually upgrade their device.
CEO Kyle Wiens has always been a vocal critic of Apple's obstructive policies on third parties fixing and upgrading iOS devices and his company provide an online "free repair guide for everything" where methods to repair or improve electronic devices are posted.
Upon the release of the Apple Watch, Wiens' company immediately got down to the business of (iBuffs look away now) tearing the brand new product open and evaluating it from the inside.
Their prying work has discovered that the "overall device construction limits further repair options".
"The S1 SiP [internal system in package] is encased in resin, and is further held in place by a mess of glue and soldered ribbon connectors. In short, basic component replacements look nearly impossible."
The s1SiP is custom-designed Apple technology that integrates a number of subsystems like the chip into one package. It is encased in resin to increase its durability.
Therefore, according to iFixit, the Apple Watch has intentional obsolescence built into it as it will become technologically redundant as processors become faster and apps are supported only by the newest models.
This tactic is known as 'planned obsolescence' and has been an accusation levelled at Apple for a number of years.
The current operating system for iPhones, for example, only supports some of the newer models and it appears that the Apple Watch will find itself in a similar position.
This revelation may trouble users, who will have paid £479 for the standard model or even up to £9,500 if they bought the 18-Carat Rose Gold Case edition.
The exploratory work by iFixit revealed that the device includes a 2-5mAh battery, compared to a 300mAh battery found in competing devices, like the Motorola Moto 360 and Samsung Gear Live. The device also includes an ARM Cortex mj3-based touchscreen controller.
The research also interestingly found that, although Apple has promoted the device's heart rate monitoring feature, it is actually bundled with a plethysmograph that could act as a pulse oximeter. This could allow users to measure their own blood oxygen levels.
Apple has never commented on claims that this is policy that they pursue.
Register for free to continue reading
Registration is a free and easy way to support our truly independent journalism
By registering, you will also enjoy limited access to Premium articles, exclusive newsletters, commenting, and virtual events with our leading journalists
Already have an account? sign in
Join our new commenting forum
Join thought-provoking conversations, follow other Independent readers and see their replies