Scientists create the fastest computer ever made, as 'Fugaku' supercomputer hits top of ranking
Japanese machine beats out American 'Summit', which is based on IBM hardware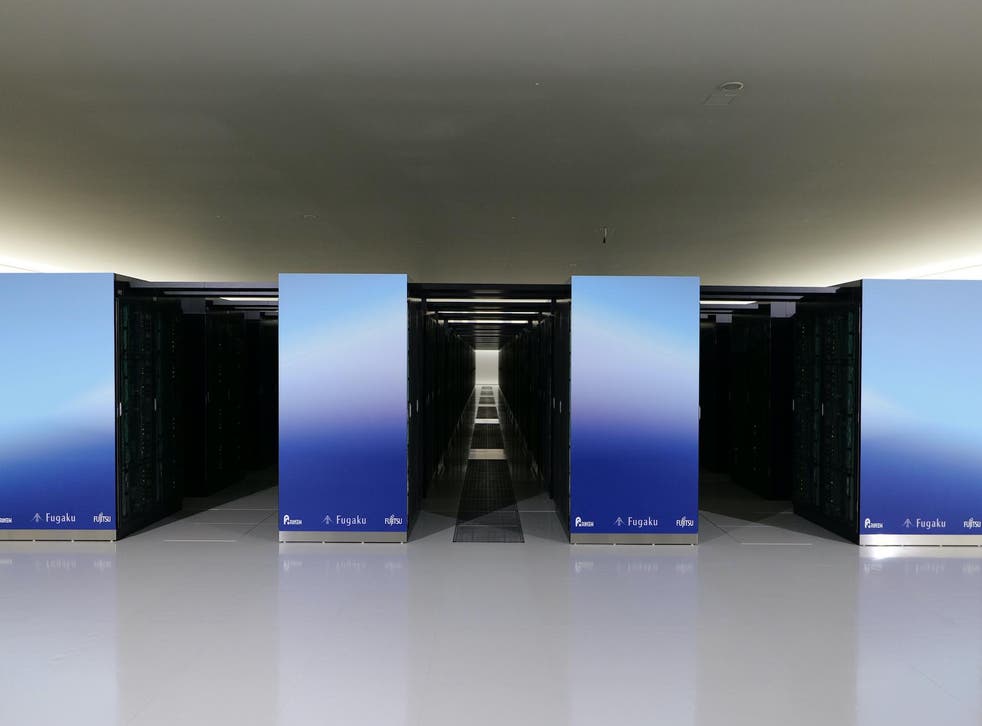 Scientists have created the fastest computer ever.
The Japanese supercomputer named "Fugaku" now sits at the top of official rankings of how quickly they can do certain real-world tasks.
Fugaku was awarded the top spot on the Top500 list, which ranks the world's fastest supercomputers, its creators said. It is also now at the top of other rankings that test how quickly it would perform in real-world applications, how well it can conduct certain artificial intelligence tasks, and how well it can perform with data-intensive processes.
No supercomputer has ever scored at the top of the three rankings – known as Top500, HPCG, and Graph500 – before, the creators said.
In the Top500 ranking, it achieved a score of 415.53 petaflops. That is compared with the 148.6 petaflop score achieved by its nearest competitor, Summit, which is based in the US and is based on IBM hardware.
At the moment, Fugaku is doing experimental work on Covid-19, including simulating how the virus spreads. Many supercomputers around the world are being put to work on the coronavirus outbreak, allowing researchers to better understand the new virus and how to fight the pandemic.
Aside from that work, Japan hopes to use the computer for its "Society 5.0" technology programme. That could see it used for everything from simulating nuclear blasts to modelling climate change.
"I very much hope that Fugaku will show itself to be highly effective in real-world applications and will help to realize Society 5.0," said Naoki Shinjo, corporate executive officer of Fujitsu, in a statement.
Gadget and tech news: In pictures

Show all 25
Fugaku was created by research group Riken and technology company Fujitsu, using technology from Arm, which makes semiconductors and software. Arm designs chips for many of the world's smartphones, including the iPhone, and is rumoured to be coming to Apple's Macs as well.
Register for free to continue reading
Registration is a free and easy way to support our truly independent journalism
By registering, you will also enjoy limited access to Premium articles, exclusive newsletters, commenting, and virtual events with our leading journalists
Already have an account? sign in
Register for free to continue reading
Registration is a free and easy way to support our truly independent journalism
By registering, you will also enjoy limited access to Premium articles, exclusive newsletters, commenting, and virtual events with our leading journalists
Already have an account? sign in
Join our new commenting forum
Join thought-provoking conversations, follow other Independent readers and see their replies