Customer service in the social media age: How companies deal with the daily Twitter storm
When it comes to full-blooded vitriol, no one on social media attracts our ire more than big businesses offering bad service, as Rhodri Marsden reports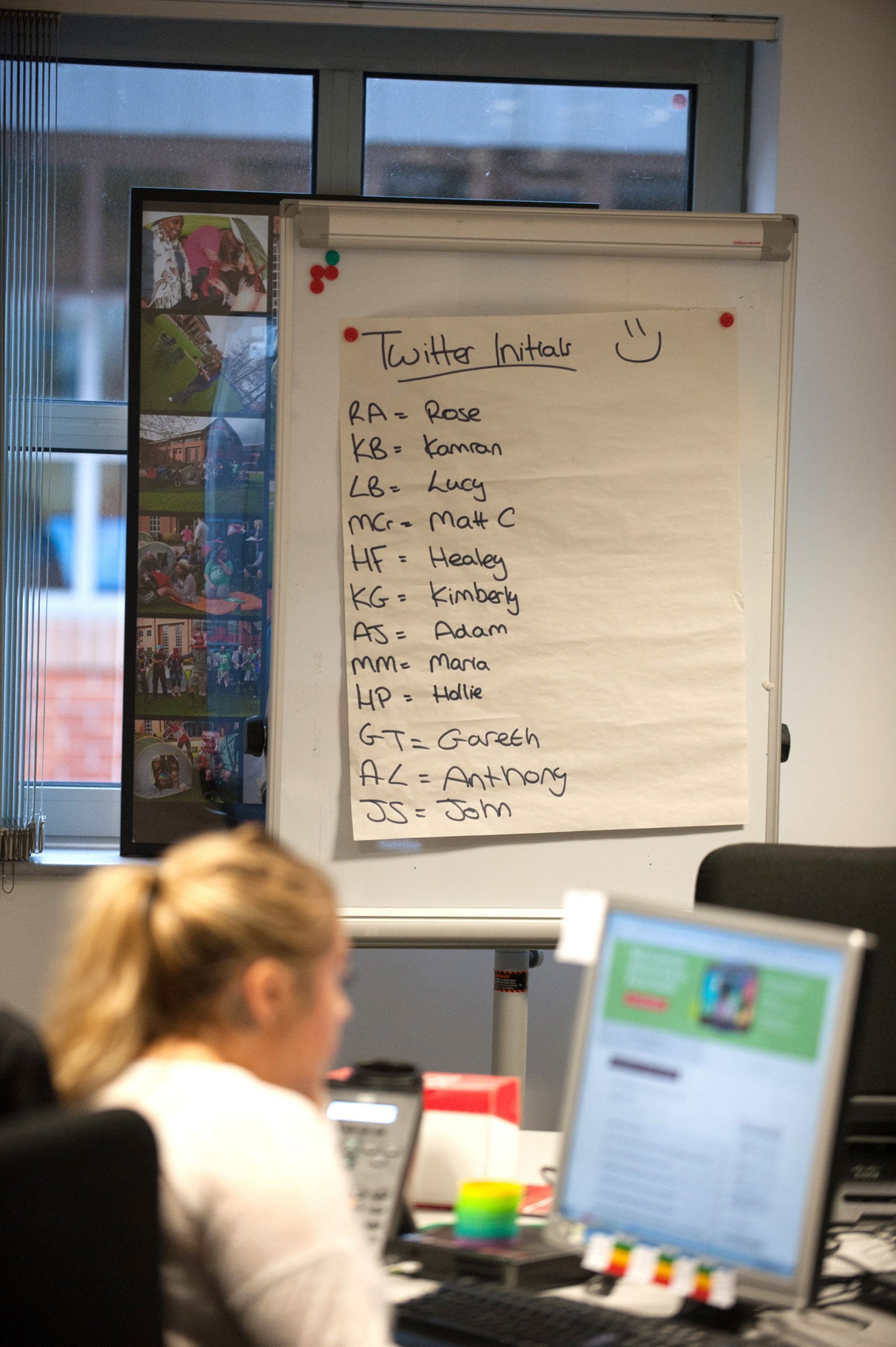 Twitter, as a wise friend of mine once said, is no place for a human being. A swirling vortex of caustic jibes, it unwittingly incubates the kind of viciousness that can cause people real distress.
But while feelings of empathy might occasionally dissuade us from launching an attack on an individual, companies who provoke us with poor goods and mediocre services receive no such preferential treatment. Every minute of every day, Twitter is awash with anger as we seek to let these organisations know precisely what we think of them.
@tfl u are the ultimate d**kheads [@BigMegMeech]
The only time we tend to contact companies is when we're cross, and social media amplifies that fury tenfold. Prince Sharma, part of the social media team at Transport for London (TfL), smiles weakly during rush hour as he scans columns of tweets from disgruntled commuters. "It does bother you," he says. "You understand that they're stuck, but no matter how helpful you want to be, you can't wave a magic wand and get them home any quicker."
With almost Zen-like calm, Sharma sits on the social media frontline, passing comments on to the relevant departments; he, along with many thousands of others across the customer service industry, are paid to absorb the abuse and, if they can, try to make things better. But when you're dealing with people who wish homelessness upon you, that task can be somewhat thankless.
@BTCare you are absolute w*****s! been without phone and broadband for 2 days coz of ur incompetant engineers! [@LauriePithers8]
According to figures from the Institute of Customer Service (ICS), the last 18 months has seen levels of overall customer satisfaction in the UK fall for the first time since their survey began in 2008. Long-suffering customers who previously felt powerless now feel a greater sense of entitlement, and that sense of entitlement can't be ignored because, as the old adage goes, the customer is always right. "It's a new age," says Jo Causon, the Institute's CEO. "We're moving from a transactional economy to a relationship economy, and while the same principles apply in terms of being honest and factual, it's about using greater empathy and emotional-intelligence skills to really connect with customers."
@AskLloydsBank are the worst in the world! And @VodafoneTR u lot are p****s too! Getting charged for having a p**s these days!! [@SamGill93]
Much of the corporate world is terrified by the prospect of being friendly, and the way businesses attempt to be our best mates can feel slightly desperate. "They say money makes the world go round," runs a current TV advert for Nationwide Building Society, "but we think it's people. Maybe that's why we're there for our customers 24/7 on Twitter." In response to this generous offer, @haydenhornshaw tweeted on 6 January: "@AskNationwide i hope every employee dies of syphilis".
Forging any kind of relationship amid the choppy, fast-moving waters of social media is tricky, and we're certainly well past the stage where a tweeted acknowledgement of our customer complaint is enough. We want our fractured state of mind to be repaired by the people we're swearing at. "People tweet impulsively," says Sharma. "If you happen to miss a train and the next one is three or four minutes away, it's infuriating – but for us that doesn't count as a 'minor delay'." He watches a tweet come in that complains about a drunk man "counting to himself" on the 251 bus. He sighs. "It's a constant battle to keep people happy," he says.
@virginmedia Whilst tweeting your stupid s****y puns you could be working on improving your w**k broadband connection [@_CoreyHYUFC]
At its office in Wythenshawe, Virgin Media employs 30 people working in shifts to provide customer care across Twitter and Facebook. According to the online analytics firm Socialbakers, that team is the 2nd most responsive on Twitter in the UK, and the 4th most responsive globally. While the jury is still out as to whether social media provides an efficient customer service channel (according to ICS figures, 26.2 per cent of us have used it but only 6.7 per cent have ever received a reply), Virgin evidently sees it as an important extension of the brand and has thrown human and technological resources at the problem. "When I joined, there were only six of us and it all felt very new," says Jim Meadows, Virgin's content manager. "You need that balance of finding people with good technical knowledge, with good skills in written English and with an understanding of how social media works."
@SkyHelpTeam we pay for fibre optic every month and you provide us with the biggest pile of s***t connection, sort it you w*****s [@Liamyh]
There are countless examples of brands who've flung themselves into Twitter's deep end with joyful enthusiasm, only to find themselves cleaning up after a PR disaster, but computer systems such as the one Virgin Media uses (Lithium) are designed to try and minimise the likelihood of that. It semantically analyses tweets (either sent to the @virginmedia account or just mentioned in passing) for tone in order to determine their priority in the queue; urgent problems are scheduled above casual comments or ferocious abuse. But this kind of customer service takes place in full view of the public; all complaints can be seen, retweeted and watched, so it's also an exercise in damage limitation. "Someone with thousands of followers will be prioritised," says Kyle Dodd, who's working his way through a screenful of tweets, including one that claims to be complaining for the "100th time".
It may stick in the craw that a celebrity complaint would get dealt with more quickly, but such comments can have a huge impact. "It's like when someone goes down the pub and tells everyone about a bad experience," says Dodd, "and it gets passed on, and on, and on."
@SW_Trains you treat your customers like s**t here's hoping you lose your franchise [@SimonPrindy]
Outgoing customer service tweets may also end up being scrutinised by more people than originally intended, and the Virgin Media team is well-versed in the correct tone to use: "Warm, friendly and Virgin-y" as Meadows puts it. (The liberal use of the word "Yikes" in response to annoyed customers gives you an idea of what "Virgin-y" might mean.)
Outgoing tweets are rated against a model that analyses tonal factors such as empathy, explanation, action and surprise; these contribute towards a "Net Promoter Score" which, if a team member does particularly well, might secure them the title of "Net Promoter Superhero". When our broadband isn't working, we may not like the idea that the person helping is dutifully working towards some kind of "niceness" target, but that's the reality of social media. "Nothing ever stops being a thing," says Virgin's PR, Joe Thomas, whose day-to-day job is often dictated by the things that end up hurtling around Facebook or Twitter. "Once it's out there, it's there forever."
@Ryanair your Customer Service is C**p!!!!!!! You have people in the live chat that have no idea about what's going on [@italia969]
"One of the luxuries of Twitter is that you get some decent insight into your customers," says Meadows. "A telephone conversation isn't going to tell you that Mrs Smith isn't very technically minded, but you might be able to tell that from her Twitter account." As each tweet is dealt with, keywords appear in the system, divulged from that person's Twitter account, that relate to their hobbies, interests or location. These can be used to personalise the reply – although, if they're particularly cross, their mountaineering skills (say) might be best left uncommented upon. "So," says Dodd, "this person likes The Lion King, so I made a little comment about Simba in my reply, and look, she loved it." And sure enough, the reply reads: "Richard Branson would be proud, u deserve a bonus."
While TfL is a very different kind of organisation, it has had similar debates over the level of friendliness to employ. Each new shift on the London Overground Twitter account signs on with a tweet announcing their first name (prompting inevitable comments about "Purple Rain" when Sharma tweets "Good morning, Prince here with line updates.") "It's funny," says Sharma. "We got quite a few tweets saying 'I don't really care who you are or what your name is, I just want to know if my train is running.' So we stopped doing it – but so many people asked why we'd stopped that we started doing it again."
This highlights the vastly differing expectations of corporate behaviour that exist within a customer base; some of us would retch at the idea of any kind of "relationship" being forged between us and a company that exists to prise money out of us, but according to Jo Causon at ICS, the success of that relationship correlates directly with that company's performance, revenue and profits.
Does Virgin go too far? Can a company be too ingratiating? "We're longing for you, Amy," tweets Meadows to a prospective customer who is considering abandoning her current broadband provider. "One day we'll finally be together, watching Dancing With The Stars on TiVo® ;)"
I raise an eyebrow at this, but this virtual cosying-up is small potatoes compared to a Virgin scheme known internally as ARK, or Acts of Random Kindness. "I had one interaction with a customer where he mentioned he liked HobNob biscuits," mentions Dodd. "So I sent that note to a team, and a few days later they sent out some HobNobs to him." "Obviously there are limits, though," butts in Thomas, quickly. "Otherwise we just become a free biscuit service." "And we can't use it for resolution," says Meadows, hastily, "or to make up for anything. If someone dug through a cable in Reading and the whole town went out, we can't do an ARK for just one person."
Meadows stations me at a terminal to deal with some tweets, and I'm paralysed with uncertainty. My instinct is to apologise to those who are upset, but it's hard to know whether an apology is the right response – particularly when we're talking about broadband performance over wifi, which could be down to things beyond Virgin Media's control. "What gives?" concludes one angry tweet, and my instinct is to be stroppy back. "Remember, empathy is important," says Meadows. "So... something like: 'I know how you feel, mate?'" I ask. "Ha," laughs Dodd. "Well, sometimes when you say something tongue in cheek – while offering some help – people will calm down."
But this is far from being an exact science, and I'm aware that my public pronouncements reflect upon an entire company; one bad decision could end up annoying hundreds of people. I'm evidently too anxious for a customer-facing role, and I ask Dodd how he copes. "It's fine," he says. "It's part and parcel of the job." "Customers can get emotional," adds Meadows, "especially on Twitter. It's important for us to stay calm." But what about all the furious messages that linger for years on social media, all a reflection of the level of customer service? "Well," he replies, wistfully, "Someone once pointed out to me that once a horse has shat, there's nothing you can do. You can't put the shit back in the horse." He's not wrong.
Join our commenting forum
Join thought-provoking conversations, follow other Independent readers and see their replies