Daniel Ek: The controversial Spotify billionaire plotting a takeover of Arsenal
Former Arsenal footballers Thierry Henry, Dennis Bergkamp and Patrick Vieira could buy the club alongside Ek
Adam Smith
Wednesday 28 April 2021 15:08 Comments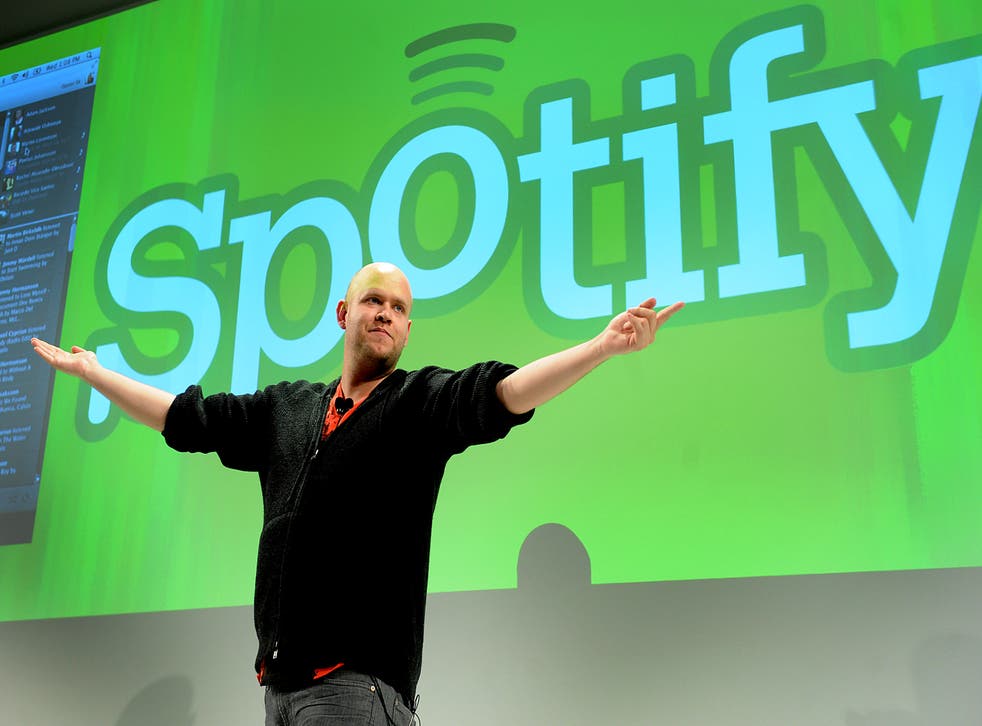 Spotify founder Daniel Ek is planning to purchase Arsenal, should the football club go on sale in the wake of protests against the short-lived European Super League.
Arsenal was one of six clubs who signed up for the controversial League on 18 April but admitted their "mistake" a few days later.
In response, hundreds of fans protested outside Emirates Stadium chanting the slogan "We want Kroenke out" – a reference to club director Josh Kroenke and the eponymous Kroenke Sports and Entertainment which owns the club.
Ek, who has a net worth of $3.4 billion as the majority shareholder of the music streaming service, tweeted on 23 April about his interest in purchasing the $2.8 billion Arsenal. His aims to purchase were reported shortly after by The Telegraph.
"As a kid growing up, I've cheered for @Arsenal as long as I can remember. If KSE would like to sell Arsenal I'd be happy to throw my hat in the ring", he said.
Ek is reportedly in league with former Arsenal footballers Thierry Henry, Dennis Bergkamp and Patrick Vieira in conducting the purchase. Mr Henry said that the Arsenal management "have been running the club like a company, not a football club, and they showed their hand ... they got it wrong. Badly wrong."
Before starting Spotify, Ek grew up in Stockholm, Sweden. He started his first business as a teenager building websites for clients. Later, Ek moved to auction company Tradera, which was acquired by eBay, then started his own online advertising company.
That was followed by a brief stint as the CEO of uTorrent, which ended in 2006 after it was bought by a competing company.
Ek first developed the idea for Spotify, which launched in 2008, six years prior following the closure of Napster. "I realised that you can never legislate away from piracy," he told The Telegraph.
"Laws can definitely help, but it doesn't take away the problem. The only way to solve the problem was to create a service that was better than piracy and at the same time compensates the music industry – that gave us Spotify."
Spotify has grown dramatically since its inception. The company had 20 million monthly users in 2010, increasing that tenfold to a claimed 217 million in April 2019.
But, unfortunately for Ek, he has drawn criticism from musicians and a music industry who argue it is not seeing enough of a cut from those millions of people who use Spotify to listen to their songs. The streaming platform pays artists approximately $0.00437 per stream, with artists needing to get around 360,000 streams to earn minimum wage, Vice reports.
In the wake of the coronavirus pandemic, Ek caused further controversy when he said artists who were not making money were not "putting the work in" or "keeping a continuous dialogue with [their] fans".
Many musicians including David Crosby, Zola Jesus, Paul Smith, and others criticised his take. "Quality doesn't matter really, it's reliability [Spotify is] looking for," said producer Jackknife Lee.
It remains to be seen whether Ek's ideals, and wealth, will transfer to the iconic football club.
The Arsenal Supporters' Trust said that they "will support any potential purchaser who will allow fans to own a real equity stake and give fans a meaningful say in how our club is run" – a statement made the same day as Ek's tweet.
However, director Josh Kroenke has said that there is "no intention of selling" and that they believed they were fit to "carry on in our position as custodians" of Arsenal.
"I might be met with mistrust and scepticism, but over time I hope to establish some sort of relationship with our supporter groups and show them we are capable of taking our club forward," he added.
Register for free to continue reading
Registration is a free and easy way to support our truly independent journalism
By registering, you will also enjoy limited access to Premium articles, exclusive newsletters, commenting, and virtual events with our leading journalists
Already have an account? sign in
Join our new commenting forum
Join thought-provoking conversations, follow other Independent readers and see their replies