Sean Spicer 'was passed long notes' during White House press briefing on Donald Trump's cyber security order
One appeared to suggest that the order had been called off 'to listen to ideas'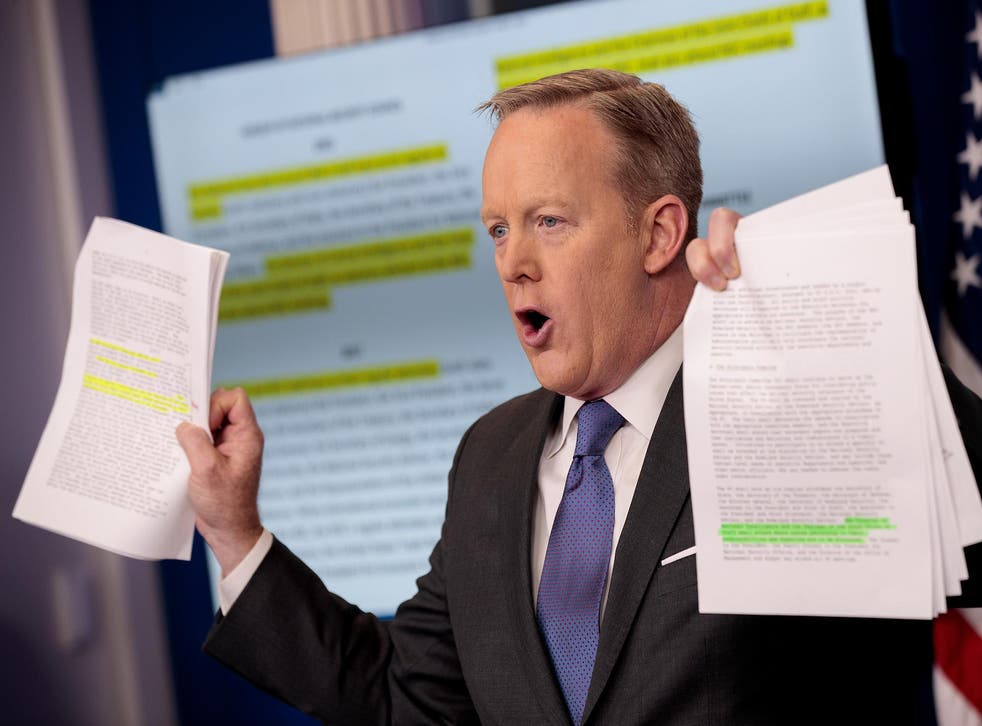 Donald Trump's press secretary was passed strange notes during a press conference on a cyber security order, according to journalists who were there.
Sean Spicer was briefing journalists on an executive order that both he and the President have claimed is necessary to keep the country safe. But it emerged during that event that Mr Trump wouldn't actually be signing the bill as he was scheduled to, a change that was announced at the last minute and without explanation.
As Mr Spicer was talking about the events, he was being passed notes with different messages on, according to journalists who were in the room. Those notes appeared to be suggestions and alterations from Mr Trump, some speculated.
Eventually Mr Trump would cancel the signing of the executive order entirely, and instruction that also appears to have been sent to Mr Spicer in a note.
A|lie Molloy, a White House producer at CNN, posted a picture of a message that had been left on Mr Spicer's lectern after the event was over.
It appeared to indicate that the decision to postpone the signing had been taken at the last minute, and that the administration would instead "listen to ideas today first".
It still hasn't been publicly made clear why Mr Trump called off the signing of the executive order at the last minute.
Register for free to continue reading
Registration is a free and easy way to support our truly independent journalism
By registering, you will also enjoy limited access to Premium articles, exclusive newsletters, commenting, and virtual events with our leading journalists
Already have an account? sign in
Register for free to continue reading
Registration is a free and easy way to support our truly independent journalism
By registering, you will also enjoy limited access to Premium articles, exclusive newsletters, commenting, and virtual events with our leading journalists
Already have an account? sign in
Join our new commenting forum
Join thought-provoking conversations, follow other Independent readers and see their replies