Driverless cars and 'super-Uber' robot taxis could 'cut carbon emissions by 90%'
Study says rise of autonomous vehicles could revolutionise personal transport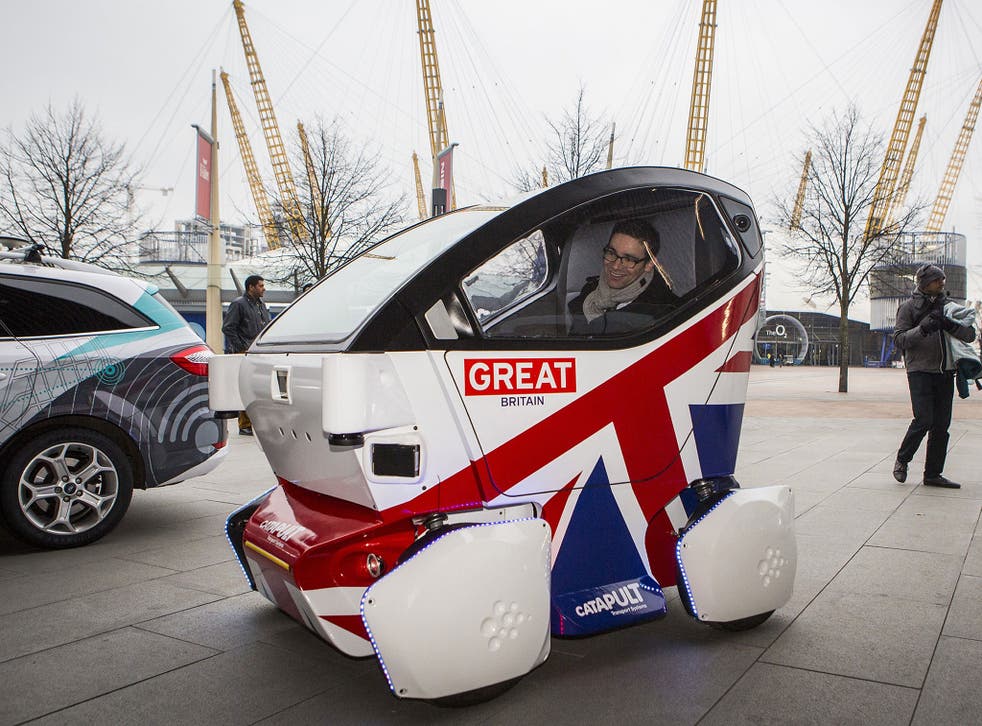 Driverless cars and "super-Uber" fleets of robot taxis have the potential to disrupt the car-owning democracy that has shaped urban planning and personal transport over the past century, a study has concluded.
The rise of autonomous vehicles combined with the ability to order personal taxi rides – epitomised by the Uber app – could revolutionise personal transport and cut carbon emissions by more than 90 per cent, scientists have found.
Autonomous robo-taxis could in the next couple of decades become cheaper and more efficient than privately-owned vehicles, which could amount to the biggest change in personal transport since the invention of the internal-combustion engine, they said.
An analysis of the amount of greenhouse gas emissions per mile showed that autonomous electric vehicles used as a fleet of driverless taxis would by 2030 have emissions that are 63 to 82 per cent lower than a future privately-owned hybrid car, and 90 per cent lower than a current petrol-driven private car.
Almost half of these savings are the result of the intelligent planning of each journey where, for instance, smaller taxis are used for ferrying one or two people travelling on their own, and larger ones are used for three or four passengers travelling with luggage.
Scientists believe that the savings in fuel and money and the increased efficiency of moving people around mean that robo-taxis could be both technologically and socially "disruptive" with the ability to transform personal transport and the use of the road network in the coming decades.
"When we first started looking at autonomous vehicles, we found that of all the variables we could consider, the use of autonomous vehicles as part of a shared transit system seemed to be the biggest lever that pointed to lower energy use per mile," said Jeffery Greenblatt of the Lawrence Berkeley National Laboratory in California, where the study was conducted.
The key requirements for the transport breakthrough are vehicles that can drive safely along pre-programmed routes – already being developed by Google and a number of car manufacturers – and an intelligent taxi-booking service that can match the size of a vehicle with the number of people booking each journey.
"Most trips in the US are taken singly, meaning one or two seat cars would satisfy most trips. That gives us a factor of two savings, since smaller vehicles mean reduced energy use and greenhouse-gas emissions," Dr Greenblatt said.
Further savings could be made by including things such as "platooning", where a number of driverless vehicles are driven closely together in a row to reduce wind resistance, as well as deploying smoother acceleration and braking, he said.
"These are all incremental, but they do add up. However, we didn't even include these effects in our baseline results, and we still get huge savings without them," said Dr Greenblatt, the lead author of the study published in Nature Climate Change.
The scientists found that electric cars would still be more expensive than private petrol-fuelled vehicles if they were only driven for 12,000 miles a year – the US national average – but they become progressively cheaper when driven for between 40,000 and 70,000 miles a year, the typical mileage of a taxi.
Even further savings could be made if taxis are shared between different passengers going to the same destination – something that is easier to arrange with an intelligent taxi-booking service.
Register for free to continue reading
Registration is a free and easy way to support our truly independent journalism
By registering, you will also enjoy limited access to Premium articles, exclusive newsletters, commenting, and virtual events with our leading journalists
Already have an account? sign in
Register for free to continue reading
Registration is a free and easy way to support our truly independent journalism
By registering, you will also enjoy limited access to Premium articles, exclusive newsletters, commenting, and virtual events with our leading journalists
Already have an account? sign in
Join our new commenting forum
Join thought-provoking conversations, follow other Independent readers and see their replies