Edward Snowden: Smartphone users can do 'very little' to stop security services getting control of devices
The former intelligence contractor says GCHQ has the power to hack into phones without their owners' knowledge
Paul Gallagher
Monday 05 October 2015 21:02 Comments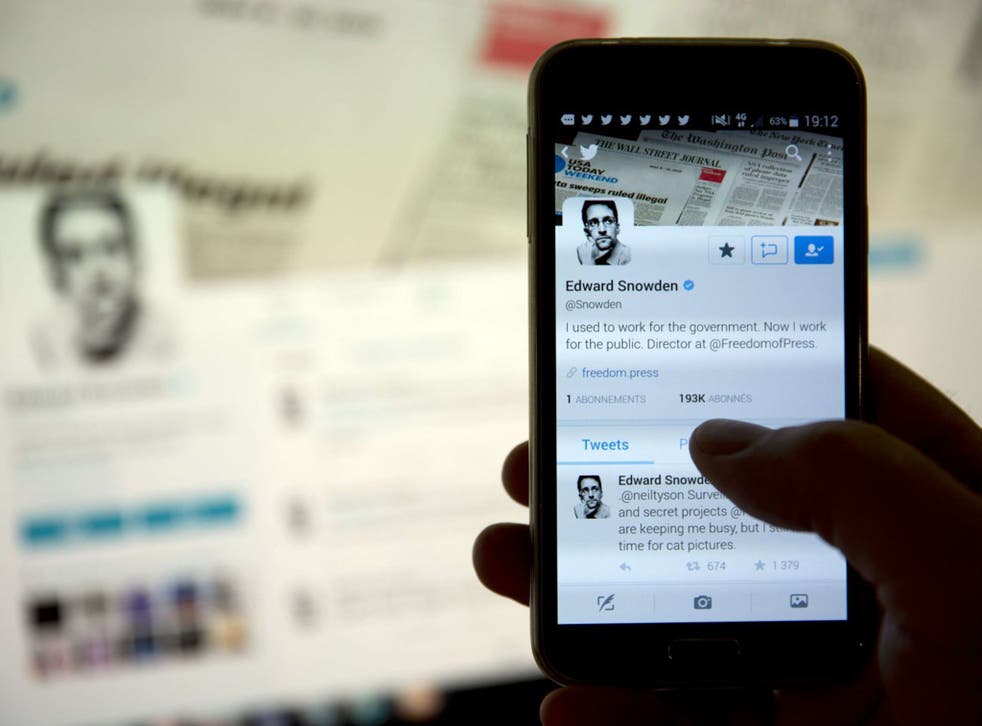 Smartphone users can do "very little" to stop security services getting "total control" over their devices, US whistleblower Edward Snowden has said.
The former intelligence contractor told the BBC's Panorama in his first British television interview that UK intelligence agency GCHQ had the power to hack into phones without their owners' knowledge.
Mr Snowden, responsible for the biggest leak of top secret intelligence documents the world has ever seen, said GCHQ could gain access to a handset by sending it an encrypted text message and use it for such things as taking pictures and listening in.
Edward Snowden in 60 seconds
"The GCHQ is for almost intents and purposes a subsidiary of the NSA," he told Panorama from a hotel room in Moscow, where he fled in 2013. "They provide technology, they provide tasking and direction as to what they should go after. And in exchange the GCHQ provides access to communications that are collected in the United Kingdom."
Cornwall is where most of that data comes in and goes out – via optical cables under beaches like Porthcurno.
Dr Joss Wright, from Oxford University's Internet Institute, told the programme that internet company Cisco carried out a relatively recent estimate that there are equivalent to around 650,000 DVDs worth of data transmitting the UK every hour, as of last year – a "huge amount" of data, he said.
Mr Snowden revealed how this bulk data was secretly collected by GCHQ via its top security station high on the cliffs of Cornwall above Bude in a programme called Tempora.
He also described a secret GCHQ training programme, codenamed "Smurf Suite" - a collection of secret intercept capabilities individually named after the little blue Belgian cartoon characters.
"Dreamy Smurf is the power management tool which means turning your phone on and off with you knowing," he said. "Nosey Smurf is the 'hot mic' tool. For example if it's in your pocket, [GCHQ] can turn the microphone on and listen to everything that's going on around you - even if your phone is switched off because they've got the other tools for turning it on.
"Tracker Smurf is a geo-location tool which allows [GCHQ] to follow you with a greater precision than you would get from the typical triangulation of cellphone towers."
The UK government declined to comment.
Meanwhile, Britain's most senior counter-terrorism police officer said terrorism investigations are becoming harder and more risky because some social media companies either refuse to help or make products which deliberately hamper inquiries.
London Assistant Commissioner Mark Rowley said that since Mr Snowden revealed the extent to which intelligence agencies could intercept online traffic, new technologies had emerged that made plots harder to foil.
"We have a growing Achilles heel that, if it is not tackled, will slowly diminish our ability to keep the public safe," Mr Rowley told the Royal United Services Institute, a London think-tank. "If we are glibly creating a safe operating environment for criminals and terrorists, we are going to regret it."
Edward Snowden signs up to Twitter
His comments on social media and the impact of Snowden's revelations in 2013 echoed similar expressions of exasperation from David Cameron and the head of Britain's domestic spy agency, MI5.
The government is planning new laws, due to be detailed later this month, to bolster the surveillance capabilities of spies and police. They will face stiff opposition from privacy and human rights campaigners who say they represent an assault on freedoms.
Register for free to continue reading
Registration is a free and easy way to support our truly independent journalism
By registering, you will also enjoy limited access to Premium articles, exclusive newsletters, commenting, and virtual events with our leading journalists
Already have an account? sign in
Register for free to continue reading
Registration is a free and easy way to support our truly independent journalism
By registering, you will also enjoy limited access to Premium articles, exclusive newsletters, commenting, and virtual events with our leading journalists
Already have an account? sign in
Join our new commenting forum
Join thought-provoking conversations, follow other Independent readers and see their replies