Elon Musk promises $1 tunnel rides under LA at 150 mph
'You'd be going very fast the whole time and the only time you'd actually stop would be when you exit.'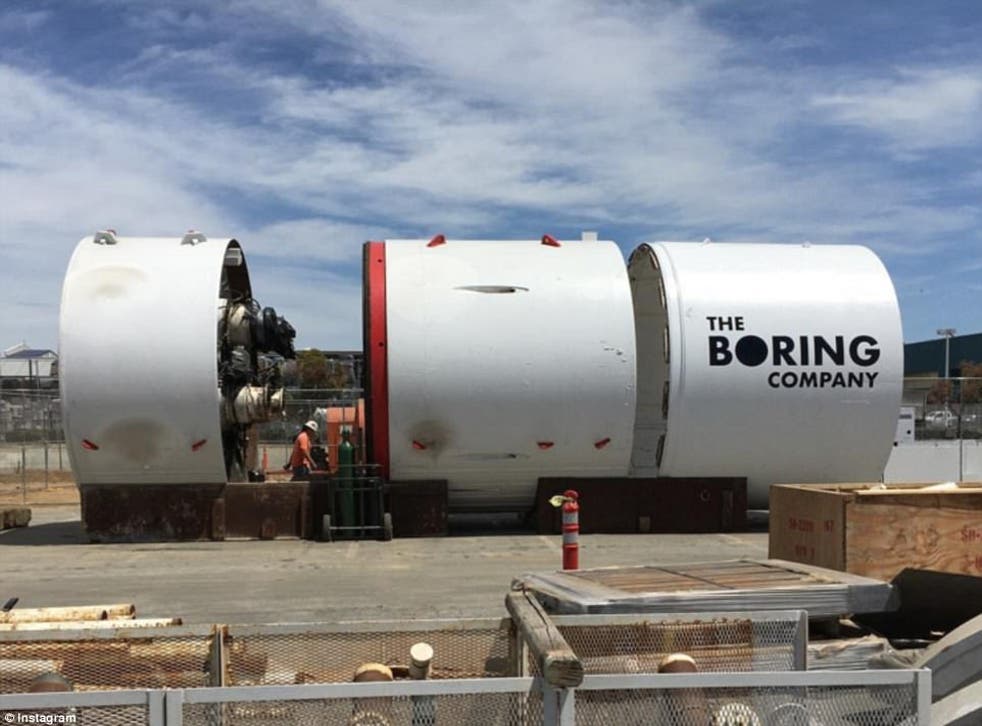 Billionaire entrepreneur Elon Musk has said a new mass transit system under Los Angeles will eliminate traffic, cut pollution and transport people at 150 mph directly to their destination – all for the cost of a dollar.
Mr Musk says his tunnel-digging firm – appropriately named The Boring Company – is working with the city's Metro system to solve these urban transportation issues.
"Almost every city in the world has severe traffic issues and there really don't seem to be solutions that are anywhere around the corner," Mr Musk told a crowd at the Leo Baeck Temple synagogue in LA.
He added that the often-proposed solution of flying cars would be dangerous, noisy and impractical.
"It's really hard to imagine going 3D up. So if it's unlikely going 3D up, then what about going 3D down? This is the only way that we can think of to address chronic traffic issues in major cities," he said, referencing his company's plan to create a network of tunnels underground for the purpose of mass transit.
The fastest tunnel boring machine in the world currently operates at around 0.003 mph. Mr Musk has challenged engineers at his company to not just outpace this speed, but achieve a speed of around 0.3 mph for its tunnel digging operation – similar to that of a snail.
Unlike a traditional subway, the tunnel network Mr Musk proposes is comprised of dozens of main tunnels that link together through connecting tunnels. Rather than have large stations for people to enter the network, micro stations the size of a parking space would transport passengers down an elevator into the transport network.
"You'd be going very fast the whole time and the only time you'd actually stop would be when you exit. The thing about a subway, a subway stops at every station," Mr Musk said.
"One subway train can't go past another subway train, it's very difficult. And so a subway ends up being like a series of stop streets. Whereas this system is designed to be more like, you have a highway and a bunch of off ramps and loops connecting to the highway – almost like an autonomous underground multi-level car system."
Mr Musk also spoke about transit systems connecting cities through the Hyperloop transportation system, which would carry people in pods travelling through vacuum tubes at around 700 mph.
Other companies are currently working on that concept, without the involvement of Mr Musk, but eventually the aim would be for both transport systems to link up
Gadget and tech news: In pictures

Show all 25
Mr Musk acknowledged that The Boring Company needed to respect the city's strict planning laws and is in the process of applying for various permits to develop a test section under the city.
Once the test tunnel is completed, he hopes to gain public support and better understand the user experience by offering free rides to the city's residents.
"It'll be sort of like a weird little Disney ride in the middle of LA, " he said. "I think we could make it really fun."
Register for free to continue reading
Registration is a free and easy way to support our truly independent journalism
By registering, you will also enjoy limited access to Premium articles, exclusive newsletters, commenting, and virtual events with our leading journalists
Already have an account? sign in
Register for free to continue reading
Registration is a free and easy way to support our truly independent journalism
By registering, you will also enjoy limited access to Premium articles, exclusive newsletters, commenting, and virtual events with our leading journalists
Already have an account? sign in
Join our new commenting forum
Join thought-provoking conversations, follow other Independent readers and see their replies