Rare enigma machine with original parts goes on sale
Many of the machines were destroyed by Nazis to stop them falling into allied hands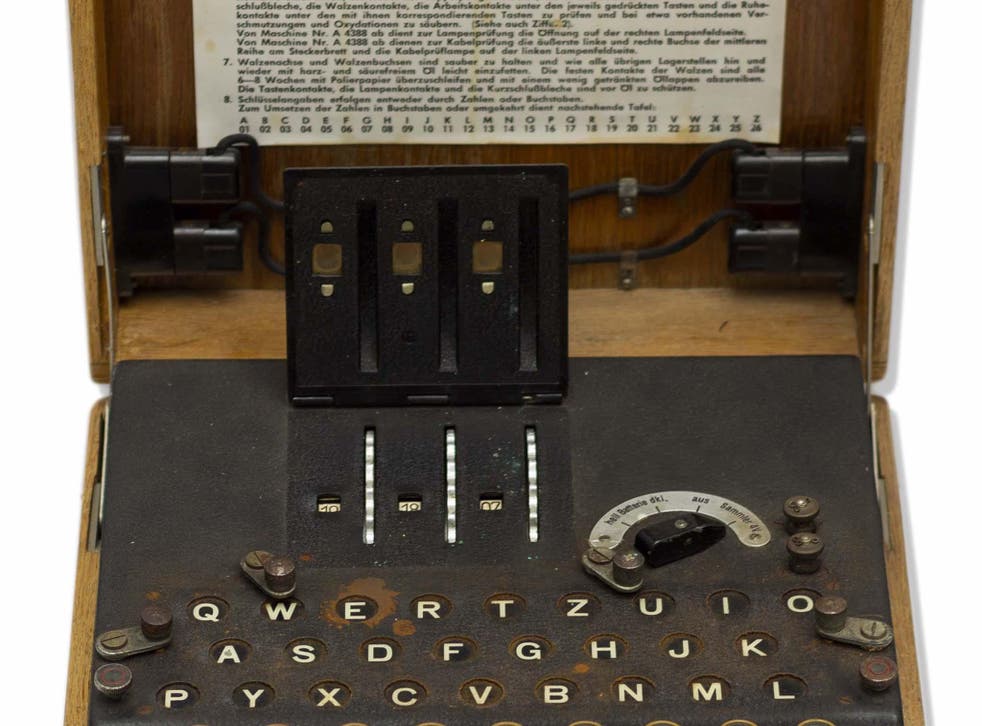 A rare enigma machine has gone on sale – to anyone with the $200,000 (£160,000) required to start the bidding.
The machines, used by the Nazis to scramble messages so that they couldn't be read, are incredibly rare. The Germans were told to destroy them to avoid them falling into allied hands – and, at the end of the war, those that remained were ordered to be destroyed by Winston Churchill.
The machine now on sale is even more rare, since it is only lightly used and includes its original parts. While there are still some issues, such as a corroded battery and a broken leather strap, it is in far better condition than most other examples of the machines.
Only about 250 of them are thought to have been around in the first place, let alone in such a state. And those that do exist rarely go on sale.
That accounts for the very high price tag placed on the machines. Auctioneer Nate D Sanders in Los Angeles has set a minimum bid of $200,000.
It notes the unusual features, including an "engraving of the Third Reich emblem – a black eagle above the swastika", that can be found in the machine.
The enigma machines could take communications and scramble up individual letters, making them entirely unreadable.
But human error and the work of the well-documented teams at Bletchley Park would eventually find their way past the encryptions the machines created.
The decoders noticed that the messages would often include similar phrases such as "Heil Hitler", and that allowed them to work backwards to unscramble the messages and help read through communications.
Register for free to continue reading
Registration is a free and easy way to support our truly independent journalism
By registering, you will also enjoy limited access to Premium articles, exclusive newsletters, commenting, and virtual events with our leading journalists
Already have an account? sign in
Register for free to continue reading
Registration is a free and easy way to support our truly independent journalism
By registering, you will also enjoy limited access to Premium articles, exclusive newsletters, commenting, and virtual events with our leading journalists
Already have an account? sign in
Join our new commenting forum
Join thought-provoking conversations, follow other Independent readers and see their replies