'Even worse than Foxconn': Apple rocked by child labour claims
China Labour Watch links 'competitive advantages' offered by illegal labour practices with plans for a new, cheaper iPhone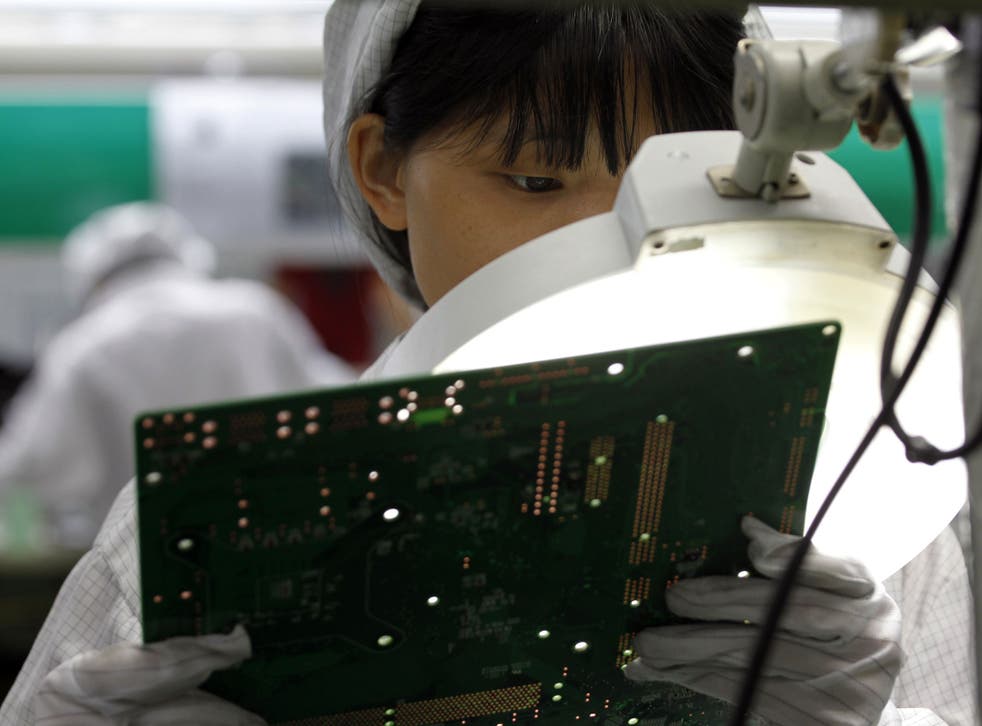 Apple sailed into fresh controversy on Monday over conditions at its Chinese suppliers' factories amid allegations of child labour, forced overtime and illegal 66-hour working weeks.
The allegations were made by the US-based China Labour Watch (CLW) after an investigation into conditions at three factories operated by Pegatron, which makes equipment for Apple computers and iPhones. It found 86 violations of labour rights, from the staff recruitment process to conditions on the factory floor to the state of workers' dormitories.
The inquiry followed the controversy over conditions at another Chinese supplier to Apple, Foxconn, where workers were found to have high suicide rates and poor working conditions. Industry analysts said Pegatron has been successful in winning Apple contracts from Foxconn in recent years.
Perhaps most shocking was the way Pegatron hired children under the age of 18 and made them work in the same poor conditions as adult staff. In total there were 10,000 aged between 16 and 20 working in crowded production rooms doing the same tasks as adults. But some were paid less and others did not have their wages paid on time.
The CLW investigators said: "Despite its professed high standards for the treatment of Apple workers, serious labour violations have persisted… Apple must prioritise its efforts [to halt] the abuse of workers making Apple products."
CLW's executive director, Li Qiang, said: "Our investigations have shown that labour conditions at Pegatron factories are even worse than those at Foxconn's. Apple has not lived up to its own standards."
CLW claimed Pegatron was winning business from Foxconn because its factories all "use the labour violation advantage". Among other things, this meant forcing employees to do overtime, and in some cases threatening to withdraw it for a month if they refused to work whenever asked to. Average working weeks were 66 hours, with six 11-hour days. Twenty minutes of that day was unpaid; the rest was $1.50 (£1) an hour before overtime. That is less than half the average local monthly income of $764 and far below the basic living wage in Shanghai.
Conscious of the rules on overtime, managers forced workers to sign forms showing their hours were less than the actual levels, the report alleged.
Apple said it had audited Pegatron sites 15 times in six years, and that a recent survey found Pegatron employees working 46 hours a week on average. But it admitted CLW's report includes "claims that are new to us" and that will need to be investigated "thoroughly." Pegatron also said it took the allegations "very seriously".
The claims and counter-claims
Apple claims: We limit work weeks to 60 hours.
CLW claims: Most production workers did 66-69 hours at Pegatron.
Apple claims: All overtime must be voluntary.
CLW claims: All three Pegatron factories demand overtime.
Apple claims: We don't tolerate underage labour. Juveniles must be given special treatment.
CLW claims: Many under-18s worked the same long hours and same conditions as adults.
Apple claims: Managers are trained on anti-harrassment and worker protection.
CLW claims: Supervisors harassed and abused workers by swearing at them and threatening collective punishment.
Apple claims: Suppliers must provide proper protective gear and up-to-date training.
CLW claims: Training was minimal; many workers did not wear masks despite dealing with dangerous chemicals.
Apple claims: We do not tolerate environmental violations.
CLW claims: Industrial wastewater was poured directly into the sewage system.
CLW's report can be read in full here and Apple's response here.
Register for free to continue reading
Registration is a free and easy way to support our truly independent journalism
By registering, you will also enjoy limited access to Premium articles, exclusive newsletters, commenting, and virtual events with our leading journalists
Already have an account? sign in
Register for free to continue reading
Registration is a free and easy way to support our truly independent journalism
By registering, you will also enjoy limited access to Premium articles, exclusive newsletters, commenting, and virtual events with our leading journalists
Already have an account? sign in
Join our new commenting forum
Join thought-provoking conversations, follow other Independent readers and see their replies