Experimental YotaPhone with screens on the front and back to go on sale 'before Christmas'
An E-Ink display on the back of the smartphone will save battery and provide a convenient place for notifications, say the phone's makers
James Vincent
Thursday 14 November 2013 18:00 Comments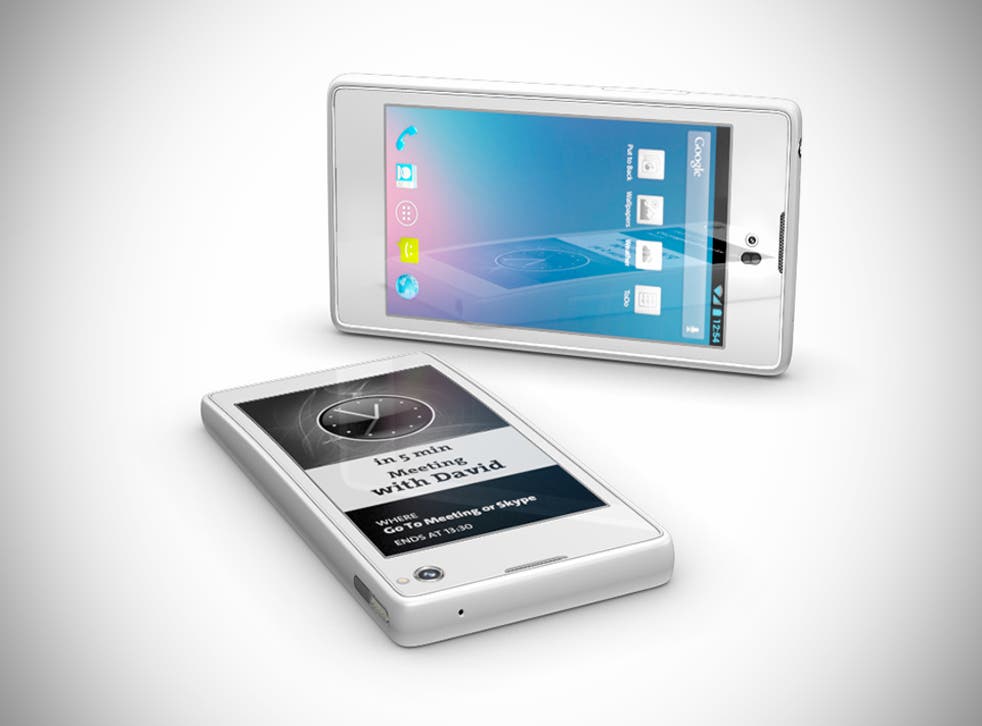 A Russian company is launching a new Android smartphone with screens on the front and back of the device. The YotaPhone will feature a 4.3-inch 720p LCD display on the front and a 4.3-inch E-Ink display on the back - the same technology found in the Amazon Kindle.
The company behind the mobile, Yota Devices, are hoping that the dual-screen combination will mean that the LCD can be used for most activities, whilst the low-power E-Ink can display passive information (like notifications or the time when the phone is sat on a desk) without draining the battery.
The YotaPhone will run Android 4.2.2, giving users access to all the usual range of apps and Google services. As well as notifications, the phone's makers suggest that the E-Ink display could be used for reading ebooks and "creating a personal manifesto by placing your achievements and information
on the back screen."
The device was first unveiled at the industry show CES in January but its makers are now promising it will go on sale some time "before Christmas". As well as the dual-screen tech there's a dual-core 1.7Ghz processor, 2GB of RAM and 32GB or 64GB of internal storage.
Yota Devices have been working in the mobile sector since 2007 selling modems and routers but the YotaPhone will represent their first major attempt to move into the smartphone industry and entice Western markets.
"Moving into the already-crowded smartphone market is a logical extension of our business philosophy, experience and entrepreneurial spirit," reads a statement on the company's website.
"The challenge we have set ourselves is taking the technological advances of LTE and creating a new type of smartphone which virtually redefines the customer experience for the better."
Register for free to continue reading
Registration is a free and easy way to support our truly independent journalism
By registering, you will also enjoy limited access to Premium articles, exclusive newsletters, commenting, and virtual events with our leading journalists
Already have an account? sign in
Join our new commenting forum
Join thought-provoking conversations, follow other Independent readers and see their replies