The Independent's journalism is supported by our readers. When you purchase through links on our site, we may earn commission.
Explore space and help cure cancer with this smartphone game from Cancer Research UK
Free game for Android and Apple smartphones lets players map anonymous genetic data by navigating through fields of asteroids in space
Adam Sherwin
Tuesday 04 February 2014 16:36 Comments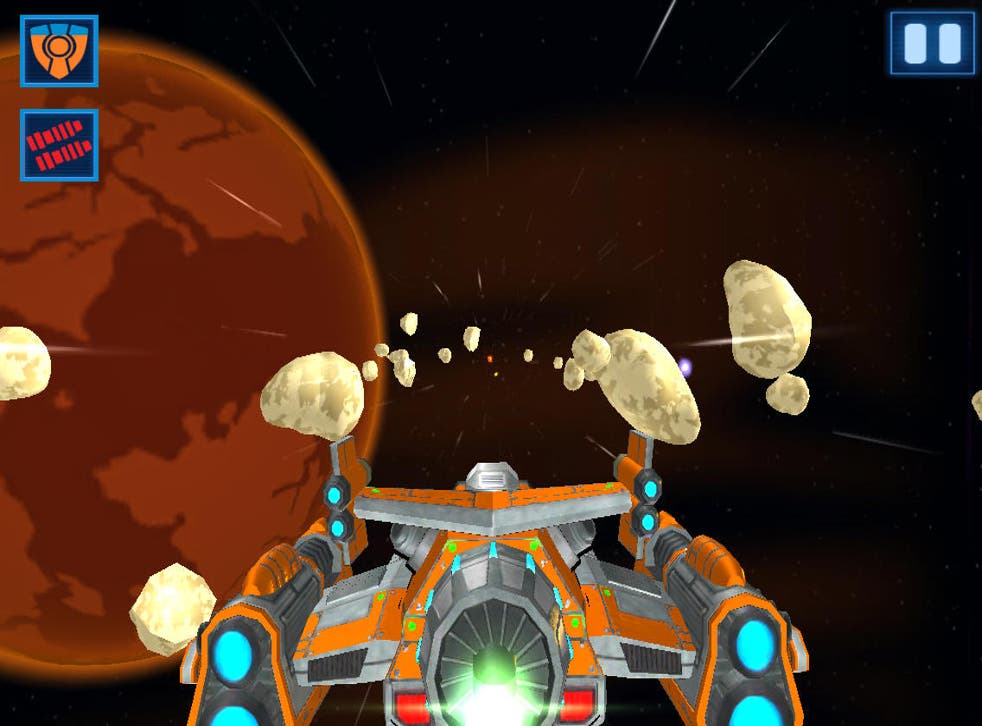 Gamers idling away office hours playing the latest intergalactic challenge have the perfect excuse – the smartphone spaceship they are navigating is actually helping to cure cancer.
Phone users are being asked to play the world's first app designed to unravel genetic data.
The Cancer Research UK game, Play To Cure: Genes In Space, challenges players to steer their craft through a hazard-strewn course, in order to collect a valuable material, called Element Alpha, shooting asteroids as they go.
But what that "citizen scientists" are actually doing is helping researchers map out reams of data which will help highlight flaws in the genetic make-up of cancer patients.
Game developers at the company Guerilla Tea worked with scientists to translate anonymous genetic data gathered from 2,000 breast tumour patients into a space adventure.
The tumour sample data contains peaks and troughs which are likely to harbour the genetic abnormalities the scientists are looking for.
Computer software can help locate these but the more precise judgement calls still need human eyes, a process which can take years.
The game developers have transformed the readouts into an intergalactic landscape, which forms the backdrop to the app, now free to download from the Apple App Store and Google Play.
Hannah Keartland, in charge of the citizen science project at the charity, said: "Every single second gamers spend playing our smartphone game directly helps our work to beat cancer sooner.
"Cancer cells have faults in their genes and what our scientists are able to do is produce a map of the genetic make-up of cancer cells. What we have done is taken a map of those cancer cells and we have incorporated it into the game.
"As you steer your spaceship through Element Alpha you are mapping a path behind you. That path is really useful to the scientists because it will help them to identify where the peaks and the troughs are in the data."
To ensure accuracy, each section of gene data will be tracked by several different players. The information is fed back to the scientists and as more players highlight the peaks and troughs, scientists identify those areas for further research. The anonymity of the cancer patients used for the study will be preserved, the developers promised.
Ms Keartland said: "By understanding exactly where those peaks and troughs are, we can understand where to go and look for faults in genes that might be linked to cancer."
If everyone around the world were to play the game for even a couple of minutes each, "we could have an absolutely mind-blowing impact in terms of accelerating research," she said.
Dara O'Briain, the comedian and science presenter, who helped launch the app, said crowd sourcing was extremely successful when used on his BBC2 programme Stargazing.
"We have used citizen science projects to discover exoplanets, to discover galaxies to map the surface of the moon," he said.
"It is astonishing how successful it is if you throw this raw data out to the public and offer them the chance to analyse it, partly because of our ability to recognise patterns and partly through our enthusiasm to get involved in these things."
O'Briain said he had reached level 11 out of a possible 50 during his first attempt at Genes In Space, which recorded 1,700 downloads and 7,000 plays during its first 24 hours of availability. "It's very moreish," the comic said.
The idea for the game arose from a hackathon in 2013, which brought together scientists, games developers and designers from companies including Google and Facebook.
It is hoped that information gleaned from that app could ultimately help treat and diagnose cancer better. If it is a success it could be rolled out to include data from patients suffering from other cancers such as prostate cancer.
The app is the second "citizen science" project by Cancer Research UK. Its Cell Slider project tasked anyone with a computer to classify breast cancer samples.
More than 200,000 people classified almost two million cancer images. This reduced the time taken for researchers to analyse a subset of breast cancer samples from 18 months to just three.
Register for free to continue reading
Registration is a free and easy way to support our truly independent journalism
By registering, you will also enjoy limited access to Premium articles, exclusive newsletters, commenting, and virtual events with our leading journalists
Already have an account? sign in
Register for free to continue reading
Registration is a free and easy way to support our truly independent journalism
By registering, you will also enjoy limited access to Premium articles, exclusive newsletters, commenting, and virtual events with our leading journalists
Already have an account? sign in
Join our new commenting forum
Join thought-provoking conversations, follow other Independent readers and see their replies