Facebook closes in on $100bn flotation
Investors have been waiting a long time for the chance to buy into a business loved by its 800 million users
Stephen Foley
Wednesday 30 November 2011 01:00 Comments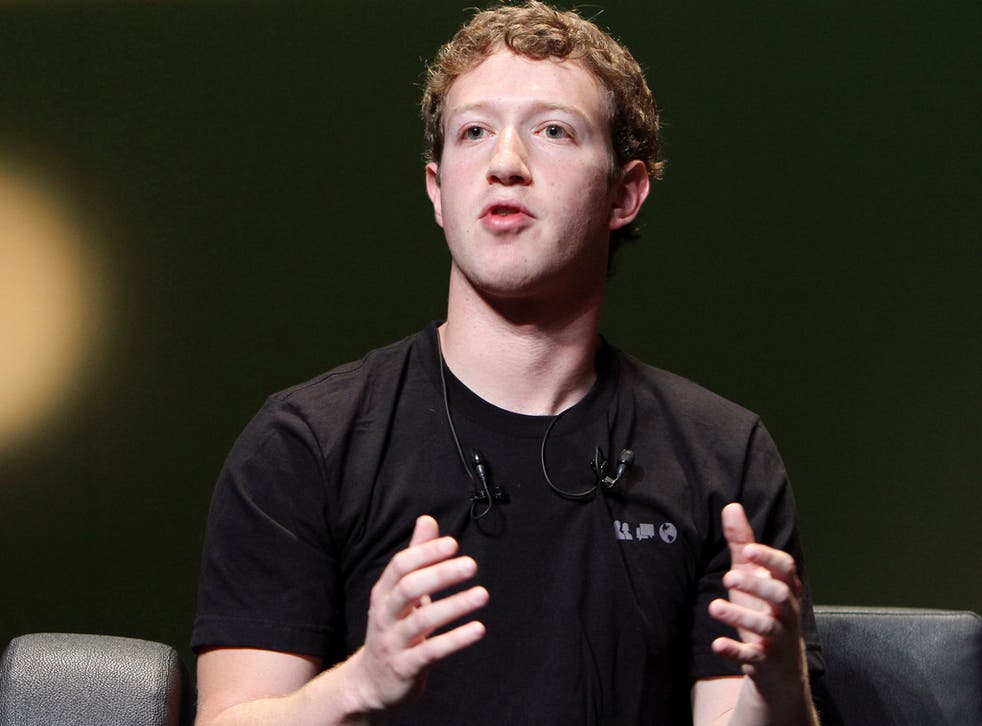 Coming soon: The Social Network. Facebook will be ready to file a prospectus for its flotation within the next few weeks, if the board gives the go-ahead, and it could be trading on the stock market in the US by the end of June, it has emerged.
The internet giant, whose initial public offering would be one of the biggest and most hotly anticipated market debuts in many years, has not so far hired bankers to market its shares but instead has been quietly making its own preparations – confident that marketing the company to investors will be less of a problem than beating away investors desperate to get in on the deal.
The flotation is expected to value the all-conquering social network at $100bn or more, with some $10bn in shares being made available to the market. At that valuation, 27-year-old Mark Zuckerberg, who founded the website in his Harvard University dorm room in 2004, will be worth $24bn on paper – more than Silicon Valley rivals Sergey Brin and Larry Page, the founders of Google.
Facebook will have to start disclosing detailed financial information to the public in the spring, even if it decides to stay a private company, because it will have more than 500 shareholders, a regulatory threshold dating back to the foundation of modern securities law. Mr Zuckerberg, who has argued repeatedly against going public too early, is believed to have come round to the view that a full stock market listing is more desirable than the alternative of a halfway house.
The accelerated timetable could reflect concern over the outlook for the market next year, particularly in the light of recent share price falls for the technology stocks which have floated this year, most notably Facebook's rival LinkedIn and daily deals site Groupon.
Facebook is in the middle of revamping its site to encourage users to share more and more of their digital lives, including the news articles they are reading, the music they are listening to and the videos they are watching. It is by learning about its users' interests that it has been able to target adverts to individuals – and to charge advertisers more for the privilege.
According to an estimate by the research firm eMarketer, Facebook's worldwide ad revenue this year could reach $3.8bn, double 2010's $1.9bn. The forecast for 2012 is for $5.8bn.
Debbie Williamson, an analyst at eMarketer, said: "This IPO has been a long time coming, and when it does it is going to make all the other IPOs this year look like small potatoes. These companies that have gone before, such as Groupon, all have unproven business models, whereas Facebook has built not only a business that consumers love to use but also a service that marketers are ravenous to use – and I don't see that changing.
"At the end of the day, marketers want scale, they want to be able to reach a lot of people. Facebook provides both a mass audience and the ability to target ads at very small groups at a time. It is the best of both worlds."
A flotation at $100bn would represent a 100 per cent profit for Goldman Sachs and other investors in a Facebook fundraising just 10 months ago at $50bn. It will also confirm the multibillion-dollar fortunes of a slew of young Silicon Valley stars who helped to found Facebook or were early investors in the company. The stake held by Sean Parker, the founder of Napster, who was played by Justin Timberlake in The Social Network, the movie of Facebook's early years, could be worth around $4bn; Peter Thiel, the libertarian founder of PayPal, now a hedge fund manager, could net $3bn.
The exact sizes of these founders' stakes, along with the first detailed peek at Facebook's financial results and growth rates, will be set out in any prospectus. The company will be able to boast 800 million users around the world, a majority of whom log in every day.
Private investors have clamoured for a piece of Facebook ahead of the anticipated flotation. Goldman Sachs was swamped with interest in January's fundraising, but had to shut out its US clients after concerns it could breach tough US regulations that ban actively marketing shares in a private company. Entrepreneurial stockbrokers have created special investment vehicles that invest only in Facebook shares, which they pick up on a private stock market called SharesPost where Facebook employees have been allowed to sell limited amounts of stock since 2009.
Not everyone who owns Facebook shares now can expect to be happy with the $100bn valuation, however. Early this year, the company's valuation peaked at $143bn at the height of speculation about its forthcoming flotation, according to SharesPost data. For most of this year, it has been trading around $80bn, though the company points out that trading is thin and therefore prices can be volatile. Until Facebook publishes detailed results next year, SharesPost trading is also highly speculative.
Facebook declined to comment yesterday on the latest revelations about its thinking on the size and timing of a flotation.
Floating or sinking?
LinkedIn There was a time when LinkedIn, a social network-cum-job hunting website for professionals, looked like it was going to fade away, but it has had a second wind, adding 50 million users in the past year. But does that growth justify its sky-high valuation? If Apple were trading at the same multiple of revenues, the iPad maker would be worth $3 trillion.
Groupon No tech stock flotation this year has generated more column inches. Groupon, which emails more than 150 million people a day with money-off coupons, promised to "reshape local commerce", but sceptics said the three-year-old start-up was floated before its business model was proven. Its shares are now 20 per cent below the float price.
Renren A favourite of China's college students, Renren, "the Chinese Facebook", boasts more than 100 million profiles, but its usage has come under the microscope of the Communist regime and it is yet to make a profit. After debuting at $14 in May, valuing the company at $5.7bn, the shares have slumped to $3.50.
Zynga The online games maker, whose FarmVille title is a big hit on Facebook, next week starts marketing an IPO originally hoped to value it at $15bn to $20bn. Zynga had revenue of $307m last quarter, but growth has slowed sharply.
Register for free to continue reading
Registration is a free and easy way to support our truly independent journalism
By registering, you will also enjoy limited access to Premium articles, exclusive newsletters, commenting, and virtual events with our leading journalists
Already have an account? sign in
Join our new commenting forum
Join thought-provoking conversations, follow other Independent readers and see their replies