Facebook Messenger sends 'creepily' precise location data, as revealed by Marauders Map Chrome extension
Extension aims to creep people out to show how much data service is collecting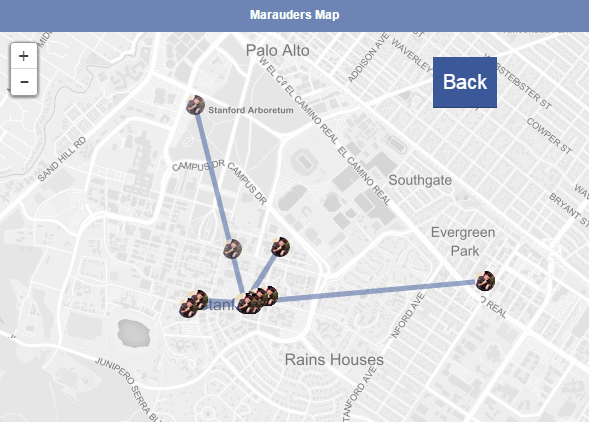 Facebook sends out such precise data to people you chat with that your location can be tracked to individual streets, a new Chrome extension shows.
Every time a person sends a Facebook message from a phone, it sends out their location to the person chatting with them. The extensions scrapes all of that data and overlays it on a map, meaning that a precise chart of people's movements can be done using those conversations.
The creator of the extension, Aran Khanna, said that he had made it to demonstrate the creepiness of the information that people might be unwittingly sharing.
Some of the data sent out makes it possible to pinpoint locations to less than a meter, he said, and that can be used to figure out people's regular schedule or to spy on them. Khanna points out that it doesn't take many messages to work out people's habits, especially if a number of people collude to share their data.
Facebook defaults to sending out a location with all messages, but it does send out a reminder that it's doing so when the app is installed and again when a new message is started. The data can be seen from within the app by clicking on individual messages, which brings up a map.
The location sharing can easily be turned off. iOS users can do so by heading to settings and then location services, and turning location off for Facebook Messenger. Android users can go on the app itself, head to its settings, and turn off Location Settings.
For now, the maker of the app says that the extension has been made "non-functional" because its popularity led the mapping service it relied on to pull its support. But people can download the code and run it themselves from Github.
But Aran Khanna also says that he has been "told Facebook is working to fix the issue so don't expect this code to be functional for long".
Join our commenting forum
Join thought-provoking conversations, follow other Independent readers and see their replies