Facebook is 'silencing' Rohingya Muslim reports of 'ethnic cleansing'
Rohingya call on Facebook to stop silencing them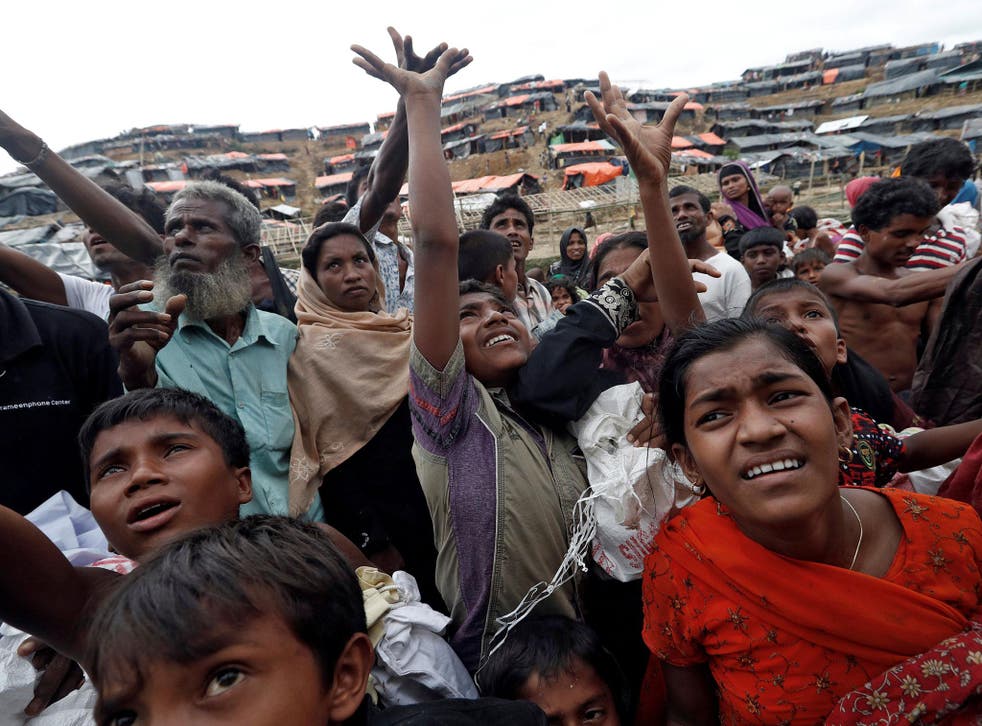 Activists documenting the alleged ethnic cleansing of Rohingya Muslims in Burma are reportedly having their Facebook posts removed and their accounts suspended.
Rohingya people who use Facebook to share information about attacks have called on the company to stop silencing them, the Daily Beast reports.
A mass exodus of Rohingya Muslims has sparked allegations of ethnic cleansing, with the UN's High Commissioner of Human Rights calling the operations against them a "textbook example of ethnic cleansing."
Attacks by Rohingya insurgents sparked a military response which forced more than 410,000 Rohingya into neighbouring Bangladesh as their villages were burned and hundreds were killed.
While the government has blamed the Rohingya themselves, members of the persecuted minority have said soldiers and Buddhist mobs attacked them.
Rohingya Muslims flee violence in Burma
Mohammad Anwar, a Rohingya activist based in Kuala Lumpur, told the Daily Beast Facebook had repeatedly removed his posts about violence in Rakhine state, where most Rohingya people live.
One of his posts reportedly showed military activity in Rakhine state, noting Burmese military helicopters were flying over Rohingya villages. The social media giant said they took it down because it "doesn't follow the Facebook Community Standards."
Another removed post allegedly showed the Burmese army burning down a Rohingya hamlet.
Rohingya refugees – in pictures

Show all 15
Laura Haigh, Amnesty International's researcher for Burma, told the Daily Beast there appeared to be a targeted campaign to report Rohingya accounts to Facebook in order to have them shut down.
Responding to the allegations, a Facebook spokesperson told The Independent: "We want Facebook to be a place where people can share responsibly, and we work hard to strike the right balance between enabling expression while providing a safe and respectful experience.
"That's why we have Community Standards, which outline what type of sharing is allowed on Facebook and what type of content may be reported to us and removed. These include hate speech, fake accounts, and dangerous organisations."
Facebook said it allows content if it is newsworthy or important to the public interest, but will take down content which violates its standards on hate speech and threats of violence.
However, the company admitted it mistakes do happen, but said it would act quickly to resolve them.
"Anyone can report content to us if they think it violates our standards," the Facebook spokesperson added. "It doesn't matter how many times a piece of content is reported, it will be treated the same.
"In response to the situation in Myanmar, we are carefully reviewing content against our Community Standards."
Register for free to continue reading
Registration is a free and easy way to support our truly independent journalism
By registering, you will also enjoy limited access to Premium articles, exclusive newsletters, commenting, and virtual events with our leading journalists
Already have an account? sign in
Register for free to continue reading
Registration is a free and easy way to support our truly independent journalism
By registering, you will also enjoy limited access to Premium articles, exclusive newsletters, commenting, and virtual events with our leading journalists
Already have an account? sign in
Join our new commenting forum
Join thought-provoking conversations, follow other Independent readers and see their replies