The Independent's journalism is supported by our readers. When you purchase through links on our site, we may earn commission.
Fairphone, the world's first 'ethical smartphone', launches in London
Customers ordering the €325 phone can visit the maker's website to see exactly where their money is going
Sebastian Salek
Friday 20 September 2013 16:21 Comments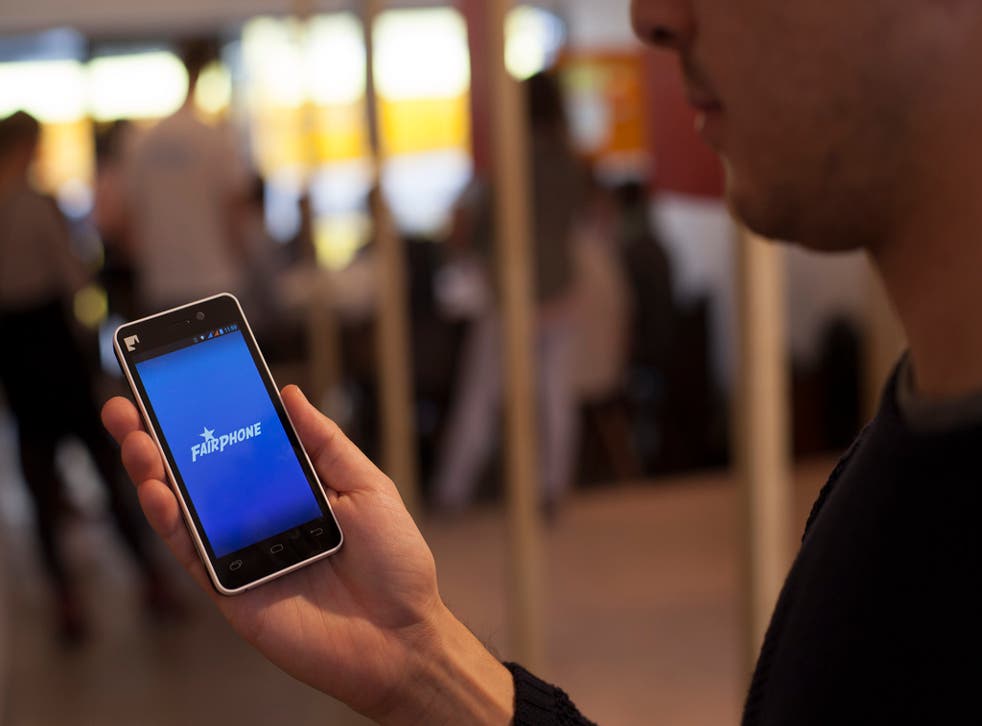 It's been a busy few weeks for the mainstream smartphone market, with two new iPhones, iOS 7 and a BlackBerry handset seeing the light of day. But in a trendy pop up space in London's Soho on Wednesday evening, a Dutch entrepreneur stood in front of tech geeks and tree huggers alike to present a very different kind of device.
It's not the technology that makes the Fairphone unique, rather the mission of the team behind it: to create a fairer smartphone economy by building a phone of their own. The eponymous notion of fairness is wide-ranging; it includes extracting raw materials come from conflict-free mines, ensuring manufacturers are paid a living wage, and running an open source operating system that anyone can modify.
With a body made out of recycled polycarbonate, the Fairphone ticks the eco-friendly box but doesn't feel quite as premium as some other smartphones on the market, although at 170g the device is weighty and sits comfortably in the hand.
The 4.3-inch Dragontail glass screen puts the Fairphone almost halfway between an iPhone 5S and a Samsung Galaxy SIII, making it the perfect size for those with smaller hands who want more screen for their buck but without having to stretch to reach the whole screen.
The device packs 16GB of internal memory which is expandable by up to 64GB via the microSD slot, making room for plenty of apps, music and videos. Unlike the sealed iPhone, the battery on the Fairphone is removeable, extending the lifespan of the device.
Unlike most smartphones on the market, this device supports two SIM cards simultaneously allowing users to merge their business and work phones, reducing the number of phones in circulation. Calls can be received from either SIM but the internet will only work on one of the two at any one time.
However, what the Fairphone gives with one hand, it takes away with the other. Absent from the device is NFC and 4G connectivity, but more notably there are no headphones or charger in the box. The company is banking on the fact that customers already own these accessories so providing them would be wasteful.
The Android operating system was built from scratch by London-based developers Kwame Corporation who have previously worked on projects for Samsung.
Rather than an app dock, Fairphone OS uses what it calls Quick Access. Swipe in from either side of the screen and a semicircle of icons appear - one takes you to the all apps screen and the remaining four are shortcuts to apps of your choice. Quick Access is spatially efficient and allows you to get more out of the screen real estate.
A widget called Learns From You displays your most frequently used and recently used apps for quick access.
Two further features are a little gimmicky, but fun nonetheless. Mood Changer reflects the device's remaining battery by changing the colour of the wallpaper from blue (strangely) through green to red as it depletes. Peace of Mind allows you to disable notifications for a duration of your choice. Practically, it's a strange addition. However, the feature represents the freedom to be creative that Kwame Corporation have been allowed; it'd be difficult to imagine any other phone manufacturer encouraging people not to use their phones.
There will be more Fairphone-exclusive apps when the phone launches around December, but Kwame Corporation are keeping those under wraps for now.
The Fairphone can currently be pre-ordered via the company's website for €325 (£274). This is steeper than other smartphones with similar specs - Google now offers its 16GB Nexus 4 handsets for £199 - but the company has published a breakdown of the sum on its website so you can see where your money is going.
The result isn't going to rule the market, at least not yet, but Fairphone knows that. However, even as a prototype it's clear this will be a contender for pride of place in many a pocket, an assertion backed up by almost 15,000 people who, in the words of founder Bas van Abel, "have already pre-ordered a phone that doesn't exist yet from a company that's never made a phone before".
Whether the Fairphone is for you depends entirely on your priorities. For those who are happy to turn a blind eye to the potentially exploitative practices behind smartphone production, there are more advanced alternatives already on the market and for a better price. But if you care about creating a more ethical smartphone economy and want a decent smartphone to show for it, you're unlikely to find a better option any time soon.
Fairphone: Buy a phone, start a movement from Fairphone on Vimeo.
Register for free to continue reading
Registration is a free and easy way to support our truly independent journalism
By registering, you will also enjoy limited access to Premium articles, exclusive newsletters, commenting, and virtual events with our leading journalists
Already have an account? sign in
Register for free to continue reading
Registration is a free and easy way to support our truly independent journalism
By registering, you will also enjoy limited access to Premium articles, exclusive newsletters, commenting, and virtual events with our leading journalists
Already have an account? sign in
Join our new commenting forum
Join thought-provoking conversations, follow other Independent readers and see their replies