'5G bioshield' being bought by conspiracy theorists for £300 is just a cheap USB key with a sticker on it, claim experts
The key, which experts say is no different to any other 128MB USB key, also claims to restore "the coherence of the geometry of the atoms"
Adam Smith
Thursday 28 May 2020 17:55 Comments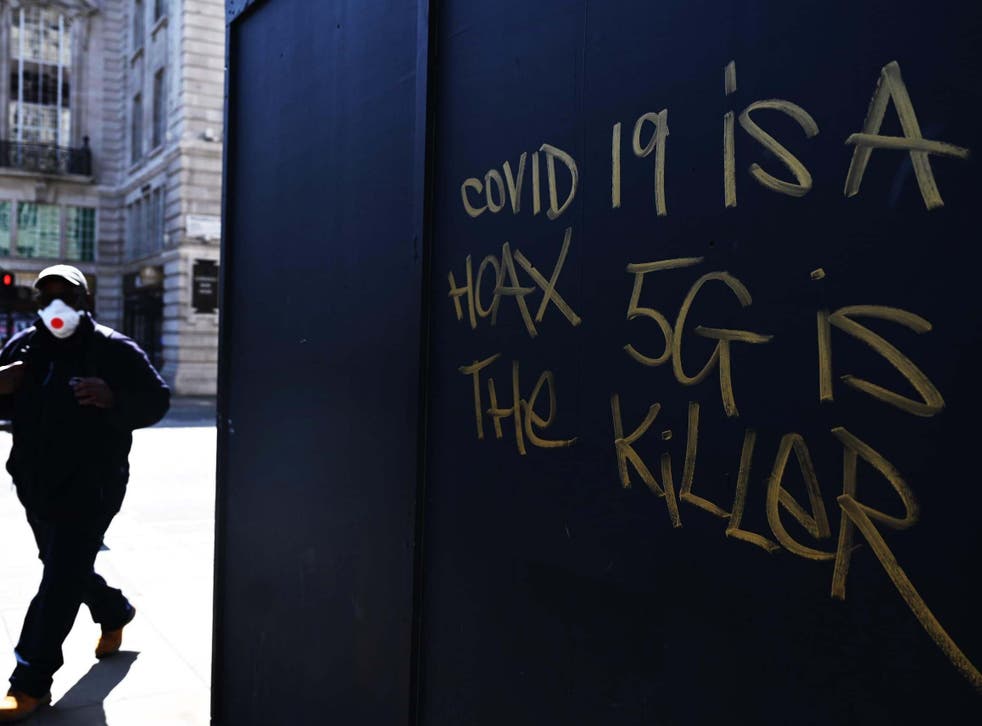 5G conspiracy theorists are selling a £300 USB stick called the 5GBioShield which claims to use a "wearable holographic nano-layer catalyser" to protect people from "disturbing frequencies".
As the BBC reports, this product has been recommended by Glastonbury Town Council's 5G Advisory Committee, an organisation that has called for an inquiry into 5G due to its beliefs that 5G is harmful. Experts have repeatedly stated that those beliefs are mistaken.
Myths about 5G have been circulating since January in the UK and have spread both through social media – which companies such as Facebook have tried to combat as phone mast are vandalised.
Toby Hall, one of the nine external members of the Town Council's 5G Advisory Committee recommended the device saying they "we use this device and find it helpful."
The website for the USB stick says the device "provides protection for your home and family, thanks to the wearable holographic nano-layer catalyser, which can be worn or placed near to a smartphone or any other electrical, radiation or EMF emitting device".
EMF stands for Electromagnetic Field, produced by moving electric charges. These are harmless and are produced by a number of sources – both natural and man-made – such as the planet's magnetic field, radio stations, or power sockets.
"Through a process of quantum oscillation, the 5GBioShield USB key balances and re-harmonises the disturbing frequencies arising from the electric fog induced by devices, such as laptops, cordless phones, wi-fi [and] tablets" the website continues.
"The 5GBioShield USB Key restores the coherence of the geometry of the atoms, which allows a perfect induction for life forces, by (re-) creating a cardiac coherence, via plasmic support and interactivity."
David Tennant mocks Eamonn Holmes for 5G conspiracy theory comments
The BBC reports that, having dismantled the USB key, all that was found inside was an LED light on a circuit board which is present inside every other USB key.
When asked about the so-called protective properties of the 5GBioShield Anna Grochowalska, one of two directors of BioShield Distribution Ltd which owns the copyright for the website selling the USB key, said: "We are in possession of a great deal of technical information, with plenty of back-up historical research. As you can understand, we are not authorised to fully disclose all this sensitive information to third parties, for obvious reasons."
BioShield Distribution Ltd's was first registered on 20 January 2020 and its registered office on Company House appears to be a newsagent corner shop in Stoke Newington.
It is estimated that the manufacturing price of the USB, which has 128MB of storage, is approximately £5, according to Ken Munro from Pen Test Partners, a company which dismantles consumer electronics to detect security vulnerabilities. The keys sell for £283 on the website.
The only difference appears to be a circular sticker attached to the device. "We're not 5G quantum experts but said sticker looks remarkably like one available in sheets from stationery suppliers for less than a penny each," Munro told the BBC.
Grochowalska said "In regard to the costs analysis your research has produced, I believe that the lack of in-depth information will not drive you to the exact computation of our expenses and production costs, including the cost of IP [intellectual property rights], and so on." She also questioned whether the BBC had properly researched "the background facts".
During the coronavirus pandemic, 5G conspiracy theories have become interlinked with fake news about COVID-19.
Many countries without 5G connectivity such as Iran are suffering from the coronavirus, and 5G signals in both the UK and China operate on a part of the radio wave spectrum between existing 4G networks and the 5GHz Wi-Fi range that many people use in their homes.
If 5G did have harmful consequences, there is no reason why these would not have been detected already since the signal exists within these bands. Moreover, articles about the potential harm of 3G and 4G signals – which the UK has since surpassed – were discussed at least as long ago as 2014 and subsequently dismissed. ​
Register for free to continue reading
Registration is a free and easy way to support our truly independent journalism
By registering, you will also enjoy limited access to Premium articles, exclusive newsletters, commenting, and virtual events with our leading journalists
Already have an account? sign in
Register for free to continue reading
Registration is a free and easy way to support our truly independent journalism
By registering, you will also enjoy limited access to Premium articles, exclusive newsletters, commenting, and virtual events with our leading journalists
Already have an account? sign in
Join our new commenting forum
Join thought-provoking conversations, follow other Independent readers and see their replies