The Independent's journalism is supported by our readers. When you purchase through links on our site, we may earn commission.
Feminist writer Clementine Ford is highlighting Facebook's 'hypocritical' community guidelines
Ms Ford accused Facebook of having a 'pathetic, hostile attitude towards women'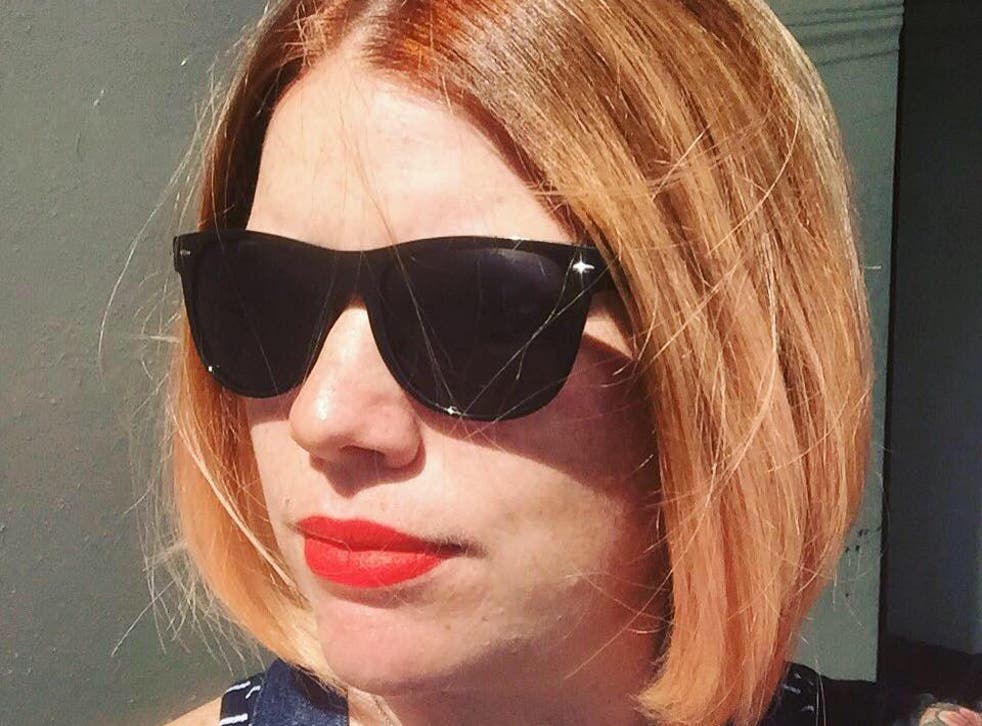 A feminist writer has criticised Facebook for double standards after she was banned from the social network for confronting an internet troll, yet a meme she reported depicting domestic violence did not qualify to be removed.
Clementine Ford, a columnist for Australia's Daily Life, was banned from Facebook for 30-days on Friday after telling an internet troll, who allegedly called her a "diseased whore", to "f**k off".
Meanwhile, a meme showing a picture of a young woman with a bloodied face accompanied by the caption, "He told me to make him a sandwich, I should have listened", did not violate Facebook's Community Standards after Ms Ford reported the picture citing "annoying and distasteful humour".
In light of the two incidents, Ms Ford has lambasted Facebook as "hypocritical" with a "pathetic, hostile attitude towards women".
A number of Ms Ford's Twitter followers said they had also reported the meme to Facebook and received the same response, which said: "We reviewed the photo you reported for being annoying or uninteresting and found it doesn't violate our Community Standards."
Following her ban, Ms Ford used a secondary Facebook account to air her views about the social media site.
She wrote: "I am posting this from a secondary account set up purely to deal with this s**t. And by 's**t', I mean Facebook's pathetic, hostile attitude to women.
"We have to tolerate threats of violence and disparaging remarks about our bodies and what we need to be done to us to make us shut up because this is 'humour' and 'free speech'".
"But God forbid a tiny, childish little baby boy have to be told to f**k off as if his opinion isn't the most important thing in the world [sic]."
She concluded her post by branding Facebook "hypocritical".
According to Facebook, the site's Community Standards aim to help users "understand what type of sharing is allowed on Facebook, and what type of content may be reported and removed."
Facebook say they will remove "content that threatens or promotes sexual violence or exploitation" as well as "hate speech, which includes content that directly attacks people based on their… sex, gender or gender identity."
Facebook add that "because of the diversity of our global community", users must "bear in mind that something that may be disagreeable or disturbing to you may not violate our Community Standards."
Last year, Ms Ford was suspended from Facebook after re-posting violent, sexist threats she received from other users, including a man asking for nude pictures and another user telling her to "sit on a butcher's knife", Buzzfeed reports.
A Facebook spokesman told the Independent that the company are investigating the matter.
Register for free to continue reading
Registration is a free and easy way to support our truly independent journalism
By registering, you will also enjoy limited access to Premium articles, exclusive newsletters, commenting, and virtual events with our leading journalists
Already have an account? sign in
Register for free to continue reading
Registration is a free and easy way to support our truly independent journalism
By registering, you will also enjoy limited access to Premium articles, exclusive newsletters, commenting, and virtual events with our leading journalists
Already have an account? sign in
Join our new commenting forum
Join thought-provoking conversations, follow other Independent readers and see their replies