The Independent's journalism is supported by our readers. When you purchase through links on our site, we may earn commission.
Five year old British boy becomes youngest ever qualified computer specialist
Ayan Qureshi from Birmingham is Microsoft's youngest-ever certified computer specialist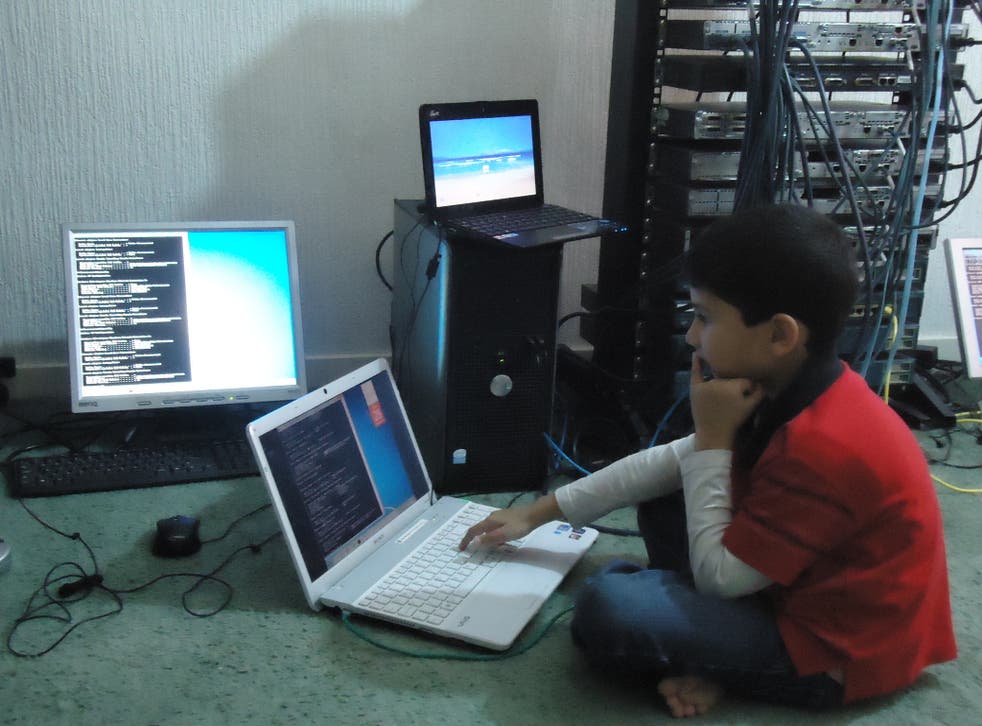 With a mastery of gadgetry well beyond his six years, Ayan Qureshi last month became the youngest-ever certified Microsoft Computer Specialist.
Ayan was five when he took the exam at Birmingham University, toppling Pakistani Mehroz Yawar who passed the exam at the practically ancient age of six and a half.
The MCP title indicates a professional proficiency with Microsoft operating systems, and is often attained by aspiring IT technicians just before or after attending university.
His young love of technology was encouraged by his father Asim Qureshi, himself an IT consultant, who explained to him the intricacies of hardware construction and network connection.
Ayan was born in Lahore, but the family, including his mother, a doctor moved to London in 2009. His younger brother was born the UK in 2011.
They have since moved to Coventry, where Ayan attends school.
Last month, Ayan successfully created a computer network, connecting two PCs, two laptops, one switch and a router.
He said he was thrilled to find that the devices could ping each other, and that data could be transferred from one to another.
He installed and configured Windows 8 and 8.1, partly following training videos, partly listening to his attentive father's tips.
He worked hard to get to that point, studying and practicing for around two hours every day for five months.
How he got here was a combination of perspiration and an absolute wonderment of the potentials of technology.
"It took months for him to become an MCP, but he enjoys computers so it was a fun few months," his father said.
"He was first curious about how the computer actually works, and what a network was. I answered his questions, and then when he kept saying how interested he was, I explained to him the theory in as simple terms as possible.
"He found it difficult, but he's very smart and he really loves technology."
Ayan's favourite things are mostly mechanical, such as remote controlled toys and digital cameras, but he's got a keen interest in other sciences like maths and physics.
"I like compasses and telescopes, but I really like prisms," Ayan said. "The rainbow coloured light reflected through the prism is amazing."
But computers are truly his first love, and as a Microsoft man in the making, Ayan is particularly looking forward to Windows 10.
"It looks like Windows 8 but better, I think," he said.
He said that when he grows up he wants to be an IT consultant or a mathematician, but is open to discovering exciting new things.
Arfa Karim, the youngest MCP who died at only 16
Arfa Karim was a Pakistani girl who in 2004, at only nine years old, became the youngest Microsoft Certified Professional.
An extraordinarily gifted girl, Karim was selected as Pakistan's representative at major international tech conventions and forums, and was invited to meet with Bill Gates.
She died in January 2012 following epileptic seizure, and despite receiving top-of-the-line medical treatment paid for by Bill Gates.
She was 16 years old.
Register for free to continue reading
Registration is a free and easy way to support our truly independent journalism
By registering, you will also enjoy limited access to Premium articles, exclusive newsletters, commenting, and virtual events with our leading journalists
Already have an account? sign in
Register for free to continue reading
Registration is a free and easy way to support our truly independent journalism
By registering, you will also enjoy limited access to Premium articles, exclusive newsletters, commenting, and virtual events with our leading journalists
Already have an account? sign in
Join our new commenting forum
Join thought-provoking conversations, follow other Independent readers and see their replies