Flappy Bird's Dong Nguyen: 'My games are designed for offline competition'
This simple game has shot up the most downloaded charts in the US and the UK, but why is something so frustratingly difficult, so popular?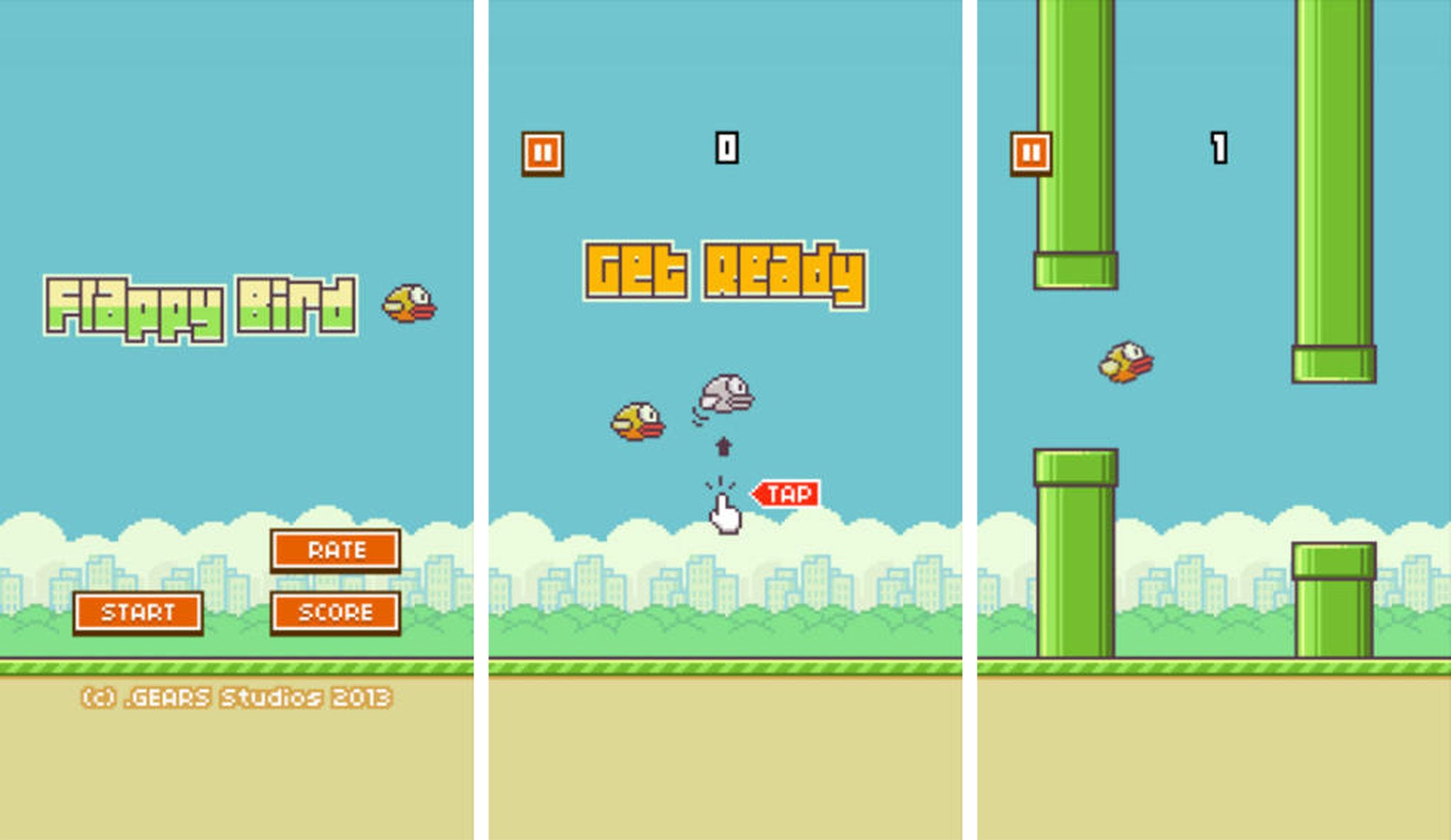 Flappy Bird is in danger of melting the internet. This minimalist (some say poorly designed) and addictive (some say brainless) smartphone game has shot to the top of the 'Most Popular' download charts for both Android and iPhone, and left trailing in its wake a small flotilla of articles asking everything from whether its creator faked the game's popularity to - 'is Flappy Bird art?'
The app was created by lone developer Dong Nguyen back in May 2013 and lingered in relative obscurity until January this year. From the beginning of 2014 the game's downloads of the game exploded (it now gets millions each day), indicating perhaps that smartphone owners had collectively decided that the best way to ring in the New Year was with a stress-induced aneurism.
This is because Flappy Bird is obnoxiously difficult. Not difficult like learning to play Chopin's Fantasie Impromptu but difficult like threading a needle after a bottle of wine. You'll laugh, you'll cry, you'll wonder what you're doing with your life in the first place.
You play as a cartoonishly cute bird, navigating your way through a never-ending stream of pipes, each with a single gap for you to pass through. The game's 'instructions' give some idea of its simplicity, offering only three pieces of sage advice: "Tap to flap your wings to fly. Avoid pipes. Try to get 4 medals."
In loving memory of Flappy Bird: 10 of the hardest games to break your thumbs on
Show all 10
The first time you play the game you will get a score of zero. The second time you play you'll get a score of zero. The third time? Well, you can guess where this is going. Although seasoned players may boast of scores well into the hundreds, you'll be lucky if you elbow your way past 5 after even an hour of play.
This has triggered an outpouring of online anguish (see the obligatory Buzzfeed article '12 Times "Flappy Bird" Drove Human Beings Into A Black Maw Of Existential Despair') but it's this difficulty that's the key to the title's success. Each 'game' is over in seconds, and with the barrier to getting a 'good' score set so low it's easy to convince yourself to have another go. Combine this with the social-media amplification of public schadenfreude and boom, viral gold. The Gangnam Style of the app store.
With anything that achieves this much success this quickly there's always a desire to explain the appeal, and although this sort pop-culture opinionating can be fairly brainless, the masochistic, brain-numbing allure of a game like Flappy Bird is an interesting phenomenon – even if you don't care to play it yourself.
"Playing Flappy Bird is like fixing an unfixable drawer pull, one that will never reattach correctly, one that you know will never do, but persisting in the face of such torpor nevertheless," writes game theorist Ian Bogost for The Atlantic. "Because the game cares so little for your experience of it, you find yourself ever more devoted to it."
Bogost reminds us that although we are beginning to think of games as an entertainment medium that might one day match the artistic depth of movies or literature, they also have a deeper appeal that is both primal and stupid, reminding us of some of the idiocy of daily life and perhaps 'teaching us humility'.
All of this attention has perhaps been too much for the game's creator, the 29-year old Nguyen. On his Twitter account he responds to comments from angry or confused gamers with gentle advice: "Take it easy and it should be easier. Don't push it too hard and too fast"; "Have a good night :-) Give my games a break too."
Recently, as one app developer speculated that the game's popularity might be down to bots, Nguyen said that he'd had enough, tweeting "Press people are overrating the success of my games. It is something I never want. Please give me peace."
Speaking to The Independent Nguyen clarified that he did not want to talk about his success simply because he did not feel that his English was up to the job. He denied that his success was artificial, saying that he makes games out of passion, not for profit, and agreed to answer the question of why his games are so popular:
"I think the most important reason that my games are so popular is the competition between players and the simplicity," said Nguyen over email. "They're designed for offline competition - something people forget these days."
"Also, each of my games has only one setting, one activity and one gameplay mechanism. They're dead simple, easy to learn and require only skill. People want real competition not 'pay to win'!"
For all its faults, with Flappy Bird, 'real competition' is certainly what you get.
Join our commenting forum
Join thought-provoking conversations, follow other Independent readers and see their replies