Flying first-class: The meticulous paper aeroplane that's five years in the making
Do you have trouble threading a needle? Then don't even think about how difficult you'd find constructing this amazing 'paper aeroplane'...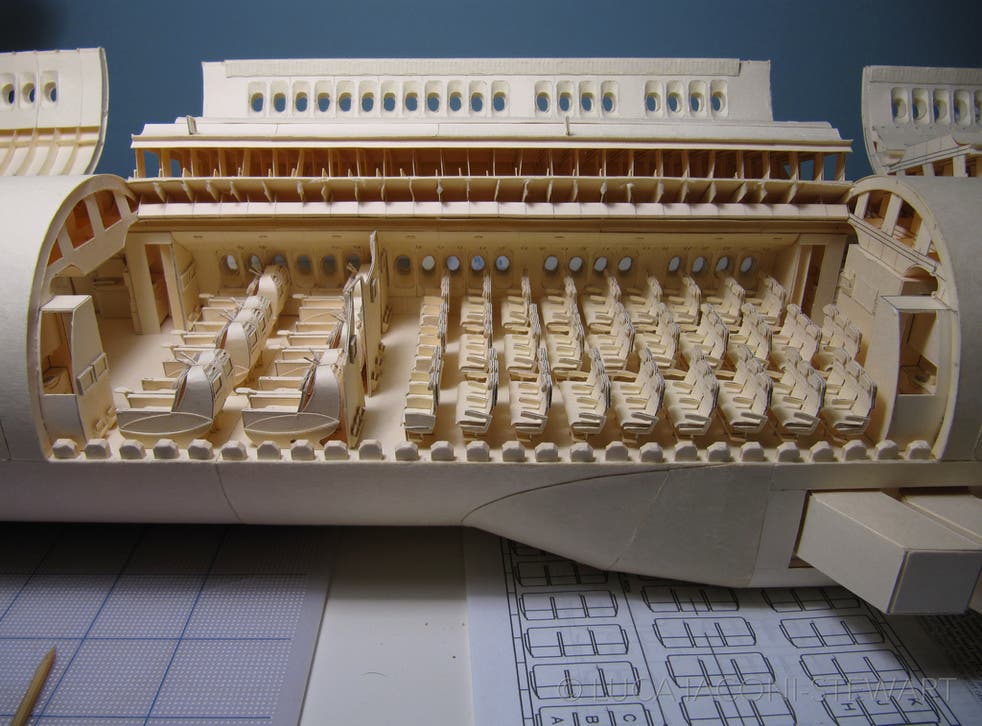 It's a work in progress but it's already been described by design blogs as 'the best paper aeroplane ever built'. Looking at the pictures of Luca Iaconi-Stewart's 1:60 scale model of a Boeing 777 jetliner it's hard to disagree.
The project is five years in the making (by comparison Boeing takes 50 days to build the actual plane) with each piece of the 777 cut out from manila folders and assembled by hand, using just tweezers and dabs of glue.
Speaking to The Independent, Iaconi-Stewart said he had been an aviation fan for a number of years, but it was an architecture class in high school that introduced him to model-making using manila folders and that provided the inspiration for the project.
"I think I just wanted to push the limits of what could be done with the material (and what I personally was able to do), and that led me to start," says Iaconi-Stewart. "It can be engineered to be very strong but it's also malleable enough to shape into a variety of parts."
The plans were provided by an online diagram of an Air India 777-300ER, but Iaconi-Stewart says he has had to redesign many elements to make them work, saying that the hardest parts have been any curved sections or moving parts.
"So far, those have been one of the most challenging components. However, the wings will soon overtake them to become the single most difficult phase of the project - I'm just beginning work on them now."
Although the timescale of the project is staggering, Iaconi-Stewart did take a two year break while he attended college, but has since started work on the plane once more. Every single detail is present, from the overhead luggage compartments to the metal carts in the galley. Just putting together a single first-class seat takes eight hours.
Iaconi-Stewart is hoping that once the plane is finished it will be displayed somewhere, saying that "it's visually rich and photos are only able to do it so much justice."
"As for what keeps me going, I obviously have a vested interest in seeing it complete, as I'm already so close to finishing, but I also really enjoy being able to reverse-engineer and deconstruct something," he said. "It's a very rewarding feeling when it all turns out as planned."
Luca Iaconi-Stewart's Boeing 777 - crafted by hand using only paper

Show all 10
Click here to visit Iaconi-Stewart's Flickr for more photos of the plane, or here to see his YouTube channel.
Register for free to continue reading
Registration is a free and easy way to support our truly independent journalism
By registering, you will also enjoy limited access to Premium articles, exclusive newsletters, commenting, and virtual events with our leading journalists
Already have an account? sign in
Register for free to continue reading
Registration is a free and easy way to support our truly independent journalism
By registering, you will also enjoy limited access to Premium articles, exclusive newsletters, commenting, and virtual events with our leading journalists
Already have an account? sign in
Join our new commenting forum
Join thought-provoking conversations, follow other Independent readers and see their replies