Game of Thrones 'Wall' recreated as 3D street art installation in London
The impressive artwork was made to coincide with season three's DVD release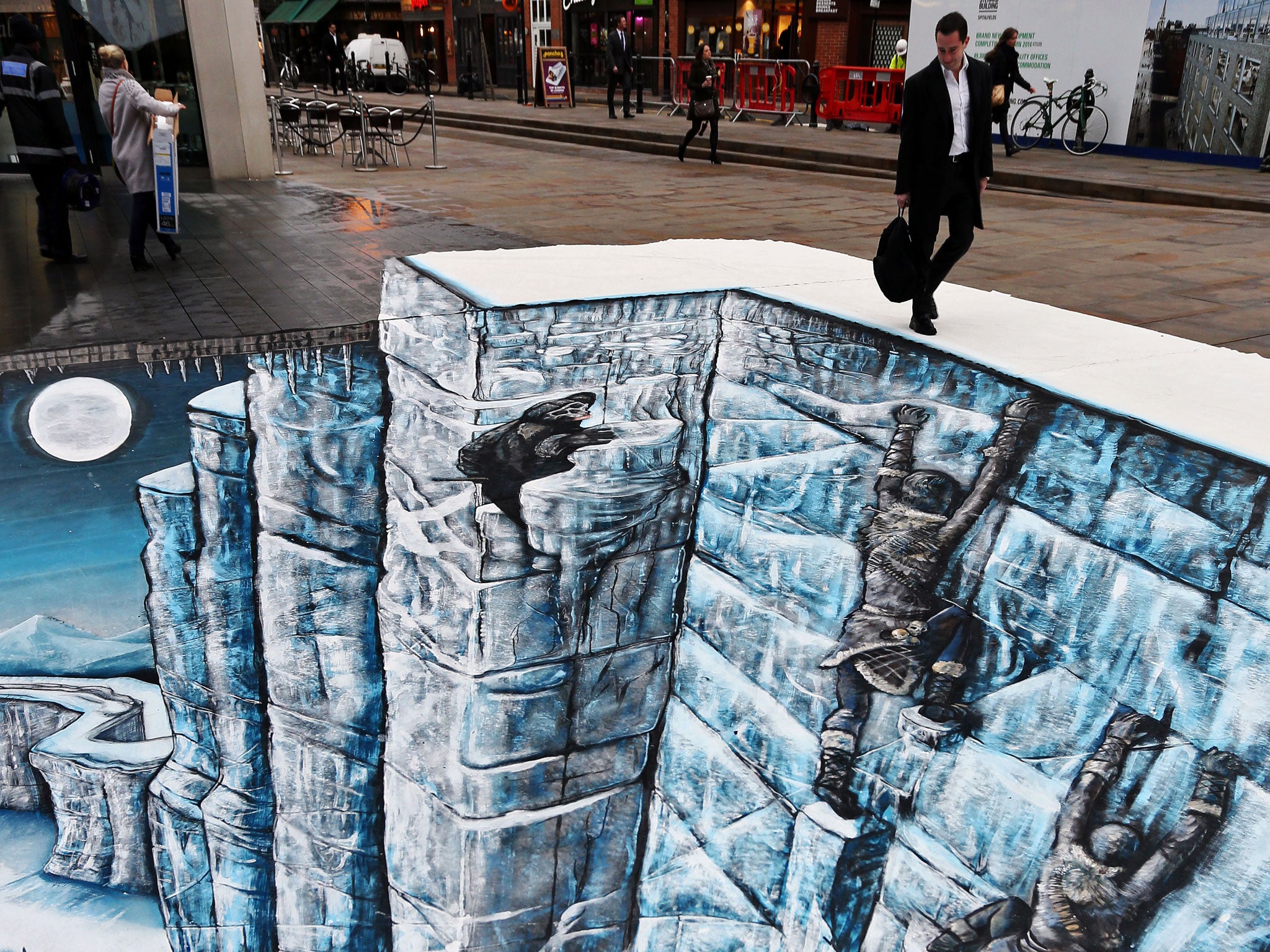 Two innovative street artists have created a giant 3D art installation of The Wall from Game of Thrones on Liverpool Street in London.
Commissioned by US network HBO, which airs the hit fantasy series, 3D Joe and Max's realistic painting can be seen for one day only.
It measures 10 metres by 7.5 metres and was requested in celebration of Game of Thrones season three's release on DVD and Blu-Ray.
Joe Hill, who founded the street art team, said: "We were delighted to be approached by HBO - we knew we had to do something really special to match the sheer scale of this phenomenal TV show that has swept the globe.
"That's why The Wall in 3D works from more than one angle - making it a first in the 3D art world."
In Game of Thrones , The Wall is 300 miles long and 700 feet tall. Made out of solid ice and defended by the Sworn Brothers of the Night's Watch, it runs along the northern border of the Seven Kingdoms and has been the setting for some of the show's most memorable and thrilling scenes.
Viewers of 3D Joe and Max's artwork are being encouraged to interact with the installation and 'scale the wall' like characters such as Jon Snow and the Wildings do in the TV series.
The latest trailer for Game of Thrones season four is filled with ominous one-liners such as "all men must die". Teaser pictures of new characters from the upcoming next series have also been released, as seen below.
Game of Thrones season four in pictures
Show all 36
Meanwhile, Carice van Houten, who plays the Red Priestess Melisandre, has called for more male nudity in the HBO show, so long as it serves the story.
When asked whether there should be more naked men in Game of Thrones , she said: "Hell yeah! Of course it has to be functional and it mostly is, but in general that's what I like about the show. Not the sex per se, but the nudity is part of life."
Join our commenting forum
Join thought-provoking conversations, follow other Independent readers and see their replies