Gastronomic voyeurism: The South Korean trend that means you'll never eat alone
Live-streams of meals can attract viewers of thousands night after night - with audiences donating enough money for the host to live on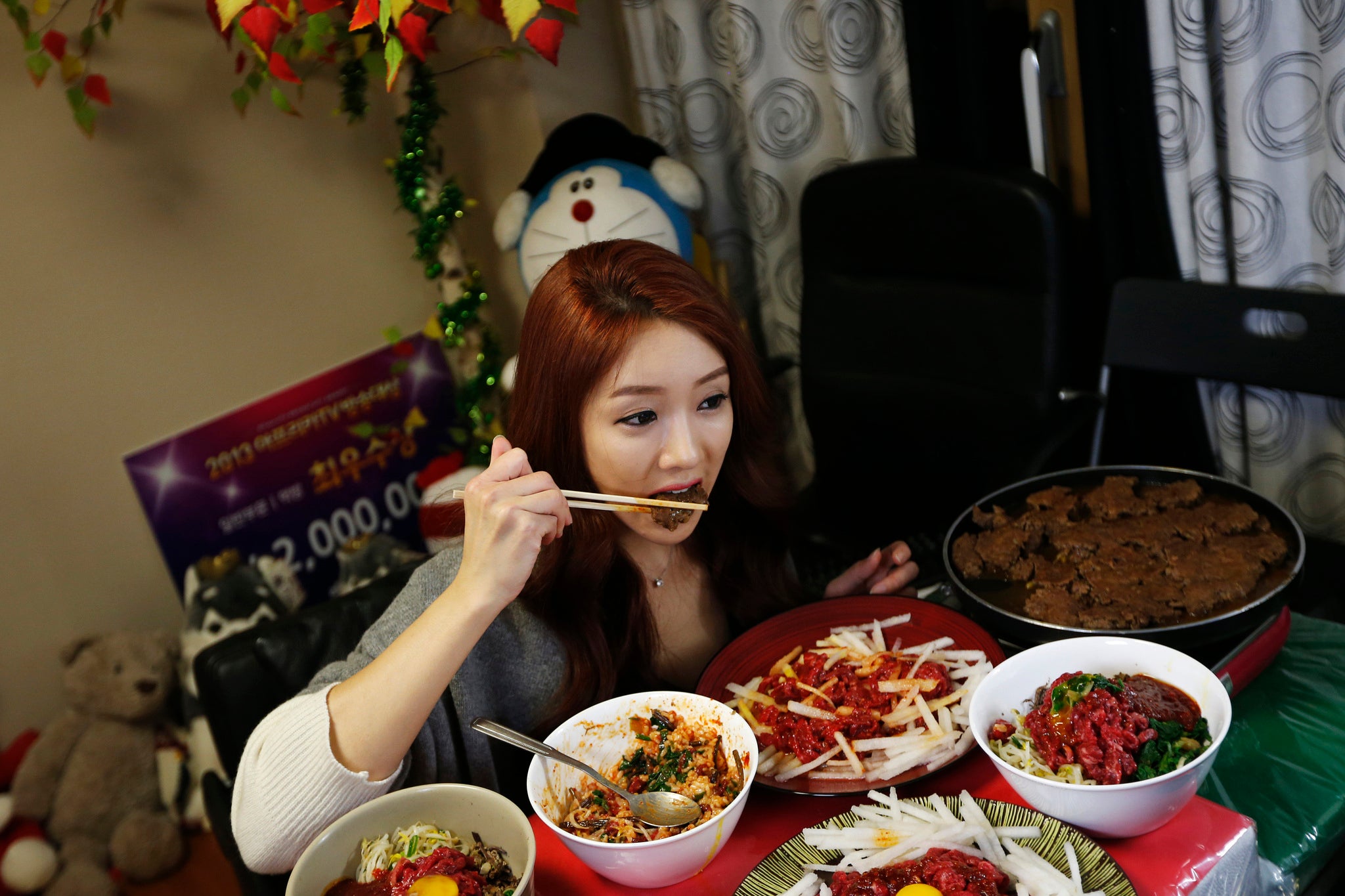 Western media and bloggers have dubbed it 'food porn' or 'gastronomic voyeurism', but in its home country of South Korea it's known simply as meok-bang: 'broadcast eating'.
This trend from the world's most connected nation sees solo diners live-streaming their evening meals to audiences of thousands. In a country where a quarter of households are occupied by just one individual, a sit-down dinner with a familiar face can be a godsend, even if it is virtual.
"People enjoy the vicarious pleasure when they can't eat this much or find that food at night or are on a diet," Park Seo-yeon, one of the country's most popular 'broadcast jockeys', told Reuters.
"Loneliness is another crucial factor. The show is addictive as you can communicate with thousands of people at home," says Park, who is also known as 'The Diva' to her fans.
For the 34-year-old the broadcasts have proved so popular that she's been able to quit her day job and go full time at Afreeca TV – the peer-to-peer video network that offers both recorded videos and live-streaming content, and that has become the home of meok-bang.
Park started streaming her meals as a hobby but now lives on her broadcasts, earning money via a virtual currency called Star Balloons that can be converted later into Korean won. These 'gifts' are mainly sold in small denominations worth just 5p, with viewers often sending them in alongside questions for the host.
A single broadcast can earn Park as much 1.1 million won (£600) and she says she has an average monthly income of around £5,600, although a sizeable amount of that money goes on food.
This is no surprise: Park's evening meals are not simple beans-on-toast affairs, but feasts that can go on for hours. She spends almost £2000 each month on top quality ingredients and in a single sitting can eat as much as 12 hamburgers, 12 fried eggs, and three bowls of kimchi stew.
Despite this, Park says that she's only put on around 20lbs (9kg) since starting her show, saying that she has an unusually high metabolic rate and inherited her gluttonous appetite from her family. She also denies she has any eating disorders, and often stays online after the meal to chat with her audience about the food and prove she's not 'purging' aftewrwards.
Although some will claim that there is an element of fetishism to these broadcasts (whether male or female, the most popular hosts are generally young and attractive) the concept of meok-bang has widespread appeal – beyond even the internet.
'Meok-bang' is itself a portmanteau term, combing "meok" (a shortened form of the verb "meokda", meaning to eat ) and "bang" ( short for "bangsong" or "on air"). The Korean Herald reports that the term can describe "anything from the way a movie star eats in a film to how a food program MC dines," and that viewers in South Korea often praise actors who can 'eat deliciously' on TV and film.
Looking at fan-made YouTube compilation of the 'greatest hits' of actor Jung Woo Ha this seems to entail cramming your mouth full of food and making exaggerated facial expressions as you scoff it down. You could say that this sort of over-the-top approach is somehow peculiar to South Korea, but it might just be away of conveying 'tastiness' onscreen. We have our fair share of food-related ridiculousness in the UK - those infamous Marks and Spencer adverts for one, or Nick Griffin hosting a low-rent cooking show.
Indeed, given our love for cookery shows and personality chefs, it wouldn't be a massive surprise if meok-bang or something similar found its way to the UK some time in the future. Although, given that the trend's popularity in South Korea is fuelled by the country's fantastic internet connectivity (we've just got 4G mobile data - they're already planning 5G) we might be waiting some time.
Join our commenting forum
Join thought-provoking conversations, follow other Independent readers and see their replies