Glowing flowers created through insertion of DNA from luminous mushroom
Andrew Griffin
Monday 27 April 2020 15:14 Comments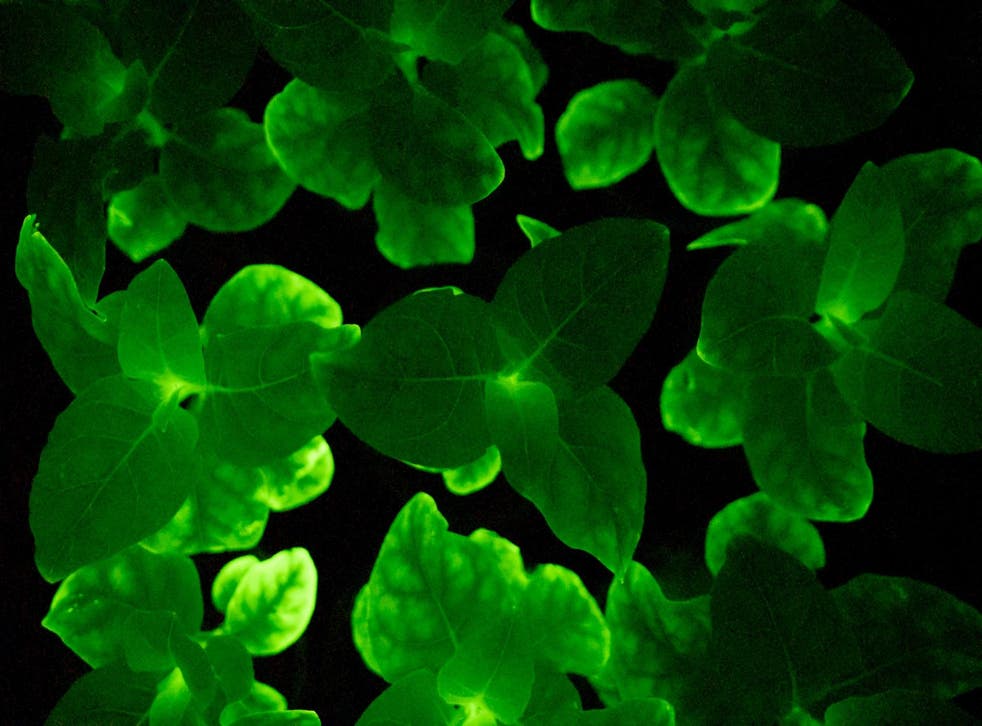 Scientists have created glowing flowers after editing the DNA of a plant.
The researchers spliced DNA from a glowing mushroom into a tobacco plant and found that it was possible to make them glow with a "pleasant green aura that emanates from their living energy".
The researchers say that the discovery could be used to create glowing flowers or other ornamental plants, and change the make-up of the plants that surround us.
It can also be used by scientists to learn more about the plants they study, watching the glow to see their inner workings.
The new research is published in Nature Biotechnology, and was conducted by scientists from Russia, the UK and Austria.
The new plants can produce more than a billion photons per minute, according to the researchers who create it. That is far brighter than any previous example, as well as producing more of a steady glow.
The researchers managed to create the plants after realising that the bioluminescence of some mushrooms is metabolically similar to the natural processes found in plants. That allowed researchers to take that DNA from the mushroom and move it into the plants, allowing them to glow with a light borrowed from the mushroom.
Previous attempts to do the same have run into problems because it was difficult to use the glow from bacteria. Usually, the bacterial parts taken from more simple organisms do not work when transferred into more complex ones.
The breakthrough came when researchers found the parts of a mushroom that allow for biolumiscence. That meant that they were able to define the mechanism inside of an advanced multicellular organism for the first time, and discovered that it would work particularly well in plants.
Mushrooms are not closely related to plants, and so the difficult could have come about once again. But researchers discovered that the organic molecule at the centre of the light emission from such mushrooms is also required when plants make cells walls, giving the scientists their opening to get it in.
By dropping the DNA from the mushroom into the plants, they were able to create examples that glowed ten times as bright, the researchers claim. They are so bright that light could be seen coming from leaves, stems, roots, and flowers and captured using a normal smartphone camera, they claim.
Register for free to continue reading
Registration is a free and easy way to support our truly independent journalism
By registering, you will also enjoy limited access to Premium articles, exclusive newsletters, commenting, and virtual events with our leading journalists
Already have an account? sign in
Join our new commenting forum
Join thought-provoking conversations, follow other Independent readers and see their replies