Google hit with EU competition charges for 'abusing' dominant position with Android
Almost two-thirds of Europe's smartphones are running on Android, and the EU is worried Google is abusing this position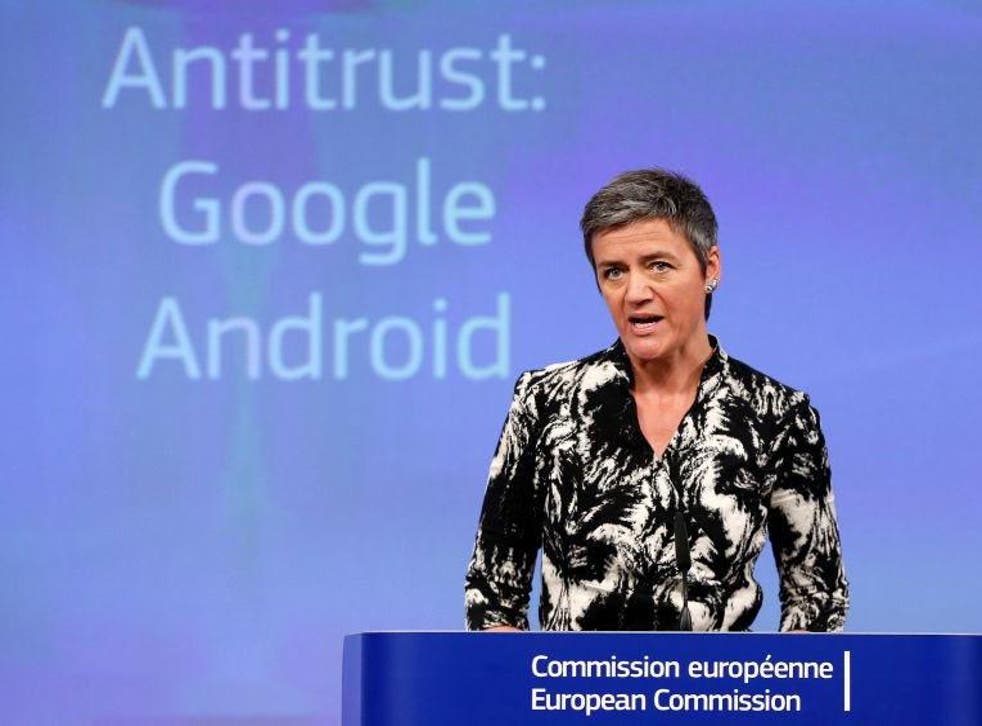 The EU has brought charges against Google for allegedly "abusing" its dominant position in the smartphone market by forcing device makers to adopt certain apps.
In a formal statement of objections against the company, the EU competition commission alleged Google had breached competition laws by requiring phone companies to pre-install Google Search and the Chrome browser on their devices, as a condition for getting licenses for more Google apps.
The commission also claimed Google prevents manufacturers from selling smartphones running other operating systems based on Android, and gives "financial incentives" to them on the condition they exclusively pre-install Google Search on their devices.
Competition boss Margethe Vestager said: "A competitive mobile internet sector is increasingly important for consumers and businesses in Europe. Based on our investigation thus far, we believe that Google's behaviour denies consumers a wider choice of mobile apps and services and stands in the way of innovation by other players, in breach of EU antitrust rules."
Vestager told journalists that the commission's concerns are over the "unjustified restrictions" Google places on manufacturers of Android smartphones, who are "not free" to choose which search engines or browsers to install on their smartphones.
Apple does similar things with its iPhone, by delivering each one pre-installed with its own Safari browser and mandatory search feature. However, since Apple does not license its operating system to any other manufacturer, there's less of a competition issue, according to Vestager.
Gadget and tech news: In pictures

Show all 25
The EU is particularly concerned by these issues due to Android's popularity - almost two-thirds of the smartphones in Europe run the operating system, so any unfairness could potentially affect millions of users.
If found guilty of anti-competitive practices, Google's fine could stretch into the billions, according to Reuters.
Google now has an opportunity to reply to the commission's concerns. In a statement, Google general counsel and senior vice president Kent Walker said: "Android has helped foster a remarkable - and, importantly, sustainable - ecosystem, based on open-source software and open innovation."
"We look forward to working with the European Commission to demonstrate that Android is good for competition and good for consumers."
Register for free to continue reading
Registration is a free and easy way to support our truly independent journalism
By registering, you will also enjoy limited access to Premium articles, exclusive newsletters, commenting, and virtual events with our leading journalists
Already have an account? sign in
Register for free to continue reading
Registration is a free and easy way to support our truly independent journalism
By registering, you will also enjoy limited access to Premium articles, exclusive newsletters, commenting, and virtual events with our leading journalists
Already have an account? sign in
Join our new commenting forum
Join thought-provoking conversations, follow other Independent readers and see their replies