Google Glass to be banned from all UK cinemas
Staff on alert for criminals 'stealing' blockbusters via image-capturing specs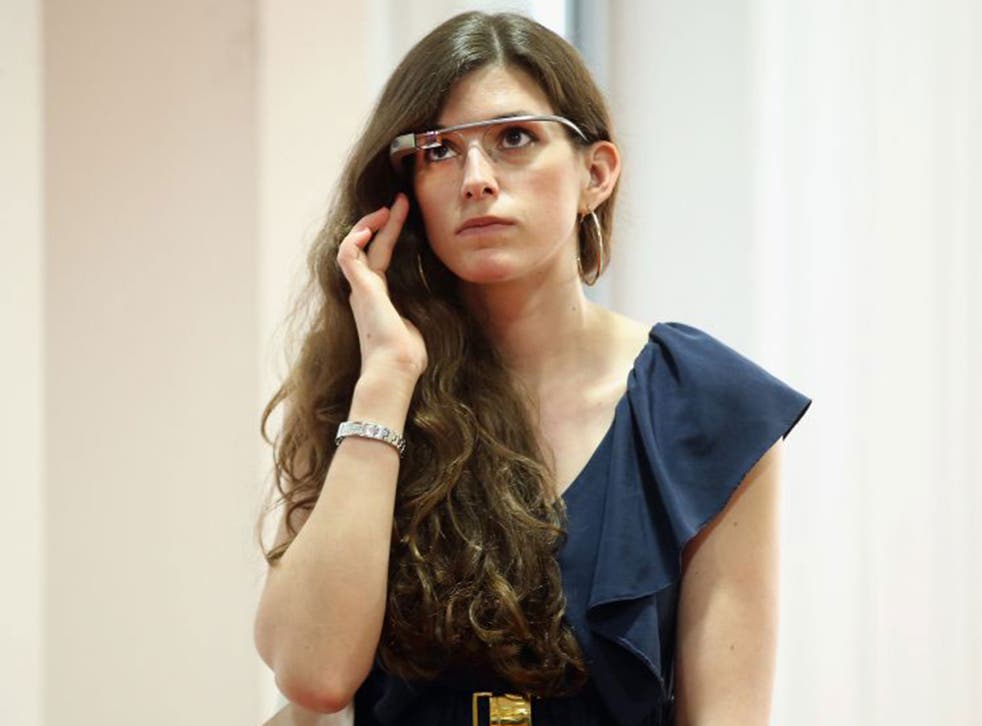 If you've just acquired a Google Glass headset for £1,000, don't show it off at the movies. UK cinemas are to ban the headsets over fears that the gadgets can be used to make pirate copies of Hollywood blockbusters.
Two years after its US release, Google finally made a prototype of its hi-tech eyewear available in Britain last week. The spectacles, which allow the wearer to read emails, take videos, and access the internet via a display fixed above the right eye, are being offered to "Explorers" for £1,000.
However, the ability to record people without their knowledge, with the stroke of a finger over the spectacle frame or a voice command, has prompted privacy concerns. And cinemas are alarmed that criminal gangs could use Glass to distribute pirate copies of blockbusters movies – recording in cinemas is the source of more than 90 per cent of all illegally copied films in their release form.
Phil Clapp, chief executive of the Cinema Exhibitors' Association, said: "Customers will be requested not to wear these into cinema auditoriums, whether the film is playing or not."
The Vue cinema chain said it would ask guests to remove the eyewear "as soon as the lights dim".
Although Google Glass lights up when it is capturing images, one early adopter has already been asked to remove his headset at a Leicester Square cinema as staff could not monitor whether it was recording.
Google Glass: Everything you need to know

Show all 6
Google Glass batteries power down after 45 minutes of continuous recording, making it unlikely anyone could capture an entire film. But gangs now have the ability to combine video sourced from one cinema with images and sound from another to produce counterfeit discs, mass-produced for sale or upload.
Cinema staff have been given a guide to spotting pirates. Illegal recorders often sit in the centre of the cinema and shield themselves by having accomplices sit on either side of them. Some have even used small children to disguise their intent.
Other entertainment venues are considering their responses. Andrew Lloyd Webber's Really Useful Group, which runs six theatres in London, said it planned to "evaluate the implications, especially with regard to the effect on the cast, creative team and members of the public."
Hospitals are also expected to ask visitors to remove the wearable computers to protect patient privacy.
The Transport Department has asked Google to look at ways to allow drivers to legally use Glass, possibly by restricting information displays mid-journey. Virgin Active allows members to wear Glass in gyms, but forbids use of the gadget to capture images.
Google has issued an etiquette guide to prevent wearers becoming "glassholes". It reads: "If you're asked to turn your phone off, turn Glass off as well."
A Google spokesperson said: "We recommend any cinemas concerned about Glass to treat the device as they treat similar devices like mobile phones: simply ask wearers to turn it off before the film starts. Broadly speaking, we also think it's best to have direct and first-hand experience with Glass before creating policies around it. The fact that Glass is worn above the eyes and the screen lights up whenever it's activated makes it a fairly lousy device for recording things secretly."
* Two years after launch, Google Glass finally went on sale in the UK last week. It predicts sales of nearly a million of the £1,000 gadgets by the end of the year, but rumours persist that sales are slow. While the number of Glass users will remain unknown until the company releases precise figures, analysts say Google still regard it as "in development".
Register for free to continue reading
Registration is a free and easy way to support our truly independent journalism
By registering, you will also enjoy limited access to Premium articles, exclusive newsletters, commenting, and virtual events with our leading journalists
Already have an account? sign in
Register for free to continue reading
Registration is a free and easy way to support our truly independent journalism
By registering, you will also enjoy limited access to Premium articles, exclusive newsletters, commenting, and virtual events with our leading journalists
Already have an account? sign in
Join our new commenting forum
Join thought-provoking conversations, follow other Independent readers and see their replies