Google's AI Lens lets you copy and paste handwriting from your notebook to your laptop
Feature is available on the Google app for iOS and the Google Lens app for Android
Adam Smith
Thursday 07 May 2020 16:53 Comments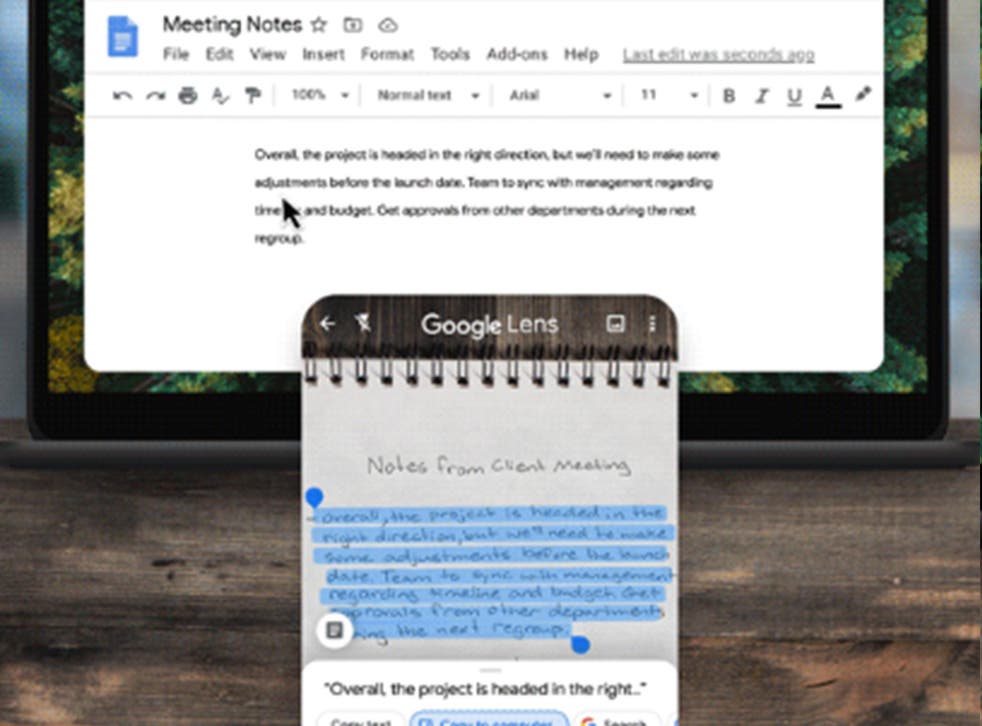 Google Lens, the search giant's artificially-intelligent camera that can recognise objects, has had an upgrade: users can now copy text from the real world and paste it directly onto their laptop.
Before this update, Lens was able to copy text captured by the camera to the smartphone, but now it can be linked to any computer with Chrome – whether those are typed words, or handwritten ones.
"Now, when you select text with Lens, you can tap 'copy to computer' to quickly paste it on another signed-in device with Chrome. This is great for quickly copying handwritten notes (if you write neatly!) and pasting it on your laptop without having to retype them all", Google said on its blog.
However, for the copy-and-paste functionality to work properly, users must be using the latest version of the Google Chrome browser, and must be signed in to their Google account on both devices.
Lens has improved its foreign language capabilities too; users will now be able to select the text with Lens and tap a new Listen button to hear it out loud.
Finally, Google has also added the ability to look up new definitions using Lens. Selecting a word or phrase in a book or newspaper via Lens will bring up a pop-up box with information about the selected word.
All of these features are available on iOS devices such as the iPhone 11 and the iPad Pro, and Android devices, via the Google app on iOS and the separate Google Lens application on Android.
Some Android phones, such as Google's Pixel 4, have the Lens functionality built directly into the primary camera application without needing to download it. Others, such as the Oppo Find X2 Pro, will require the app to be downloaded before it can be found under the "More" section of its main camera app.
As well as those mentioned above, Google Lens can also be used to identify plants and animals, to pull up facts about landmarks around you, scanning clothing and furniture, and reading QR codes and barcodes.
Google's Lens functionality was first introduced in 2017 as a part of Google I/O. The app uses artificial intelligence and machine learning to detect what is in an image by comparing it to a dataset of countless other versions of a similar image.
Register for free to continue reading
Registration is a free and easy way to support our truly independent journalism
By registering, you will also enjoy limited access to Premium articles, exclusive newsletters, commenting, and virtual events with our leading journalists
Already have an account? sign in
Join our new commenting forum
Join thought-provoking conversations, follow other Independent readers and see their replies