Google Nest executive predicts 'ambient computing is next great technology transition'
Rishi Chandra believes we will soon live in a world where computers are omnipresent and always accessible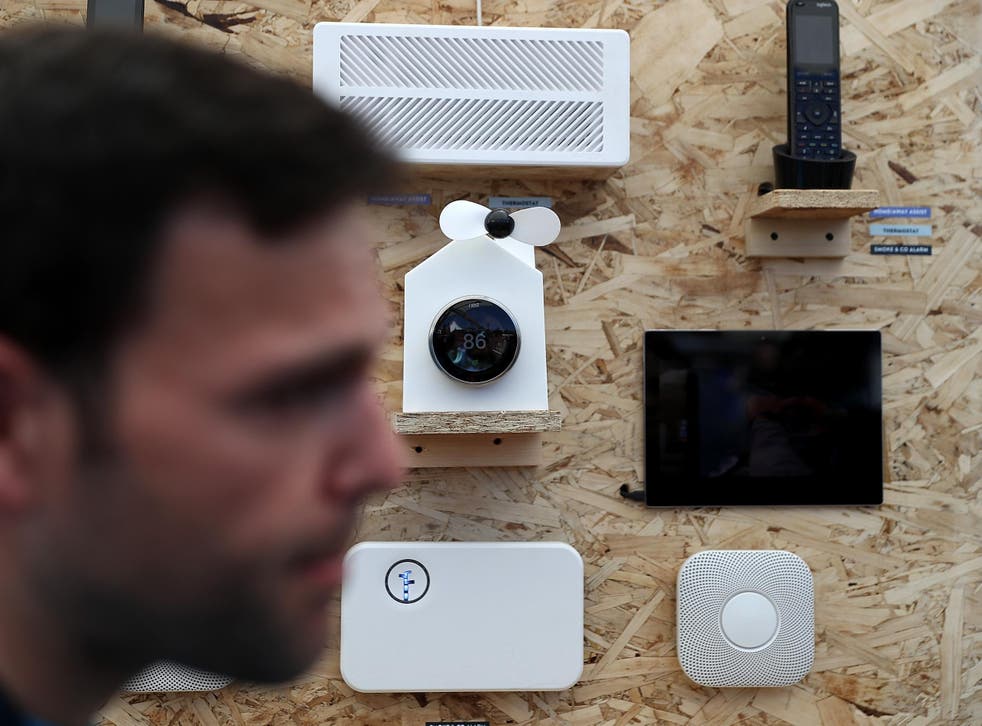 "I've been in the home space for a few years now, you know. I felt there's a huge opportunity and change happening inside the home right now."
I'm talking to Rishi Chandra at Google's London HQ in the striking Renzo Piano building in the West End.
Chandra is Vice President of Product and General Manager at Google Nest, which means he looks after Google Home, Chromecast, Google Wifi, Nest Thermostat, Nest Cam, Nest Hello and more. He's worked for Google for over 12 years and is excited about the future.
"Even inside of Google, we felt we weren't kind of bringing all our assets to bear to solve all the user problems we could and so by bringing Nest and Google Home together gave us an opportunity to think about where we see the home evolving over the next five to 10 years."
He's referring to the fact that earlier this year, Google announced that Nest and Google Home products were joining forces. This meant that Nest's products, such as its home security cameras, smart thermostat and Nest Protect smoke alarm are now to be found in the Google Store. And that the latest Google home hub product, has Nest in its title: Nest Hub Max. A smaller, earlier product has changed its name to match, from Google Home Hub to Nest Hub.
Gadget and tech news: In pictures

Show all 25
Chandra feels this is a time of transition. "I think we're in a tremendous time right now, a technology transition from mobile computer to ambient computing. And those transitions don't happen very often, they actually happen once a decade.
"Twenty years ago, you had the transition from PC computing, to web computing. And that was kind of the foundation of Google and many amazing start-ups. And about 10 years ago, when you had the transition from web computing to mobile computing, with the resurgence of Apple and all these great, amazing mobile applications that have been out there the last decade.
"My belief is that this latest transition is to ambient computing, this notion of having an always accessible computer right at your fingertips, that understands you, that can do things on your behalf to help you in different ways."
Smart home gadgets, like lights that you can control from another room or another country, cameras which can show you if the dog is on the sofa again, or thermostats that let you turn on the heating in the chilly living room downstairs while you're snuggling in bed, are common today. But Chandra sees a more integrated future.
"When you think about computing, you know, the history of the computer in the last 20 years has been, one integrated device that just keeps getting better. The challenge you have in an ambient computing model is there is no one device which I put in my home, and it just makes my home smart. Instead, you have to take this imaginary computing device, and split it apart. You need different sensors and inputs and outputs across all the different rooms inside your house. And to the consumer, it needs to feel like one. But from a computing standpoint, this is something that we've never really done before, this notion of going from an integrated computing system to a distributed computing system, and it's a big challenge."
And that's just the first challenge. When you look at your mobile phone, it's a personal device, one with all your data, music, calendar appointments, apps and so on, on it. The future, Chandra says, is different.
"When you think about ambient computing, it's actually multiple people interfacing with a technology sitting inside the home. So, it's about communal experiences as much as about personal experiences. When I put a camera in my house, it's not just me who is going to interact with it. It's my kids, my grandparents, my spouse, guests who come into my house. We have to rethink the experience to be both communal, and personal. Now, it doesn't change the requirement that when I'm interfacing with this device, I want it to know who I am, so that it does things on my behalf. It needs to be able to adjust between a personal experience and a communal experience fairly seamlessly. But it does require that the services also have to understand the context of different people inside the house. If I'm listening to music, for example, and my kids come into the room, it shouldn't play explicit music, right? It needs to understand that context. And that's a big change that does not does not really fundamentally exist today."
The more smart home gadgets we put in the house, though, the more we may be concerned about our privacy. Microphones and cameras are useful to let us see and hear what's going on in our homes, but we've got to be sure we are the only ones with access. How do you provide openness and privacy at the same time?
"You know, the truth is that privacy is a spectrum, depending on the household you talk to, there's no one answer that's going to work for everyone. If you're not, for example, comfortable with a camera, we're going to build a product for you. We understand that some people only want a camera that's on at certain times. Well, great, we're going to build those controls for you. Because our belief is, we have to build where consumers are, versus having consumers come to where we are."
Rishi Chandra from Google Nest (Google)
But when I talk about the smart home, Chandra gently corrects me.
"We're intentionally deviating from the word smart home, because we actually think it's the wrong word, we actually think it's a very tech-oriented way of thinking about the home. No one asked for smartness. That's not an attribute necessarily people care about: what they want is help. We want to go from what a technology does to where it actually provides benefit. And so, our mantra for the next five to 10 years is going to be the notion of how we can help deliver the helpful home. When you think about what the future of the mission of Google is, it's bringing help to everyone, that's why we think the home is obviously a place where we can actually deliver that."
The rebrand of Google Nest may be the way to emphasise that intention, a way of unifying two brands that operate in the home to show how they work together.
"We wanted to introduce a product that was the first to really showcase everything we're talking about. When we designed the Nest Hub Max, we wanted to be thoughtful about how it brings together different technologies inside the home to deliver an amazing experience, for example, inside the kitchen. And it was that insight that drove us to say, look, instead of asking a user to buy a separate security camera, and a smart display, why don't we integrate them in one? We wanted one product in the kitchen that delivers everything you need, from security to a photo frame to video conferencing, to kitchen TV capabilities."
So, can we expect to see greater levels of integration, where the Nest thermostat will gain a screen to see who's at the door, say?
"No, I actually think this level of integration allows us to do exactly not that. Putting a microphone on a thermostat, I actually don't think makes any sense. What makes more sense is putting a Nest Hub or a Google Home Mini in a different room, where you interact with the products and that's where the devices should connect together. If you think about it, the portfolio of products we have is tremendous.
"We have seven different categories in 20 or so products. I think the next evolution of the home is going to be how these devices interface together logically for the consumer. Right now, the industry is like, oh, let's put a microphone in every product, like a washing machine, say. Why? It doesn't really make sense. So, in my mind, I want us to step back," he says.
Chandra says that if he were to design the "ultimate home from scratch" it would not be by putting 60 microphones in people's houses, or placing screens on any available object. What he would focus on is the issues that users care about, like how to save energy through a thermostat. Multiple products working together can help solve these challenges.
"From a computing standpoint, we've been so invested in every product we build, we've just crammed more and more features into it, versus a distributed system, a system that makes sense," he says.
"My hope is actually I can build something for you, that makes sense over time as you ladder up and build out and add more capabilities into your home."
Register for free to continue reading
Registration is a free and easy way to support our truly independent journalism
By registering, you will also enjoy limited access to Premium articles, exclusive newsletters, commenting, and virtual events with our leading journalists
Already have an account? sign in
Register for free to continue reading
Registration is a free and easy way to support our truly independent journalism
By registering, you will also enjoy limited access to Premium articles, exclusive newsletters, commenting, and virtual events with our leading journalists
Already have an account? sign in
Join our new commenting forum
Join thought-provoking conversations, follow other Independent readers and see their replies