Google launches new 'Nest Hub' home assistant that watches its owners as they sleep
Users will be able to ask 'Hey Google, when should I go to bed?'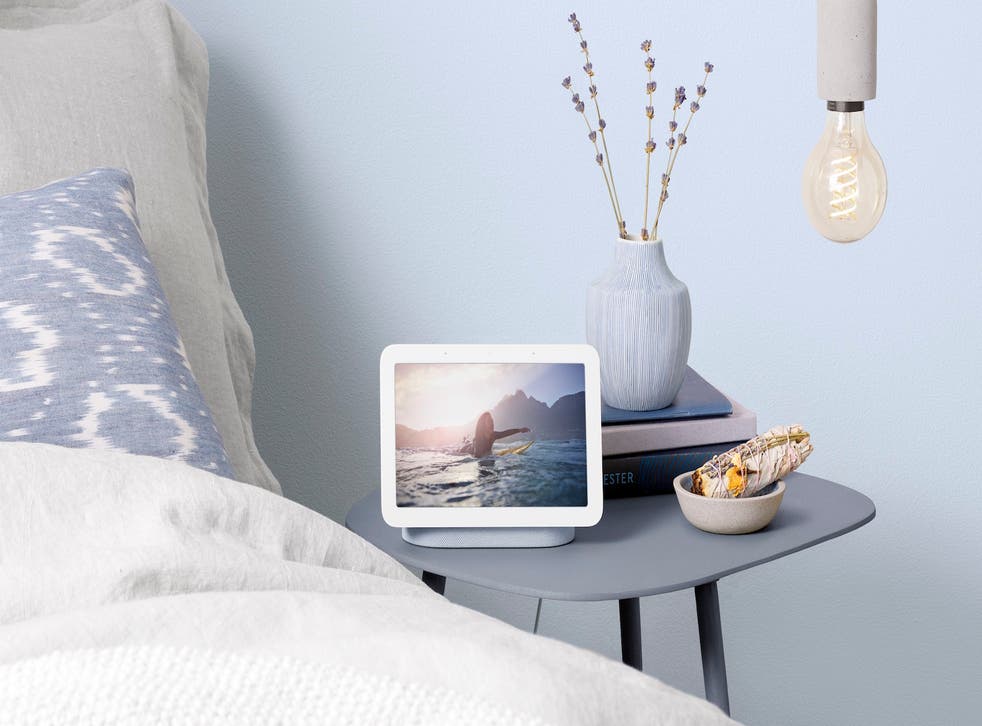 Leer en Español
Google has launched a new 'Nest Hub' home assistant that tracks its owners' sleep.
The small gadget – which like other Nest products includes the Google Assistant, which can be spoken through voice as well as interacted with on a large screen – is an update to the company's existing smart display.
It costs £89.99, comes in a range of colours, and can be ordered today. Like the existing Nest Hub, it can show photos and videos from Google's owner services like YouTube and Google Photos, integrates with other services such as Netflix, and can be used to control the home.
But its standout feature is its new sleep tracking technology. To use it, the Nest Hub is supposed to be placed on a bedside table, so that it can monitor its owners as they sleep.
It can not only track the amount of sleep, and how deep it is, but also other things that might disturb that sleep – as well as other people sharing the bed – such as coughing and snoring.
Read more:
It then uses that information to allow its users to track how they are sleeping and how that is changing over time, as well as making suggestions about how it might be improved.
Users will be able to ask "Hey Google, when should I go to bed?", for instance, and the assistant will be able to tell them their optimal bedtime.
As well as the tracking features that the company refers to as Sleep Sensing, the new Nest Hub includes other sleep-focused features such as a page that will suggest relaxing sounds at night time, and an alarm that gradually brightens its display.
The new sleep tracking features follows a range of companies – from Apple to Garmin – that have added new sleep tracking features to their smart watches. Such updates come amid an increasing focus on the value of sleep to health and fitness.
Google's approach differs, however, in that it is "contactless", which the company said was developed partly because some people don't wish to have watches or other wearables on their body as they sleep.
Instead, it relies on the company's "Soli" motion tracking technology, and Google says it is the first time it has been used for fitness applications. Soli works like radar, sending out a radio wave and using it to judge movement in front of it, and has already been used in other Google devices – in its Pixel phones, for instance, it can be used to wave at the device and skip music tracks.
Google commented that the sleep tracking features can be turned off at any time, and any data already collected can always be deleted. It also said that any information that is stored will be kept fenced off from other data so that it cannot be used for marketing.
That is similar to the commitments the company made when it bought Fitbit, the wearable health tracker company, when regulators required that it ensured that health and fitness information was not used for advertising.
The sleep tracking technology is expected to integrate with Google's plans for Fitbit. It said that the feature will be free for now, but that it might become paid-for when the Fitbit integration progresses.
"Sleep Sensing on the second-gen Nest Hub is available as a free preview until next year," it said in a blog post. "We'll also be looking for ways to integrate with Fitbit's sleep tracking features to bring the best of both together in the future."
Register for free to continue reading
Registration is a free and easy way to support our truly independent journalism
By registering, you will also enjoy limited access to Premium articles, exclusive newsletters, commenting, and virtual events with our leading journalists
Already have an account? sign in
Register for free to continue reading
Registration is a free and easy way to support our truly independent journalism
By registering, you will also enjoy limited access to Premium articles, exclusive newsletters, commenting, and virtual events with our leading journalists
Already have an account? sign in
Join our new commenting forum
Join thought-provoking conversations, follow other Independent readers and see their replies