Google's attempt at predictive text leaves web users lost for words
Scribe is meant to make writing easier – but does the opposite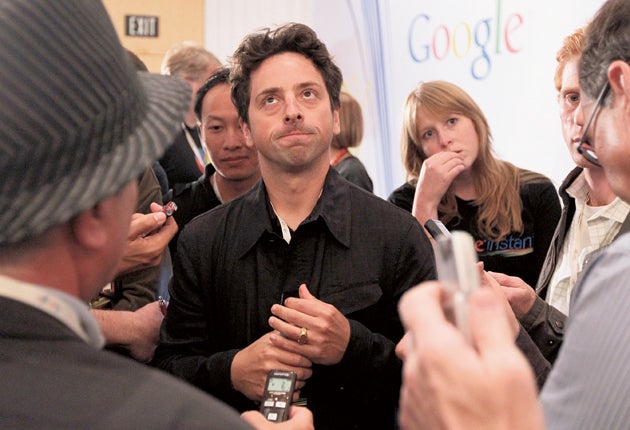 Things of interest to risk managers who take issue with any entity-producing premium range – no, I'm sorry. It's not working, I'll try again. Thinking of the right words isn't always easy, particularly if you're in a hurry, or drunk. But this week the internet giant Google has launched two services that aim to relieve some of the pressure on our overloaded brains, by using its position as the pre-eminent cataloguer of the world's data to suggest what we might be about to think next.
Google Scribe, which I used to write the first line of this article, tries to complete our sentences via a pop-up menu of likely options, while Google Instant transforms the process of searching the web, with pages of results changing automatically as we type. As a result, the search giant can hand-hold us even more firmly through the process of typing, finding and, ultimately, spending money.
Scribe is one of many tools that has emerged from the research wing Google Labs (see box), and while it is interesting from a linguistics point of view, it is more of a diverting toy than a usable tool. As you type, you can choose (or not) from a numbered selection of words most likely to come next, based on the massive corpus of sentences that has been harvested from the web by Google.
Scribe's reliance on web text becomes clear when you start with "The" and use the first suggested option for each subsequent word. The experiment produces a phrase common on YouTube: "The following content has been identified by the YouTube community as being potentially offensive."
Using Scribe feels like a logical extension of predictive texting on mobile phones, and that is undoubtedly the platform where it will eventually prove its worth. But on a computer it does nothing to speed up typing; as one early user commented, it's as if someone is constantly interrupting you to try to finish your sentences, and always getting it wrong.
Speedy operation, by contrast, is the whole raison d'etre of Google Instant. The service was unleashed without warning on google.com and google.co.uk on Wednesday, causing surprise among users when results popped up a lot quicker than usual.
Back in 2000, the idea of predictive searching was outlandish enough for Google to launch "Mentalplex" as its April Fool gag, but 10 years later that joke has almost become a reality. It feels like the precocious niece of Google Suggest, the system that has triggered pop-up selections of likely search terms for more than five years – but those suggestions now extend to full pages of results. Google says this cuts up to five seconds from a 25-second average search time; not quite "search at the speed of thought", as was claimed at its launch, but certainly quick. The most startling change is that results appear even before you hit the "enter" key – an act we normally associate with ordering Google-bots to retrieve answers for us.
Unsurprisingly, as with any major changes to online services, tuts of irritation are already audible. Google's rise to dominance was largely predicated upon the simplicity of its interface, and any attempts to overcomplicate it tend to be resisted by purists.
But the most profound effect will be on the world of search engine optimisation (SEO) – the industry that advises businesses how to push themselves up Google's rankings. Yesterday, you could almost hear rule books being torn up as they were forced to reshape their approach. For example, typing "The" into google.com now brings up a page of results for Ricky Gervais's sitcom The Office, while the companies or trademarks that appear when a single letter is pressed on google.co.uk – from Argos, BBC and Currys to Xbox, YouTube and Zara – will have a battle on their hands to keep pole position. Google's fabled top-secret search algorithm, which largely dictates the shape and structure of web traffic, is key to the company's colossal social and commercial power. With about 70 per cent of searches made through Google, companies will be pursuing those top rankings with renewed vigour, while users will simply have to accept any irritating outcomes.
One small voice of dissent complained yesterday that Google Instant's results for the Russian economist, Eugen Slutsky, were now invisible because of prudish (but probably necessary) filters placed across the service.
Others aired more philosophical concerns about the impact of Scribe and Instant on the way we think. While Google Instant notionally makes things "easier", free thought is undoubtedly replaced by guidance based on that lowest common denominator of groupthink.
Innovations from the Google labs
City Tours
Another nail in the coffin of the guidebook, City Tours suggests walking tours in major cities starting at any specified address, incorporating as many attractions as possible in the given time frame.
Fast Flip
An instant, graphical overview of the world's news via an array of thumbnails of webpages; either view by news story, or by section or by publication
Aardvark
A previously independent service brought into the Google fold back in February, Aardvark gives personalised answers to questions – such as "what's the best restaurant in York?" in around five minutes, using a social media-style network of self-styled experts.
Google Image Swirl
The standard Google image search tool returns results according to supposed relevance to the query, but Image Swirl organises results according to visual similarity in a unique clickable interface.
Google Transliteration
Sadly not a means of instantly translating text, but a useful tool for speakers of Russian, Sanskrit, Urdu, Gujurati and many others to enter text phonetically in Roman script using an English keyboard, and see it displayed using their own character set.
Join our commenting forum
Join thought-provoking conversations, follow other Independent readers and see their replies