Google Street View camel: Search giant now employs animals to carry cameras after repeatedly being accused of running them over
Company claims to have found 'the best, most authentic and least damaging way' to picture this stunning landscape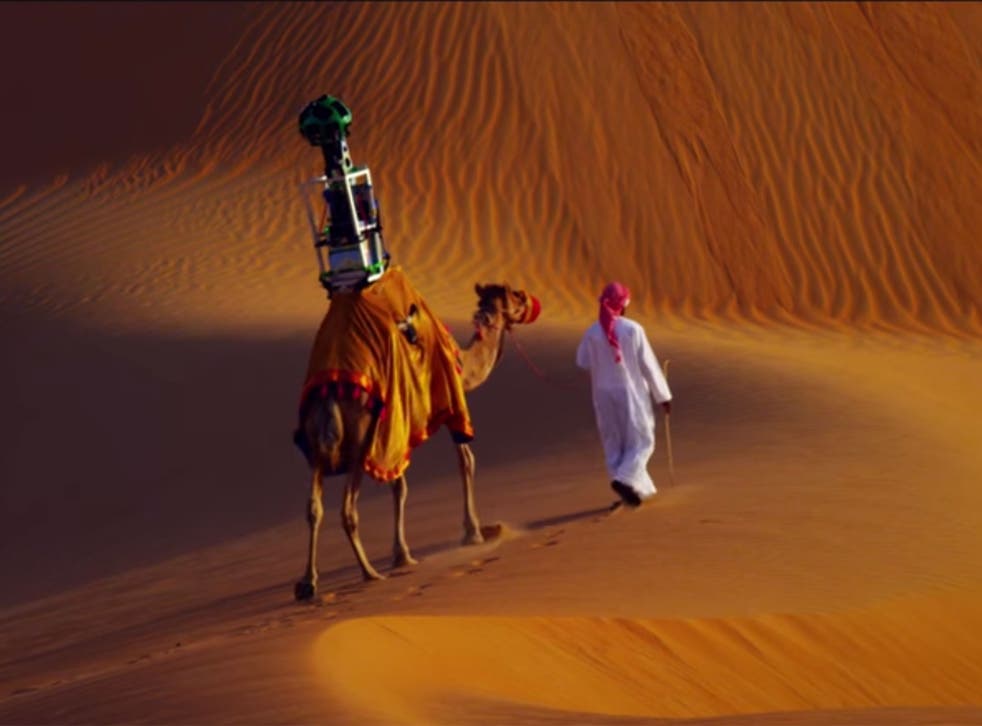 Google has been through a number of controversies with its Street View cameras, from a donkey that it didn't hit, to a dog that probably wasn't run over, to witnessing a murder that didn't happen.
It's perhaps understandable then that the search giant has decided to err on the side of caution with its latest project – mapping the Liwa desert from the back of a camel.
Users are promised the virtual trip of a lifetime through "a vast expanse of desert dunes", where sights along the way include the largest oasis in the Arabian peninsula, dunes that reach a height of up to 130 feet (40 metres), and herds of other camels clearly bemused by what is being done to their animal.
It has all been captured by a Google "Trekker" camera seated atop Raffia, a 10-year-old bull, who seems to take the role in his stride.
According to the company's Middle East spokesman Joyce Baz, for each location it shoots Google considers how "to customise the capture and how we do it for that part of the environment".
He told Sky: "In the case of Liwa we fashioned it in a way so that it goes on a camel so that it can capture imagery in the best, most authentic and least damaging way."
A blog post on Google's website talks users through what they can see in Liwa from Raffia's back's-eye-view.
"These rolling sandy hills were home to early settlers back in the Late Stone Age, making Liwa one of the oldest sites in the United Arab Emirates," it reads.
"Some of the richest history in this desert lies in the Liwa Oasis - the largest oasis in the Arabian peninsula.
"The oasis is also home to date farms, whose trees and fruit are important cultural symbols - the trunks of the palms were used to weave the walls of Bedouin tents, baskets and more, while the fruit was a treasured treat for the locals.
"Now, the oasis is a sought out location for tourists around the world and those who live in the area."
To see more of what Raffia captured, visit Google's Street View gallery here.
Register for free to continue reading
Registration is a free and easy way to support our truly independent journalism
By registering, you will also enjoy limited access to Premium articles, exclusive newsletters, commenting, and virtual events with our leading journalists
Already have an account? sign in
Register for free to continue reading
Registration is a free and easy way to support our truly independent journalism
By registering, you will also enjoy limited access to Premium articles, exclusive newsletters, commenting, and virtual events with our leading journalists
Already have an account? sign in
Join our new commenting forum
Join thought-provoking conversations, follow other Independent readers and see their replies