GoPro Fetch harness - strap a high-def camera onto your dog for a whole new perspective
A new add-on for the GoPro offers some startling viewpoints of humanity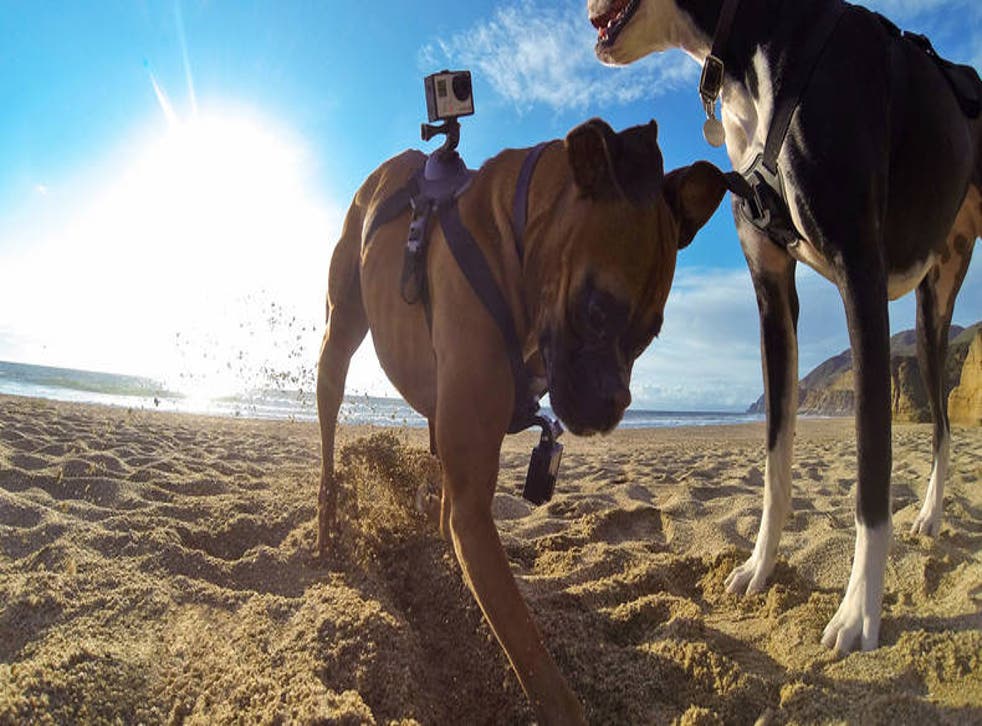 GoPro has cornered the market in cool, tiny cameras. Who cares, you might think? After all, you have the snapper on your smartphone and that's enough, thank you. But GoPro is there for the adventurer in you. Off-road cyclists splash through mud with them attached to their helmets and handlebars. Surfers glue them to their boards.
The GoPro Hero 3+ is a tiny gizmo: it weighs 74g and measures 60 x 40 x 20mm. This clips inside a watertight case (waterproof to 60 metres) and screws on to the appropriate attachment. Video, and still shots, are recorded to a microSD card and you can press the buttons on the camera through the tough housing. Or use the supplied wireless remote control or a smartphone app to see exactly what your GoPro sees.
This week, GoPro announced the latest in its wide range of attachments, the Fetch. This is a simple but ingeniously structured harness that attaches to a dog. It's flexible enough to work with dogs weight from seven to 54kg, that is a Labrador or – the Independent's test subject – a fox terrier called Macy.
Not every dog cares for a harness on its back, but Macy took to it well, occasionally shaking herself to adjust the fit but otherwise ignoring it.
The first steps to seeing what a dog sees are to set the recording quality (1080P HD uses storage faster than 720P HD, obviously, though both look pristine) and pair the camera with the smartphone app. You can change these settings at any point through the app, when you're connected to the camera. Other options include time-lapse recording and stills. The camera transmits the image to the smartphone app, but it's streaming images not downloading them – the footage is saved to the camera's memory card.
Then attach dog to harness. Once you've adjusted the camera for the optimum viewpoint, you press the record button on the app and leave Macy to get on with it. Note that it's worth turning the wi-fi off at this point as the connection, which works at distances of up to 100 metres, drains the camera's battery.
In my test I left wi-fi connected, though this still gave more than an hour of battery life, at which point Macy was still hurtling round the park in relentless pursuit of a whippet called Senna. The battery tired long before she did.
Afterwards, dedicated software makes editing and saving footage to a PC or Mac a breeze, with filters, titles and other features simple to add.
Which is also where you get to see what a dog sees. The forced perspective is remarkable, consisting of big, fat legs and a tiny head. If your dog doesn't always read your facial expressions accurately, give them a break, your head's a long way off.
The footage is often jumpy, especially when the dog is running, of course, and it's worth tightening the harness so it rocks less. But the jumpiness is also part of the charm.
The GoPro range cost from £199 to £359 and the Fetch is £59.99, all available from gopro.com. The Fetch is available from next week but can be ordered now. Should you buy one just to see what your dog sees? Maybe not, though it's certainly an eye-opener. But if you have a GoPro, and a dog, then buying a Fetch is a great idea. The camera is easy to use and video quality is strong – even if you do end up with a few too many views of a whippet's bottom.
Register for free to continue reading
Registration is a free and easy way to support our truly independent journalism
By registering, you will also enjoy limited access to Premium articles, exclusive newsletters, commenting, and virtual events with our leading journalists
Already have an account? sign in
Register for free to continue reading
Registration is a free and easy way to support our truly independent journalism
By registering, you will also enjoy limited access to Premium articles, exclusive newsletters, commenting, and virtual events with our leading journalists
Already have an account? sign in
Join our new commenting forum
Join thought-provoking conversations, follow other Independent readers and see their replies