Grindr founder Joel Simkhai: 'I've found love on my dating app - and my mum keeps trying to hook me up!'
Five years on from its launch and Grindr is the world's most popular dating app for gay men. Its founder Joel Simkhai answers his critics, describes his isolation as a child – and tells Patrick Strudwick that his mum couldn't be more proud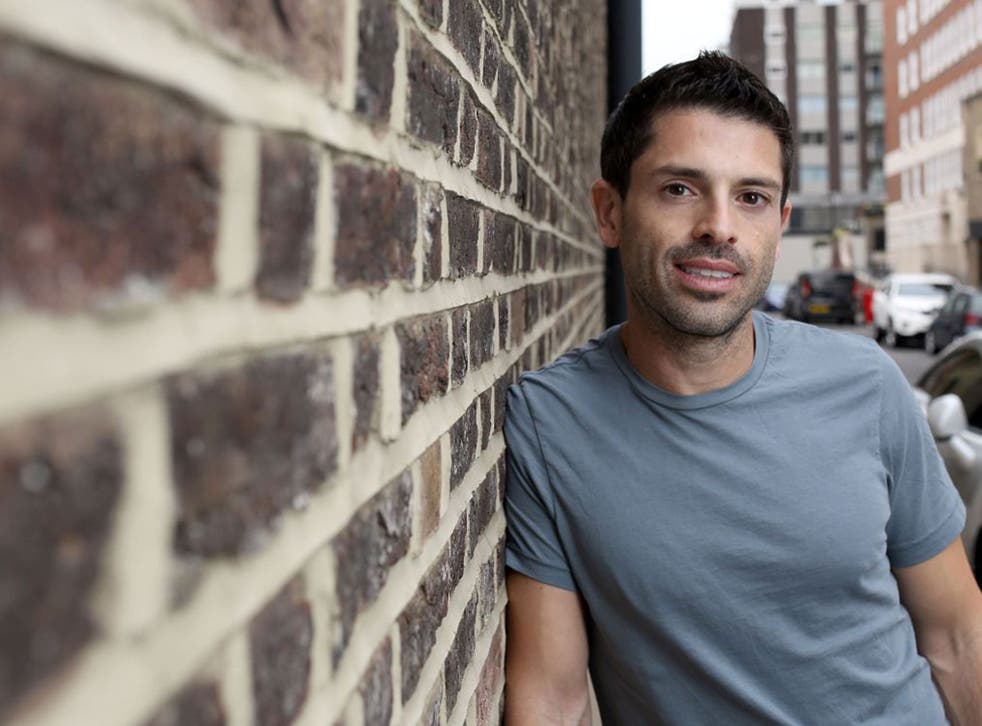 A handsome, dark-haired man is, apparently, just a few feet away. Late 30s. Looks nice in his profile. We start to chat, exchanging hellos, how-are-yous, a few LOLs. It's stilted at first, but as the chat develops he warms up, opens up, and after a few minutes, begins to reveal more and more about himself.
His name is Joel Simkhai, he is the founder and CEO of Grindr, the world's most popular dating app for gay men, and he is sitting opposite me in the lobby of a smart central London hotel. If you are a stranger to the service, now five years old – a pensioner in app terms – here are the basics: Grindr shows you, using GPS technology down to the nearest few feet, the men in your vicinity looking to meet other men. Probably not to exchange recipes.
Thus, in 2009, human civilisation evolved (or regressed, according to where you lie on the prude to rude spectrum) to a point where one could immediately find the nearest gay, bi or greedy man looking for sex. Nearly a fifth of its users are in the closet. Switch Grindr on in the Vatican, therefore, and a whole new kind of communion would appear. One imagines. In Brazil, during the World Cup, Grindr usage has spiked by 31 per cent.
The man behind it, now sitting in shorts and T-shirt drinking herbal tea, starts with the breeziest of explanations for why he set up the service, which is currently launching a redesign; that he's a "matchmaker – it comes very naturally to me", and that he found online dating a bore. "The whole process was awful – spending so much time chatting, staying at home because I didn't want to miss messages – it's a full-time job!" But I sense that there is a deeper motivation and, gradually, it emerges. After emigrating with his family to America from Israel, aged three, Simkhai grew up in Mamaroneck, a small, conservative town in New York state. It was here that Simkhai began to realise that he was gay; it proved incredibly isolating.
"I didn't know anyone who was gay. I felt very strange – what are these feelings? Am I going to lead a normal life? Will I be able to be successful? Will I be able to get married? All these questions. It wasn't easy. All my [straight] friends were like, 'Dude, we know you're gay,' trying to pull me out of the closet, but I wasn't ready. Coming out wasn't overnight." He would seek out other gay men to talk to, by going on CompuServe and AOL's prototype chat services.
"That was very helpful for me," he says. "I felt less isolated, less like a fr…" he stops and changes words, "like a weirdo," adding that what would have made an even greater difference was something that could have enabled him to find people close by. "It's so much more impactful when you know there's someone in your own community, 1,000 feet away, who's also gay." Fifteen years later, he would turn this need into a reality. But there is one other thing he feels would have made a different to him then: role models.
"Part of the problem [for young gay people] is feeling that, 'it's not going to work out for me.' There are more role models now but we need a lot more of them. I was so happy to see [the US news anchor] Anderson Cooper come out, Lord Browne [the former chief executive of BP] has just written a book about coming out, and hopefully other CEOs and business leaders will, too. There are folk who say, 'well, straight people don't go around announcing that they're straight,' but it's different, we have a responsibility. Leaders have a responsibility to be positive role models because so many are struggling with this. We're still fighting the fight."
Simkhai certainly hasn't forgotten the everyday struggles of his customers. Currently, more than five million people use Grindr in 192 countries, and it is the tales of men using the app in the most oppressed settings that delight him the most. I mention that on a recent trip to Ethiopia, where homosexuality is illegal and invisible, I turned the app on at Addis Ababa airport, and discovered where local men can find each other.
"That's great! Fascinating!" he enthuses, face lit up. Two years ago, he added Grindr for Equality to the service to disseminate information about human-rights campaigns. Reaching men in isolated areas is one of his two chief goals, along with promoting a safe-sex message. Some would snort at the latter, or indeed any attempts by Simkhai to improve life. Grindr has been blamed, variously, for spreading sexually transmitted infections (many users openly request unsafe "bareback" sex); enabling sexual racism (with some members stating the races to which they are or aren't attracted "whites only"); and teasing out the worst in male sexuality: cold, lazy, reductive, prescriptive, shagging-by-menu, mechanical, objectifying, robotic rutting.
Others argue that Grindr is precisely what men of any persuasion have always wanted: sex, nearby, now. The redesign makes the profiles even simpler, with, on the first page, only a picture. Does this not feed into the accusations of being reductive and superficial?
"We get criticism that Grindr is a very visual experience and I'm not apologetic about that," he says. "Looks are so important. It's like, you walk into a bar and you decide who you're going to talk to based on whether you're attracted to them. It's the way that we are as men: visual creatures."
How much that might be encouraged by environment, primed by media and technology, does not seem to worry Simkhai. Nor, indeed, does the concern expressed about sexual racism. How would he feel if he kept seeing profiles that said "no Jews"?
"As a Jewish man, I wouldn't like it, but we encourage users to state it in a positive way: 'Only looking for Christian guys', or whatever. I'm not going to solve racism." You could, I suggest, at least try. He laughs.
"Grindr is just a market place, a venue." This view will do little to assuage fears that gay life and dating for everyone is reaching peak commodification. But it would be unfair to view the app removed from a backdrop of selfies, self-promotion through social media, and a culture in which everyone's a product now.
After Grindr, a succession of variations followed, with Tinder, the mainstream social and dating app, proving the most popular and trouncing Blendr, Grindr's foray into the heterosexual market.
"We didn't spend enough time thinking about differences between men and women," he says, admitting, for example, that they failed to consider that "maybe women don't want their distance [from other users] displayed as accurately as men."
But half a decade of Grindr dominating the gay market and punching into mainstream consciousness (it was even mentioned on Judge Judy last week) has left Simkhai feeling "very proud". Can he grasp, however, what he's done – the millions of connections he's made between users across the world?
"No," he says, looking completely flummoxed. "I have no grasp of it." He's also enjoyed success using his own app for dating. Has he fallen in love from Grindr?
"I have. Every day!" he replies, laughing, and adding seriously that he has found love "several times. I've had three or four boyfriends from Grindr." His liberal, secular parents are "very proud". "My mum has this thing where she'll see some gay guy somewhere, tap them on the shoulder and say, 'Are you on Grindr?' And they'll be like, 'Errr… yeah. Why?' And she'll say, 'My son created it!'" It isn't only pride. "She's trying to hook us up!"
Register for free to continue reading
Registration is a free and easy way to support our truly independent journalism
By registering, you will also enjoy limited access to Premium articles, exclusive newsletters, commenting, and virtual events with our leading journalists
Already have an account? sign in
Register for free to continue reading
Registration is a free and easy way to support our truly independent journalism
By registering, you will also enjoy limited access to Premium articles, exclusive newsletters, commenting, and virtual events with our leading journalists
Already have an account? sign in
Join our new commenting forum
Join thought-provoking conversations, follow other Independent readers and see their replies