Gtech e-bike review: Like a normal bike, except you feel like you're incredibly good at cycling
It's like sailing on wind, or being roughly twice as strong and fit as you really are
Andrew Griffin
Friday 22 June 2018 21:10 Comments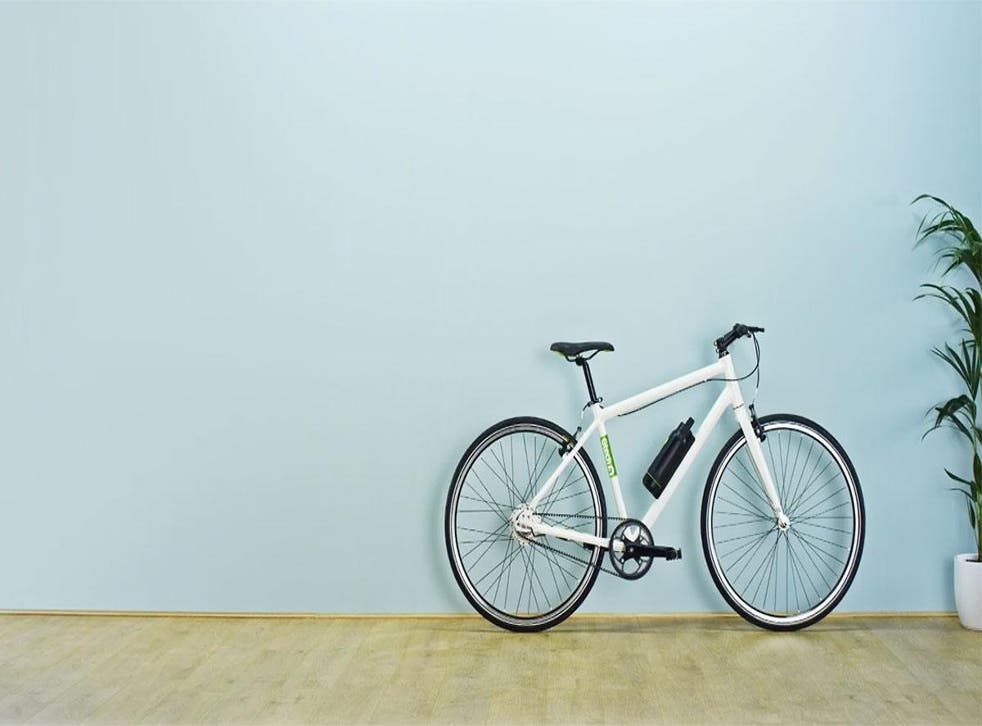 Technically, an e-bike is a normal bicycle that also includes a battery that gives you a push, but in reality it's nothing like that. In reality it's like a wizard: able to summon winds behind your back to propel you, like making yourself roughly twice as strong and fit as you really are, or like getting a backie from a friendly ghost.
They all work in largely the same way. You pedal as normal, but when you do it triggers a computer that starts the motor whirring at the same time, propelling you along; when you reach 15mph, the law requires that it stops helping you, but it will kick back in when you slow down.
Gtech's e-bike manages this magical act even better than most, by virtue of looking like a real bike. Some of its rivals embrace the fact that they are something towards a moped, with visible batteries and plenty of wires and weight; the Gtech model has all that, of course, but packs it onto a frame that looks like a normal push bike.
Gadget and tech news: In pictures

Show all 25
Even the battery that powers the whole thing is disguised as a water bottle, slipping into the place on the frame one would normally be stored. Gtech are probably more famous for their vacuums and power tools, but what brings them all together is that battery technology.
But there's no mistaking the fact that it is an e-bike, and though it is a brilliant example of one it's a little frustrating as a push bike. While Gtech says that the bike should be comfortable to ride with or without the battery in, it is slightly too heavy and highly-geared to ride comfortably without being helped out.
For that reason, it would be a terrible idea to ever ride it somewhere you were going long distances and would be stuck if you ran out of charge. While the battery certainly lasts – Gtech suggests it can last up to 30 miles, which feels roughly right, though of course it will run out more quickly the more you rely on it – it is not all that much fun once it does.
In one way, it's the perfect bike for getting around the city. It allows you take off instantly and at speed, without suffering a volley of car horns complaining that you're not getting moving quick enough. And the extra help is usually just enough to keep you from getting too hot and sweaty, meaning that it can be perfect for riding to work or other locations where you're not going to be able to shower and change your clothes.
But it's the perfect country bike, too. As long as you're somewhere that lets you power up your bike – and aren't going to run out of charge on your journey – it will carry you up hills and through more difficult terrain without complaint, giving you a shove that allows you to enjoy the ride while still getting active.
(Gtech, presumably for this reason, makes two versions of the bike suited to those two uses. I tried out the sport model which has a slightly uncomfortable saddle and a high frame; there's also a City version with a step-through frame and a comfier seat, which allows for a more restful riding position.)
They are both the same price: just under £1,000. That's costly, of course, but it's worth remembering that as well as everything else you get a very good bike, with the chain of a high-end motorbike and a battery of the kind used in an electric car.
Both of them include all of the motor and battery technology that makes Gtech's e-bike such a great ride. Both of them are comforting in their simplicity, embracing the classic design of a push bike but giving it a 21st century upgrade that makes it a joy to ride.
Because joyful is what it is, and that joy never gets old.
It is something like the first time you ever ride a bike: the thrill of the way that simple metal and mechanics can turn the movement of your legs into a surprisingly powerful and speedy journey. But this time it's not all you.
Register for free to continue reading
Registration is a free and easy way to support our truly independent journalism
By registering, you will also enjoy limited access to Premium articles, exclusive newsletters, commenting, and virtual events with our leading journalists
Already have an account? sign in
Register for free to continue reading
Registration is a free and easy way to support our truly independent journalism
By registering, you will also enjoy limited access to Premium articles, exclusive newsletters, commenting, and virtual events with our leading journalists
Already have an account? sign in
Join our new commenting forum
Join thought-provoking conversations, follow other Independent readers and see their replies