Hands-on review: Huawei Ascend P6
David Phelan reviews the world's slimmest smartphone
David Phelan
Wednesday 10 July 2013 12:47 Comments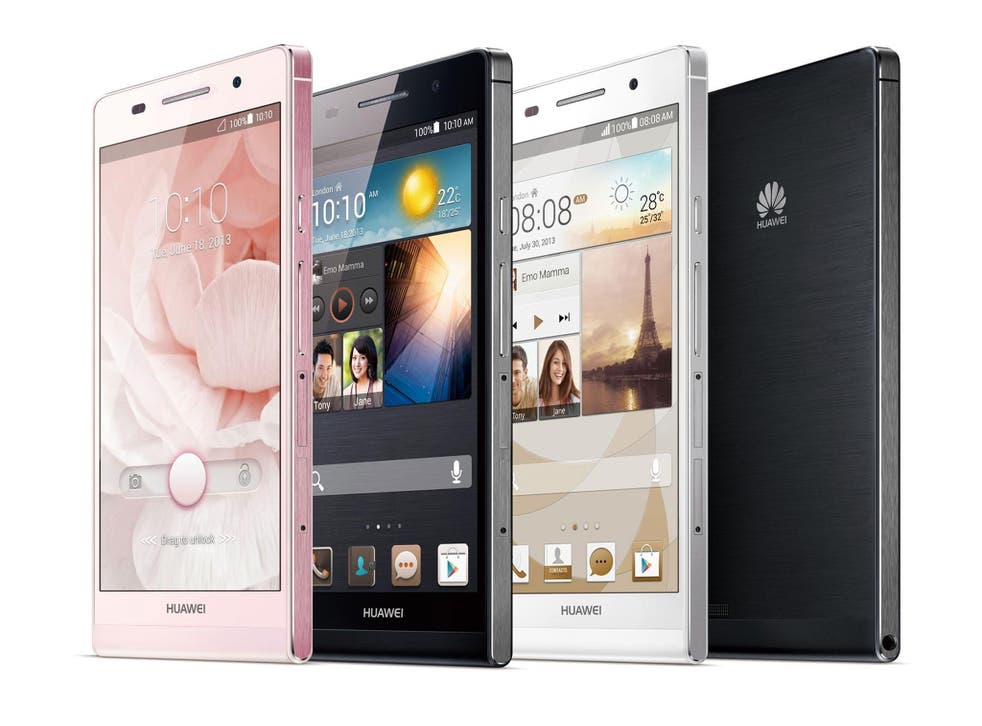 That's right, it's catwalk-thin, this phone. The slimmest in the world for now, though Sony has already announced one that almost matches it and sports a higher-resolution display.
This is the Huawei Ascend P6, sequel to the Ascend P2. But it's not called the P3 because the 6 in the title refers to that svelte thickness – 6mm. Actually, it's 6.18mm but Ascend P6.18 sounds a bit naff.
Huawei is the Chinese manufacturer which has been making wireless modems and routers for years and more recently launched its own-brand smartphones. They are known for having high specifications but low prices.
The Ascend P6 has a design which, at a quick glance looks like an iPhone – the same flat glass front with aluminium edge. It even has a similar black stripe breaking up the aluminium band. But then look at the bottom of the phone and you'll see a different design from the top. Here the edge curves over from front to back. As on Apple's phone, the top band and its black edge are part of the aerial.
Apple's design has turned a lot of heads, though the proportions here – wider, thinner – work less well than on the iPhone. Still, it's a snappy design that will appeal to many.
Like many high-end smartphones, it's a sealed unit so you can't open the back to switch batteries. To get at the sim card or memory card you need to pop out little metal trays in the phone's edge.
To assist with this, Huawei has supplied a tool which lives in the headphone socket. This means it's handy but won't take long to lose, after which you'll have to manage with a paper clip.
This phone follows Huawei's plan of being affordable, too. Not many corners have been cut although one seems like a big one: 4G. Unless you're on EE you won't miss this just yet but if you're going to be using the same phone for two years, you may find your friends are all on super-fast phones while you're stuck on 3G. Still, if everyone's moved on up maybe there'll be more capacity in 3G.
Other than that, the phone has the latest version of Google's Android operating system, Jelly Bean 4.2.2, and ticks all the other spec boxes you'd expect, such as the short-range data transfer system NFC, GPS and wi-fi.
There's also a pretty decent 8MP camera which shines mostly because it has advanced scene recognition settings. But the more interesting one is the front snapper which is 5MP, unmatched on other phones. The idea is that you can take high-quality self-portraits and actually see what you look like. There's even a Beauty effect on this which you can adjust from 0 to 10 to soften the focus. Handy if you ever wanted to see what you would look like if you really were a 10. Or maybe you are already and don't need a phone to tell you.
Huawei has taken Android and added its own twist, as most phone makers like to do. Here, it's more or a rearrangement of parts – all Google apps are placed in a folder on the second home screen for instance – and the addition of a Me widget which you can customise by adding contacts, weather, music player and so on. It's not bad but no patch on the skilful customising done by HTC or Motorola.
Still, there's plenty of choice in what the software looks like thanks to the addition of themes which change the wallpaper, the look of the icons and so on. Most phones come with a dozen of these, max, but here there's four plus – get this – hundreds more online. Altogether you have 1,000 to choose from. Probably you'll go through a few and settle on the one you like. Still, it's nice to have the option to make things look different with the special ones designed for Christmas or Valentine's Day, perhaps.
There's no doubting Huawei's determination to make a splash on the world's phone markets with handsets like this which are well-built and strongly designed. It comes in black, white and pink versions.
Its price is the key feature, though, and this is targeted to be cheaper to buy outright than its rivals. In a market like the UK where phones are subsidised on contract this competitive pricing may be less evident, but will translate to availability on a lower monthly tariff. Either way, expect to see a lot of them in the coming months.
Register for free to continue reading
Registration is a free and easy way to support our truly independent journalism
By registering, you will also enjoy limited access to Premium articles, exclusive newsletters, commenting, and virtual events with our leading journalists
Already have an account? sign in
Register for free to continue reading
Registration is a free and easy way to support our truly independent journalism
By registering, you will also enjoy limited access to Premium articles, exclusive newsletters, commenting, and virtual events with our leading journalists
Already have an account? sign in
Join our new commenting forum
Join thought-provoking conversations, follow other Independent readers and see their replies