Hay-on-Wye v Amazon: Politicians join fight to stop closure of bookshops in historic town
Britain's literary capital is fighting back against the online retailer – with help from the Welsh Tories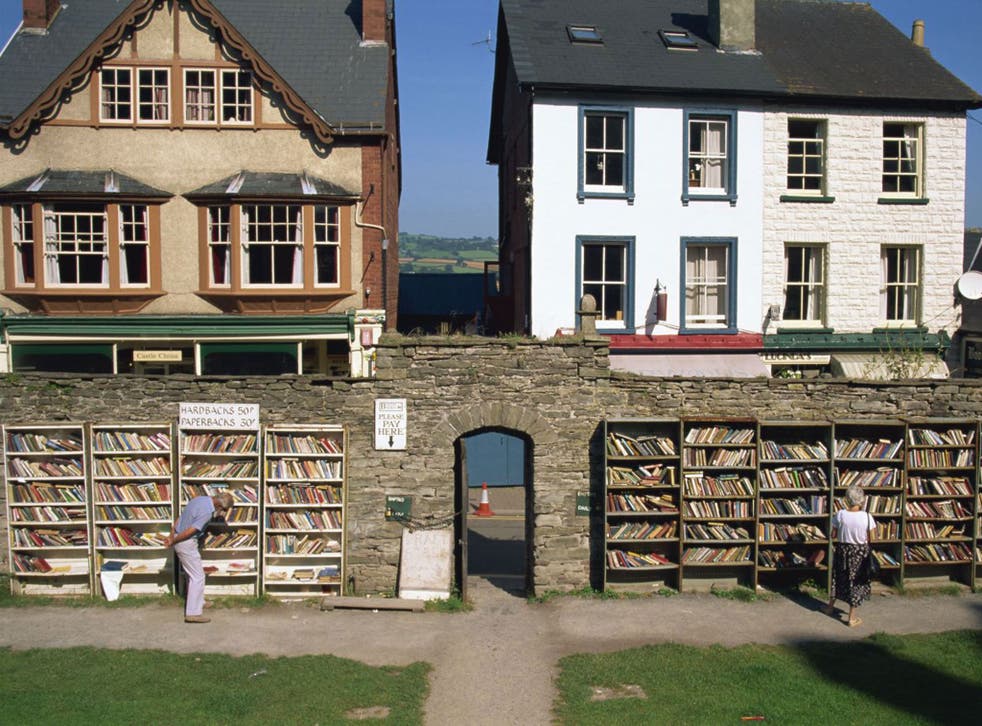 For more than 50 years it has been the literary capital of Britain and home to the most famous book festival in the world. But now senior politicians have joined forces with the booksellers of Hay-on-Wye to warn that the town's future is being put in jeopardy by the online retailer Amazon – and its vast distribution centre less than 50 miles away in Swansea.
Over the last three years, five of Hay's 30 bookstores have closed as visitor numbers and revenues have plunged. The remaining shops, which have to pay overheads and taxes of more than £1,500 a month, say that they are finding it increasing hard to make ends meet.
Some have even taken to selling their stock on Amazon – but say the 20 per cent commission they have to pay to the company often means they barely cover their costs.
They have now been backed in their campaign by the Welsh Conservatives, who have begun a campaign to "level the playing field" between the high street and the web.
"The irony is that Hay-on-Wye is one of the most famous bookshop towns in UK and is competing against the biggest multinational distributor of books, who don't pay their fair share of tax and have a huge warehouse just down the road in Swansea," said Andrew Davies, leader of the Welsh Conservatives. "We've got to have a level-playing field if historic towns like Hay, if our high street, is to have a chance of survival."
High-street shops have to pay rates as well as tax on their profits, but companies like Amazon use international tax laws to minimise their liabilities.
Last year Amazon's UK subsidiary paid £2.4m in corporate taxes, despite making sales of £4.3bn. The tax bill was almost as much as the £2.5m in government grants Amazon received over the same period, according to a Companies House filing. Its 800,000 sq ft distribution centre in Swansea Bay, which opened in 2008, was partly funded by the Welsh Government.
Anne Brichto, who runs Addyman books in Hay with her husband, said that since then life had become "very tough". "Over the last three years we've lost five book stores and those that are still here are suffering badly," she says. "As booksellers we don't go into the trade to make lots of money but we do have to cover our overheads and that is increasingly tough. We're paying £500 a month in rates plus about £1,000 in rent. It costs us £3.80 [just to] throw out a bag of litter.
"Obviously if you just have a warehouse outside town your costs are going to be nothing like that. But then you lose the chance just to go into a shop and browse and find something new and unexpected."
Ms Brichto said that, like many booksellers, she had put her stock on Amazon but she said this was not a long-term solution because of the 20 per cent commission she had to pay.
"My fear is that if more shops close we will lose the critical mass of bookshops that attract people to Hay. Oxford Street would not be successful if every shop apart from Selfridges closed down."
Peter Harries, who has had a second-hand bookstore in Hay for 25 years, said the way things are going the Welsh high street could vanish in 20 years.
"The high street is more than simply a collection of shops on the side of the road; it is the backbone of the local economy," he said. "Wales is home to Hay-on-Wye, the 'town of books', and yet it competes on a playing field dominated by international online giants: some of whom don't pay even half the tax that Welsh high street shops do."
Amazon did not respond to an invitation to comment.
Register for free to continue reading
Registration is a free and easy way to support our truly independent journalism
By registering, you will also enjoy limited access to Premium articles, exclusive newsletters, commenting, and virtual events with our leading journalists
Already have an account? sign in
Register for free to continue reading
Registration is a free and easy way to support our truly independent journalism
By registering, you will also enjoy limited access to Premium articles, exclusive newsletters, commenting, and virtual events with our leading journalists
Already have an account? sign in
Join our new commenting forum
Join thought-provoking conversations, follow other Independent readers and see their replies