Hive review: A tentative foray into the internet of things by British Gas is convincing
For £199 you get a new thermostat and a router that lets you program your central heating from anywhere at any time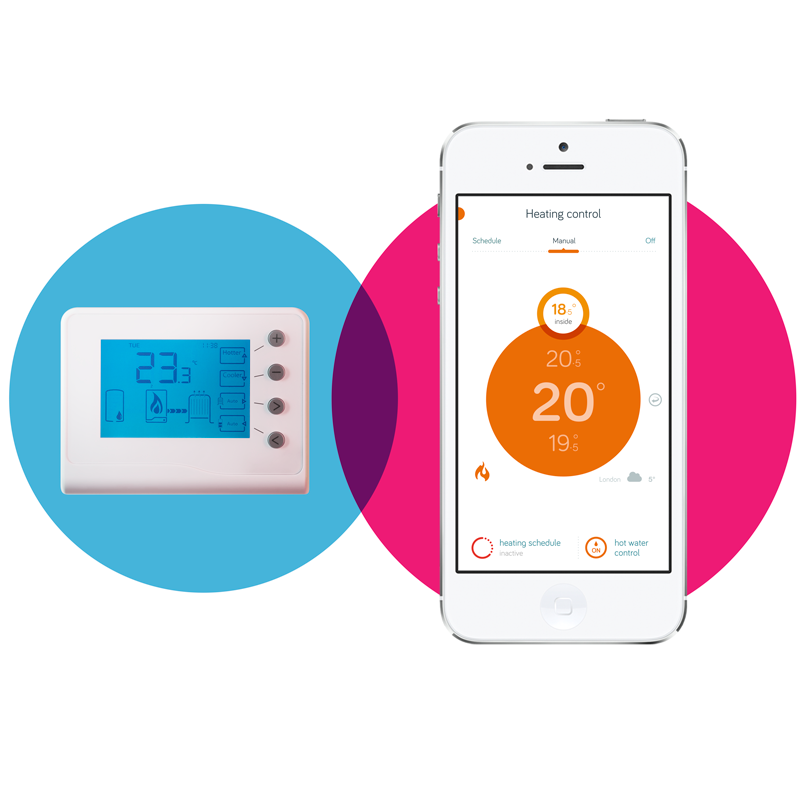 How many times have you nearly frozen to death because you couldn't be bothered to get off your comfortable sofa to switch on the central heating?
Not often, we'd guess. For most of us, central heating just isn't that much of a big deal. We turn it on when we're cold and switch if off when we're warm. But now companies are trying to convince us that what we really need is total control over our central heating.
If the annoying Hive adverts from British Gas are to believed, keeping our homes just the right temeperature dominates our lives to such a degree that we need apps to keep tabs on it when we're 'making origami from a slice of beef pastrami' as it suggests in the most cringing sing-a-long manner.
Still, due to a growing fascination with the Internet of Things – the concept that everything from objects, people and animals will become connected through cyberspace – the prospect of having Hive installed was too much to resist.
Like its rival tado, Hive claims to give you real time control over your central heating no matter where you are. Unlike tado, Hive can't detect when anyone is home and nor does it have any capacity for 'smart learning' (remebering your preferences and adapting to them). However, tado is intended to be installed by its users and, simple as it sounds, we quite fancied getting a professional in to do this kind of thing for us (past experiences teach us well). So Hive it was.
My wife seemed rather blasé about the idea - this was either an indication of a growing weariness about the Next Big Thing I was about introduce into the home or a green light to make inquiries about getting Hive installed. A week later, an engineer from British Gas was at our home with a pile of boxes and a screwdriver.
"I've had this installed myself," engineer Danny told me. "At first I thought it was a gimmick but it's actually proving to be very useful." Danny was excellent. Not only did he turn up on time but he was incredibly chatty and seemed rather passionate about the £199 product he was about to install.
First there was the Thermostat, a classy-looking box with a large screen that is aesthetically far more pleasing than the standard British Gas thermostat. It has four buttons that allow you to increase or decrease the temperature and go forward and back through menus.
"You can use these buttons but you'll most likely control everything using the app," Danny says, telling us that the thermostat also detects frost - handy if the pipes ever freeze.
The second element is the Hub, a small white box that plugs into a broadband router and wirelessly connects the boiler to the internet. Finally there is a receiver which goes close to the boiler. It has a single button on it which resets the system should any issues arise.
Most importantly for users, though, is the app. Although you can access your Hive account via a web browser, the app is the killer feature of the whole package. Once downloaded, British Gas provide you with a username and password (the latter is changeable) and it only takes a few seconds before you are ready to go.
Danny helpfully spent time explaining the app's features and what they did but it seemed straightforward enough so as soon as he left, it was time to play around.
The first thing that you notice is a slight delay. Each time you close Hive it goes to sleep and you have to wait a few seconds when relaunching it for it to wake up. When it does, though, the colourful, simplistic user interface kicks in, ready for your input.
The main screen has two circles. One shows the current temperature and the other lets you change it. The larger circle has a scrolling list of numbers that you can flick up and down until you get to the temperature you want. As soon as you let go, the phone vibrates for a split second and you can usually hear the boiler kick in.
A neat feature is the ability to see the temperature outside which may help when trying to figure the setting you want to use inside. Tapping a button to the right of the circle calls up a sub-menu which lets you select frost protection or instantly jump to 10 or 20 degrees Celsius.
The next major aspect of Hive is the ability to input schedules for each day of the week. You could have a different programme for weekends than in the week, for example. Since everything works wirelessly, you can also control the temperature of your home when you are out and about.
Maybe you are due to arrive home early from work and feel the temperature of the house may need a boost – whipping out your phone and altering the temperature will have an immediate effect.
The Hive website continues the same, sleek design of the app and it adds some extra features. You can see the heating schedule at a glance and you can also view your heating history as a graph. It also lets you know the average temperature in your home.
According to British Gas – and you don't have to be a customer of British Gas to take advantage of Hive – the system will save you up to £150-a-year and given that domestic energy bills are rising and something that most of us are concerned about, this is good news.
We haven't tested it for long enough to be able to verify the claim but if you use it to switch off the heating when you're not around, especially in those unexpected moments when you're running late or need to be elsewhere, then we're sure it will save some pennies.
The most astonishing aspect of Hive is that it has won us over, though. Like Danny, we felt it may have been a gimmick and something only technology enthusiasts would enjoy but we have found ourselves opening up the app and using it on a large number of occasions. We view the app's screen far more than we ever looked at the old thermostat but, we hasten to add, in a positive way.
It has made us more energy conscious and allowed us to programme a very tight schedule that best suits us and we're aware that we can toggle the settings when we're away from home so that we don't waste energy.
That said, we have lazily sat on the sofa, figured it was too cold and upped the temperature without getting off our backsides. It seems what we may save in money, we could gain in weight. But we can't fail to be impressed by Hive and would recommend it. And if it does end up saving us some money in the process, then we're even willing to forgive those ads.
Join our commenting forum
Join thought-provoking conversations, follow other Independent readers and see their replies