Hotel staffed by robots to open in Netherlands-themed holiday park
Henn-na Hotel will also have facial recognition instead of keys
Andrew Griffin
Monday 09 February 2015 13:47 Comments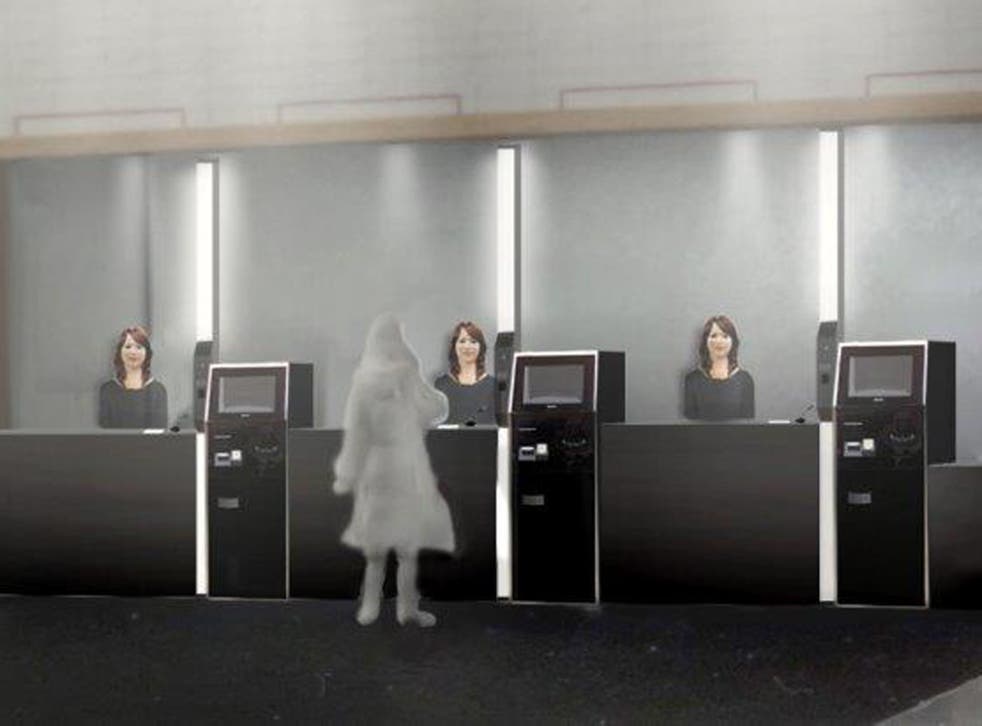 A hotel is set to open later this year that will be staffed by ten breathing, multi-lingual robots.
When the Henn-na Hotel opens in Japan in July, it will be run by robots that can greet guests before carrying their luggage to their rooms. When guests leave, the robots will be able to clear their rooms, ready for the next human to come and stay.
The robots are styled to look like a young Japanese woman. They can speak fluent Japanese, Chinese, Korean and English, and can respond to guest's body language, eye contact and tone.
The robots will be joined by human staff, initially. But the company hopes that eventually 90 per cent of the hotel's services will be performed by the robots.
The high-tech approach will carry on throughout the hotel, where doors will be opened using facial recognition software and room temperatures will be checked through a radiation panel.
The hotel will have 72 rooms when it opens in July, and another 72 rooms will be added in 2016. A single room will cost £40 and a twin room will cost £50.
The hotel's name, Henn-na, is a play on the Japanese word "Henn", which is part of the Japanese word for change.
Huis Ten Bosch is a Netherlands-themed park which recreates a Dutch town. Attractions include actual-sized copies of Dutch buildings.
Register for free to continue reading
Registration is a free and easy way to support our truly independent journalism
By registering, you will also enjoy limited access to Premium articles, exclusive newsletters, commenting, and virtual events with our leading journalists
Already have an account? sign in
Join our new commenting forum
Join thought-provoking conversations, follow other Independent readers and see their replies