How billboards linking Tinder to STDs are the latest battleground in online dating
Tinder user, meet chlamydia, the billboard implies. On Grindr? Watch out for gonorrhea.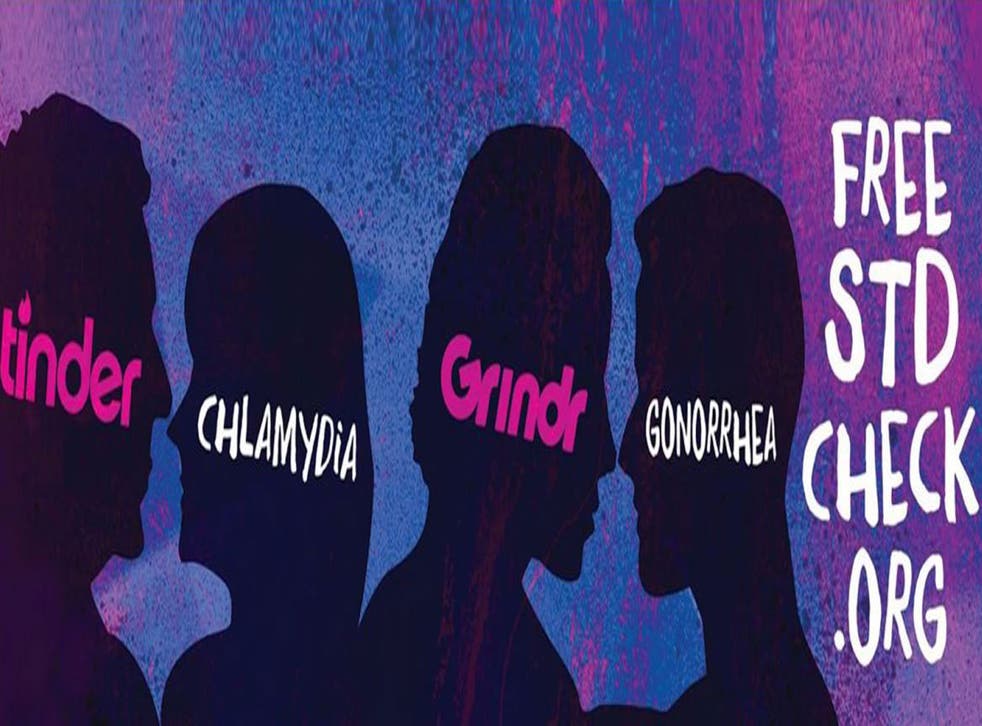 Just blocks away from the Tinder headquarters in Los Angeles, a large pink and purple billboard encapsulates much of what critics don't like about the dating app.
Two pairs of people are silhouetted against a bright background, their foreheads inclined toward one another, their noses nearly touching. Two of the faces bear the names of popular dating apps. On the other two are scrawled the names of STDs.
Tinder user, meet chlamydia, the billboard implies. On Grindr? Watch out for gonorrhea. And while you're at it, get a free STD check.
The billboard is part of a campaign from the Los Angeles-based AIDS Healthcare Foundation, which posted its warnings about Internet hookups and venereal disease in more than 50 spots around the city last week. The organization, which has also lobbied for stricter regulation of the adult film industry and, controversially, against a new preventative HIV drug called PrEP, says that the quick and casual encounters made possible by dating apps are a "digital bathhouse for millennials, wherein the next sexual encounter can literally just be a few feet away — as well as the next STD."
Love and sex news: in pictures

Show all 31
Over at Tinder, people were not pleased.
The dating app sent a cease and desist letter to AHF, the foundation said Monday, demanding an end to the campaign. "These unprovoked and wholly unsubstantiated accusations are made to irreparably damage Tinder's reputation in an attempt to encourage others to take an HIV test by your organization," it read, according to the Los Angeles Times.
The response was perhaps not unsurprising — when Tinder was blamed for precipitating a "dating apocalypse" in a much-read, much-disputed Vanity Fair article earlier this month, the billion-dollar company lashed out on Twitter, firing off missive after 140-character missive in a highly public freak-out about the piece. By those standards, a cease and desist letter could be seen as tame.
Meanwhile, Grindr, an app aimed at gay men, told the L.A. Times it has dropped the foundation's paid ads for STD testing from its site and is "assessing our relationship" with the organization.
But the AIDS Healthcare Foundation said it would not be backing down.
The debate over the billboards might be new, but it's being fought over familiar ground.
To defend its position, the AHF cited arguments people have been making about apps like Tinder more and more: a Rhode Island Department of Health report that attributed a rise in STD cases to social media's ability to "arrange casual and often anonymous sexual encounters," a Los Angeles study that argued that the "sex on demand" enabled by dating apps has made gay men more vulnerable to gonorrhea and chlamydia and, of course, Vanity Fair's "dating apocalypse" story.
Michael Weinstein, the foundation's president, said that the campaign aims to draw a link between the rise of dating apps and a recent increase in STD rates in some cities.
"It's logical, if you can be hooked up with someone in an urban area within minutes," he told the Associated Press, "of course you're going to have to more STDs."
Though the research on whether or not dating apps have killed courtship and irrevocably altered romance as we know it is largely inconclusive, the correlation between online and mobile dating and increased rates of STD transmission is more compelling, at least on a state-by-state basis.
In Utah, huge increases in the number of gonorrhea diagnoses since 2011 — 700 percent for women, nearly 300 percent for men — have been at least partly blamed on apps like Tinder.
"The perfect storm has been brewing" to increase STD infections, Lynn Beltran, an epidemiology supervisor in the Infectious Disease Bureau in the Salt Lake County Health Department, told the Guardian in May. Apps make casual, anonymous encounters easier, and it's almost impossible to find partners again afterward — meaning that it can be harder to track down others who have an STD and help them get treatment, Beltran said.
But the links between STD rates and app use in Utah are still anecdotal, Beltran told Boston public radio station WBUR. Other factors — especially Utah's abstinence-based sex education — make it difficult to educate and protect people from diseases, she said.
In Colorado, public health officials recently announced that they have seen a more than 50 percent increase in syphilis cases this year, nearly entirely in men.
"They ask men, 'where do you think that you met your partner?' and about 50 percent say they met them through an internet app — Grindr, SCRUFF, Craigslist," Sarah Rowan, Interim Director of HIV and Viral Hepatitis Prevention with Denver Public Health, told Colorado Public Radio. "So those may be associated."
That increase parallels trends seen around the country, Rowan said, but again, there are other factors to explain those numbers: declining rates of condom use, increased rates of testing and diagnosis.
The most conclusive evidence linking the Internet to STD rates is a much cited 2013 study that found that the introduction of Craigslist to 33 states across the country led to a 15 percent increase in HIV rates.
"This technology coming into play aggregates the demand and supply of willing participants, so the spread will be more prevalent," co-author Jason Chan told Vice News, "Now we have apps on our mobile phones instead of a website so the access becomes that much easier. My suspicion, without empirical testing, is that it makes it even more widespread than with Craigslist, because now people are traveling with phones and can find someone to hook up with tonight, where they are."
But lots of public health officials say this doesn't necessarily have to be the case. If dating apps are facilitating uninformed or unprotected sex, they might also be a powerful tool to help prevent it.
Tom Bertrand, chief of the Office of HIV/AIDS, Viral Hepatitis, STDs, and TB in the Rhode Island Department of Health, told WBUR that staff at his STD clinic are now armed with a computer and a smart phone. When a new patient walks in, "we'll meet with them and we'll say, listen, let's make sure all of your partners get treated so you don't get re-infected," Bertrand said. "And let's get online right now so we can find those partners and send them a message."
In its response to Tinder's letter, the AIDS Healthcare Foundation argued that "rather than trying to chill AHF's health message with frivolous lawsuits," Tinder should add a message to its app urging users to practice safe sex and get tested.
"Tinder is in a unique position to promote a message that, while sexual encounters can be fun and exciting, they are potentially risky," wrote Laura Boudreau, the foundation's chief counsel for operations.
But Grindr argued that it's already doing just that. The app has a section of its site devoted to sexual health, and partners with health organizations for national studies, according to the L.A. Times.
"As one of the world's largest gay platforms, we take this issue very seriously," Grindr told the Times. "At the end of the day, we are all on the same side in this issue, and strive to work with our partners and advocacy groups to achieve similar goals. A more connected and informed gay community is a better thing for us all."
© Washington Post
Register for free to continue reading
Registration is a free and easy way to support our truly independent journalism
By registering, you will also enjoy limited access to Premium articles, exclusive newsletters, commenting, and virtual events with our leading journalists
Already have an account? sign in
Register for free to continue reading
Registration is a free and easy way to support our truly independent journalism
By registering, you will also enjoy limited access to Premium articles, exclusive newsletters, commenting, and virtual events with our leading journalists
Already have an account? sign in
Join our new commenting forum
Join thought-provoking conversations, follow other Independent readers and see their replies